Muppets Now Trailer: It's Classic Muppets in New, Unscripted Mayhem
So at first glance, it feels like Disney+'s upcoming Muppets Now is trying for some kind of meta-like, Inception-y approach that combines felt with the metaphysical. Think we're kidding? First off, it's an unscripted, six-episode series that's going to include improv, off-the-cuff gags, and a parade of the Muppets' close, personal (and famous) friends) so it's already a mix of a reality show and the original The Muppet Show. Here's where the meta part comes in: the six-episode season finds Scooter rushing to make his delivery deadlines and upload their brand-new streaming series. To say they were due yesterday would be an understatement, so he'll need to navigate whatever obstacles, distractions, and complications the rest of the Muppets throws at him to beat the clock.
Produced by The Muppets Studio and Soapbox Films, the series is set to premiere Friday, July 31, streaming only on Disney+ (with new episodes released on Fridays. Here's a look at the official trailer:
Overflowing with spontaneous lunacy, surprising guest stars and more frogs, pigs, bears (and whatevers) than legally allowed, the Muppets cut loose in "Muppets Now" with the kind of startling silliness and chaotic fun that made them famous. From zany experiments with Dr. Bunsen Honeydew and Beaker to lifestyle tips from the fabulous Miss Piggy, each episode is packed with hilarious segments, hosted by the Muppets showcasing what the Muppets do best.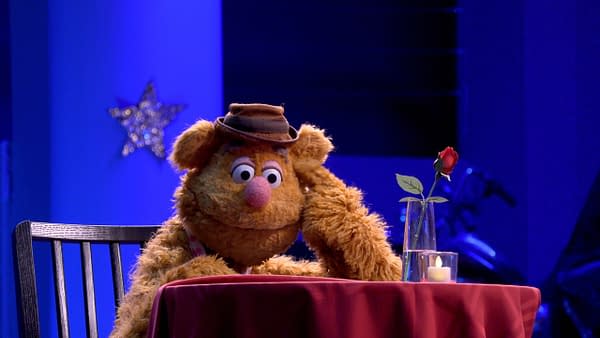 Disney+ is the dedicated streaming home for movies and shows from Disney, Pixar, Marvel, Star Wars, National Geographic, and more. As part of Disney's Direct-to-Consumer and International (DTCI) segment, Disney+ is available on most internet-connected devices and offers commercial-free programming with a variety of original feature-length films, documentaries, live-action, and animated series and short-form content. Alongside unprecedented access to Disney's incredible library of film and television entertainment, the service is also the exclusive streaming home for the latest releases from The Walt Disney Studios. Disney+ is available as part of a bundle offer that gives subscribers access to Disney+, Hulu (ad-supported), and ESPN+.