My Hero Academia Season 5 E11 Review: Match 5 Becomes "Our Brawl"
On this week's episode of My Hero Academia, "Our Brawl", Classes 1-A and 1-B go balls to the wall in an all-out brawl. Round 5 of the group combat training did not start out well, so all plans have been thrown out of the window and both teams are forced to improvise, nonetheless, they all are focused on one thing: winning. In Class 1-A we have Team Deku with Ochaco, Mina, and Mineta. On Class 1-B we have Team Neito with Nirengeki, Reiko, Yui, and Shinso. Things might have gotten out of control for a bit with Deku's new power manifesting in the middle of battle, however: thanks to Ochaco and Shinso, Deku is now back to normal and about to get out of control in a different way.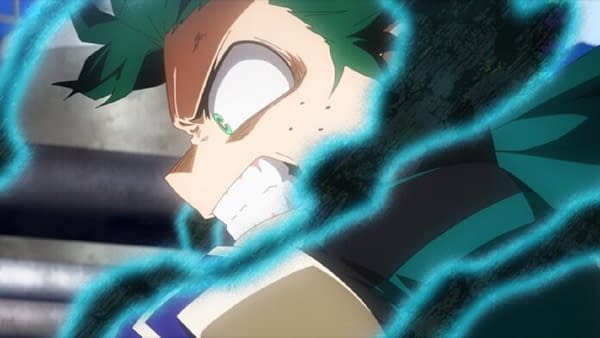 Both teams are now aware that all previous plans are now obsolete and everyone is improvising best they can. Deku and Ochaco come face to face against Shinso and Neito. For the last 3 episodes (including this one) these battles have been making me yell at the television and the characters- the animation and action have been so good. I cannot wait to see all of them become heroes. Their growth and development (for both, class 1-A and 1-B) have been consistent and organic. I really enjoy the extended cast of heroes-in-training we get to see and know more of.
But back to the episode: both teams put a great fight while being closely monitored by Aizawa, All Might, and Vlad to make sure Deku would not hurt anyone. However, Team Deku really pulled through, and, mostly thanks to Ochaco, they managed to turn the tables in their favor and capture all of Class 1-B. It was a fast and clean win that showed how much they all have matured. Deku managed to get a hang of his new power, but quickly realized it should not be used at this point he is currently at with One for All.
I especially liked the critique scene at the end of the match- it reminded me of college and going around class discussing our own works, what excelled, and what needs some more work. It is moments like that in shows that make it more realistic within its own world. I hope we get more moments like these and a true partnership between both classes– please, let Shinso join the hero class! Anyhow, Aizawa can do no wrong in my eyes. He might act like he does not care, but to me, he is a teddy bear sensei.

Bleeding Cool TV on Instagram: For all of the stuff too random and bizarre to make the site, make sure to follow us on Instagram (with an official launch on June 19): Bleeding Cool TV (@bleedingcooltv).
BCTV Daily Dispatch: For a look at what's going on across the television and streaming landscape, sign up for Bleeding Cool's daily email round-up of the news you need to know here.