Netflix Cake Fails Series 'Nailed It!' is Back for Season 2
One of our favorite reality competition series from last year on Netflix was the cake fails tribute show, Nailed It!. The baking-centric programme had competitors from across the country show off their prowess with recreating confectionary delights a la "Imma make this thing I saw on Pinterest!"
Needless to say, some of the attempts don't go so great. You can read about what we thought about season 1 here.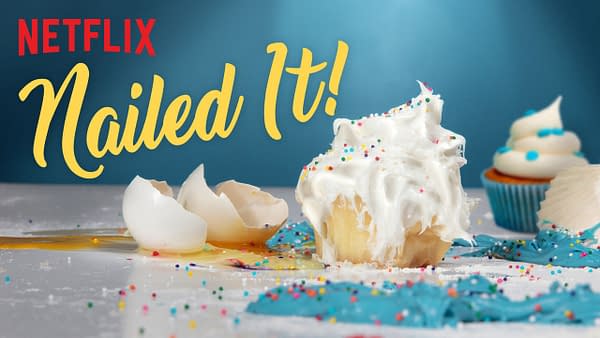 In season 2, we get seven episodes once again hosted by Nicole Byer, covering everything from wedding cakes to savory snacks. The contestants are again vying for $10,000 in prize money. Jacque Torres is back to judge as well.
Episode 1 is titled 'High Society' and is ALL ABOUT late-night snacks and munchies. Jon Gabrus (comedian and Nicole's friend) is the special guest judge. The pancake art challenge starts out rough, but Jacque saying "lubrication, lubrication" is a highlight.
Episode 2, 'Fictitious and Delicious', celebrates all things make-believe. Guest judge this time is Cooking Channel and Food Network darling Ron Ben-Israel. The first challenge is "fairy tale cupcakes", a trio of cupcake/cake pops decorated as classic story characters. Omg, one of the contestants isn't even USING CUPCAKE SLEEVES.
Episode 3, 'Tailgate, Failgate', tackles YOU GUESSED IT: sportsball. Special guest judge is LA Rams punter Johnny Hekker. Featuring the first savory challenge, the contestants have to create a snack stadium with TONS OF items, separated into three zones.
Episode 4, 'Holi-daze', is all holidays, all the time. Well, mostly. Special guest judge pastry chef Waylynn Lucas is another familiar face from the admittedly tons of competition baking shows I watch during my downtime. The first challenge is a "baker's choice" where the contestants choose one of three items to create.
Episode 5, 'Zoo You Bake?', is a delicious trip to the zoo– wait, not that kind of trip. Special guest judge is Art Smith, who also guest hosted one of my favorite Top Chef episodes evar. Fancy fruit animals are the first challenge, no baking involved.
Episode 6, 'Out Of This World', has all the delightful space puns one could ever want from a universal sweet challenge. Guest judge this time is host of YouTube series Man About Cake Joshua John Russell. Extraterrestrial treats in the first round are cosmic double-stacked cupcakes.
Episode seven is a BONUS episode titled '3, 2, 1….Ya Not Done' and has some additional Netflix personalities. Holy crap, Jacques lost so much weight! He looks fabulous. The new Fab 5 from Queer Eye are apparently big-time Nailed It! fans and are competing. Food and wine expert Antoni Porowski, fashion expert Tan France, culture expert Karamo Brown, design expert Bobby Berk, and grooming expert and Jonathan Van Ness have to recreate gum paste figures of THEMSELVES.
Here's hoping Netflix brings back Nailed It! for another season; the half-hour show is a delightfully pleasant escape that I continue to enjoy watching.