On the 5th Day of "Mr. Robot," USA Network Gave to Me… 5 Creepy Christmas Sweaters! [PREVIEW]
Happy Holidays, friends! Er, well I suppose it's just one holiday, and that one is the Mr. Robot season 4 premiere on October 6… which so happens to be one week from today.
What better way to celebrate than with an advent calander? Well, we can think of a few ways, but luckily USA Network picked up on that and granted our wishes! (Most of them, at least. I'm still waiting for Rami Malek to pop out of a cake and announce a prequel series, but I may be waiting awhile for that one to come true.)
Before I get too off track, let me explain what's going on. Mr. Robot has set up a website featuring a "Tree of Materalisim" that grants us a new virtual present each day leading up to the premiere of their fourth and final season.
Oh, this countdown is news to you? Well, you're familiar with an advent calendar, right? The thing with one treat every day up until Christmas? This is pretty much the exact same thing – except for Mr. Robot. Granted, there's also a distinct lack of chocolates… but that's neither here nor there.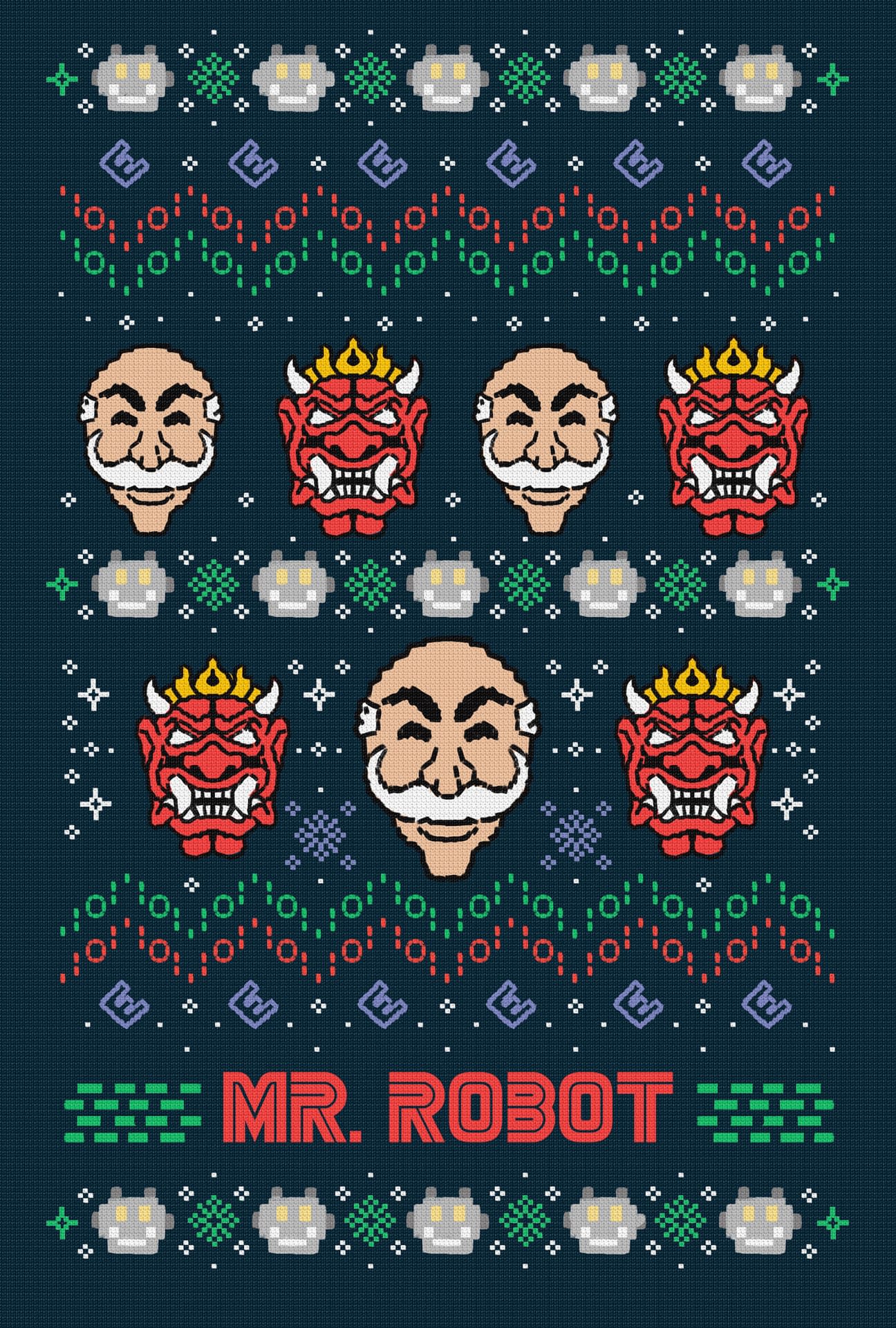 Yes, it's just an image of a sweater print – but I give it one hour until it's up on the internet, being sold as a real sweater / sweatshirt. For bonus points, I give it a day until "Cease and Desist" orders get slapped on those sellers – and by the end of the week, USA will likely have this up as official merch.
So here's where we are…
Start with Day "Eleven" and you'll get "Silver Bells".
Day "Ten" shows Zhang and Mr. Price, who sounds like he's in Hell.
Day "Nine" was a series of cast photos, posters if you like.
Day "Eight" saw Dom interrogated, try as they might.
Day "Seven" was a holiday card, from F-Society.
Day "Six" presents trinkets, Funko POP! figures we all need.
Day "Five" delivers a festive sweater; will you use it to brave the weather?
It is a pretty dope design, but that's really not the best part about today's countdown.
USA gave us a sneak unlisted trailer, so only those in the know and with the link get to see (as least while we were writing this). Wanna see?
We get some new images, a "give 'em hell" attitude from Elliot (who's ready to finish this and take "them" down), and of course, the lingering question, "are you ready to finish this?"
Yes, Elliot, we are so ready. Is it Sunday yet?
So what will tomorrow bring, all wrapped up with a big, shiny bow?
Keep checking here – otherwise you might not know!
Mr. Robot returns on October 6 and not a day before,
Be sure to catch Elliot and friends with antics for sure.