Our Flag Means Death Fulfills Promise Television Made Long Ago: Review
HBO Max's Our Flag Means Death is one of the best shows to bless the streaming platform, transforming the television landscape itself. David Jenkins and Taika Waititi have brought such a force of love and comedy with this series. The wonderful cast includes Waititi, Nathan Foad, Samson Kayo, Vico Ortiz, Ewen Bremner, Joel Fry, Matthew Maher, Kristian Nairn, Con O'Neill, Guz Khan, David Fane, Rory Kinnear, Samba Schutte, Nat Faxon, Fred Armisen, Leslie Jones, and the incredible Rhys Darby. Spoilers are plentiful, so turn back now if you'd like…or don't, but you've been warned.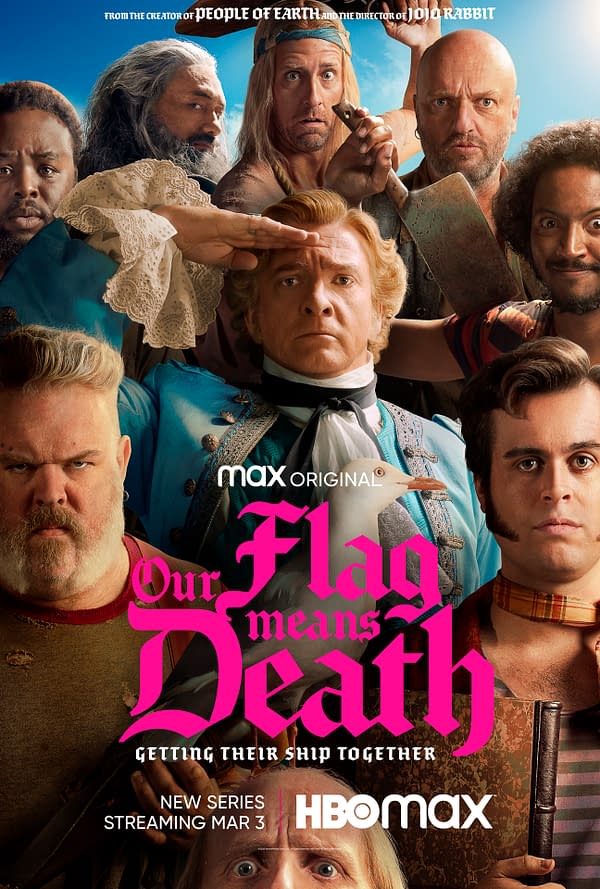 A series wrapped already in love from the queer community, Our Flag Means Death doesn't bring the viewer in and expect their care and consideration without giving back to them. Each character is given the needed attention required for us to invest in them as viewers, quickly bringing me in to fall in love with this odd yet loveable pirate crew. Queer-baiting has been used so much in the past with shows, luckily some are turning away from these lazy practices but not all.
Blackbeard and Stede Bonnet's friendship is turned into deep compassion, then adoration, and finally a passionate love for each other over the ten episodes in season one. I know I'm here to critique or offer these insightful words, but there's a lot of emotion present. I'm emotional because another series has shown up and given a shit about the community it involves in their storytelling. A fandom has grown because people are being seen. Well would you look at that, it doesn't matter if it's historical fiction, fantasy, or even current events…when the queer community sees itself portrayed rightfully and given respect, the television world I love so much becomes a better place.
There are more moments beyond the ones I recall from the top of my head that make Our Flag Means Death such a special series and a great first season for anyone. For one, people integral to the fibers of the story aren't discarded and quickly moved past in order to satisfy a half-assed plot point. Jim was a character that continued to be cared about and their gender identity was absolutely fantastic to witness explored as the season went along. Jackie could have been a pirate we saw one time and forgot about, but they didn't allow for that to happen. One of my favorite characters is probably one of the oddest…I love you Buttons and may Karl rest in peace (if you know, you know). Buttons literally will bask in the moonlight in the nude while everyone is asleep and he'll always have those observation skills at the ready.
Our Flag Means Death addresses so much, from the deep impact of anger and/or revenge and the ways love shows itself in life. It also pairs such an important story with fantastic wide shots, perspectives, and angles. These do justice to the themes and moments fans end up holding onto closely. Black Pete and Lucius have a unique, hilarious, adorable, and often incredible relationship in the season. Their bond is built so well throughout the episodes and their identities are each expressed outside of them together.
The comedy of Our Flag Means Death is brilliant. The seagulls that Buttons loves so much and who apparently speak right back to him are one of my favorite things, along with Blackbeard freaking out after a snake flips out of a tree onto him and going on John Wick-style fight against the thing are only pieces of a huge and hilarious puzzle. It doesn't use the time period as an excuse to go towards something that either has to be completely dark and gritty or opposite in being a mockery of realistic lives led by pirates in those days. It brings in abstract and off references such as "fan-fic" for example. Without taking itself so seriously in certain moments, it builds up and does the difficult or emotional scenes flawlessly.
For a long time in television, queer characters have been killed off or used as props in the story of a main character's life. Our Flag Means Death grabs those antiquated expectations and guidelines for "success" and burns them, rightfully so. Shows like this have more reach than some may realize. In a world that continues to have individuals who seek to rid the LGBTQ+ community of joy and general existence in society, there is comfort and power in a show like this finding that honorable and justified success. I finish up this review with tears streaming down my face (legit…had to pause for a tissue). I see the love and representation of my trans father on the screen, I see my partner, I see friends of mine, I see me. This show and others like it need to be given the go-ahead to continue on. Our Flag Means Death is love, comedy, and exactly what TV was made for.
Our Flag Means Death Season 1
---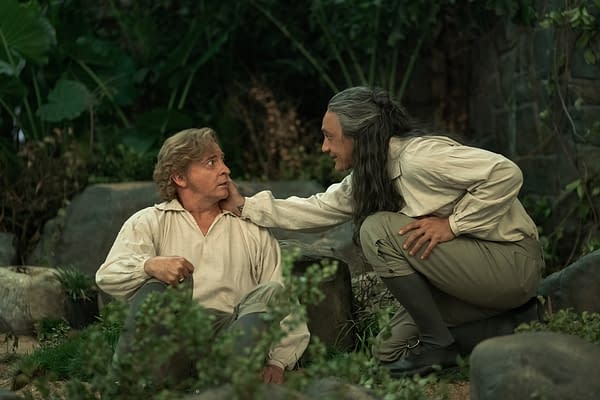 ---
HBO Max's Our Flag Means Death refuses the antiquated expectations and guidelines for queer characters, developing a rich and fulfilling story that garners full attention and adoration. With expertly done comedic writing and character development akin to a beloved novel, this series deserves to be viewed and loved.
Credits
---