Ozark Virtual Panel, Host Jimmy Kimmel Cursed by Blooper Gods
Let's just get this out of the way right up front: if Jason Bateman and Laura Linney's on-screen Ozark counterparts were as "smooth" with their executions as the cast of the popular Netflix series is as getting together for a virtual panel, the series wouldn't have lasted fours episodes let alone four seasons. Late-night talk show host Jimmy Kimmel moderated a show panel to discuss how the show came to be and what viewers' can expect- eventually. Because as you're about to see from the recently released blooper clip from the panel, the gods of technology prove that they can still have a good laugh at our expense every now and then: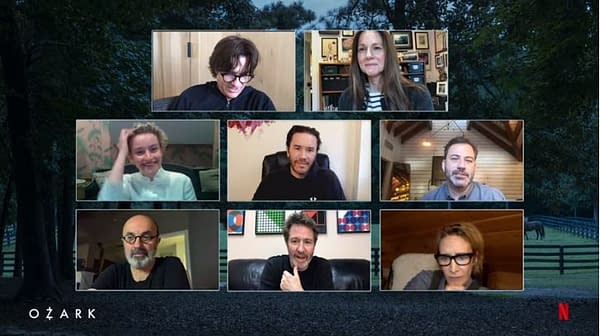 Viewers of Netflix's Ozark were left with a ton of questions as to where things go from here after the dust settled on the third season, and they'll have 14 final episodes to learn how this all plays out, and if anyone will live to tell the tale. Netflix announced at the end of June that the popular crime-drama would be back for a fourth season. To wrap up the story properly, the season's writers were given a larger episode order to work with (with the season split into two, seven-episode half-seasons).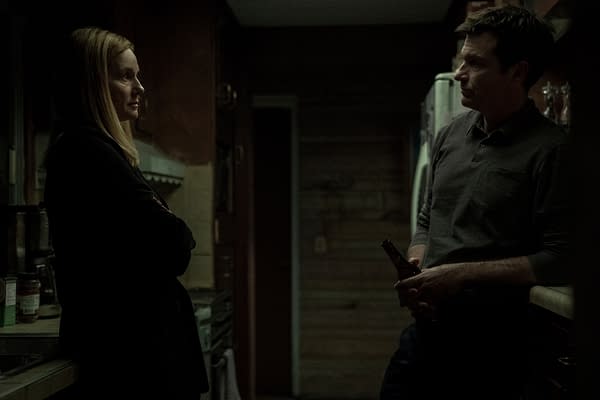 Tracing the Byrdes' rise/dissent (we don't make hard morality decisions like that around here) from their suburban life in Chicago to their deadly criminal enterprise life in the Ozarks, Martin (after the third season, we can't go with "Marty" anymore) and Wendy have gone from basic money-laundering to running a Mexican drug cartel's most profitable operations. But with the blood they've shed and the enemies they've made, is there any way this story can end well and not in a morgue? Joining Bateman and Linney are Julia Garner as Ruth Langmore, Sofia Hublitz as Charlotte Byrde, Skylar Gaertner as Jonah Bryde, Charlie Tahan as Ruth's cousin Wyatt Langmore, and Lisa Emery as local heroin distributor Darlene Snell. Created by Bill Dubuque and Mark Williams, Ozark stems from Aggregate Films in association with Media Rights Capital. Bateman, Dubuque, Williams, and showrunner Chris Mundy executive produce.
Speaking with EW earlier this year, Mundy offered some clues as to what viewers should be on the lookout for in a fourth season: "I think it will be about whether or not Ruth really can create something of her own that she wants and is sustainable, or if she wants something else. And I think it will be about if the Byrdes can they turn the biggest mistake of their lives into this huge advantage, and how much will karma catch up with them if they do?"