With "The Great Streaming Wars of 2020" well underway, NBCUniversal began the public relations rollout for its new streaming service Peacock on Thursday. Aside from an initial line-up that includes eyeball-grabbers Psych 2: Lassie Come Home and Brave New World (and don't get us started about A.P. Bio returning for a third season), the streamer's has a pretty impressive line-up of animation projects coming our way with some very familiar names: Where's Waldo?, Curious George, and Cleopatra in Space.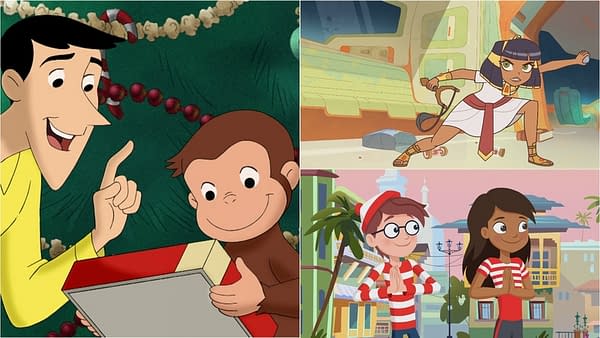 Here's a look at the trailers and overviews for three of Peacock's kids/all-ages original series, kicking off with a look at Where's Waldo?, executive produced by F.M. De Marco (Spy Kids: Mission Critical) and John Tellegen (Spy Kids: Mission Critical):
Twelve-year-old Waldo (Joshua Rush, "The Lion Guard," "Andi Mack") and his best friend Wenda (Haley Tju, "Bella and the Bulldogs") are members of the Worldwide Wanderer Society—the international order of curious travelers who circle the globe celebrating cultures and solving problems through observation. Their mentor—Wizard Whitebeard (Thomas Lennon, "The State;" "Reno 911: The Odd Couple"), a seasoned wanderer—sends these inquisitive young adventurers on international travel missions so they can earn their stripes and someday become wizard-level wanderers too. But standing in Waldo and Wenda's way is their rival Odlulu (Eva Carlton, "Little"), who can't help but cause trouble wherever she goes.
Developed and produced by Universal 1440 Entertainment, with a voice cast that includes Frank Welker (Scooby Doo and Guess Who?), Jeff Bennett (The Loud House) and Rino Romano (Spaceballs: The Animated Series), here's a look at Curious George:
First introduced to the world of children's literacy over 75 years ago, "Curious George®" was created by Margret and H.A. Rey in 1941 and remains one of the most beloved children's classics of all-time. The animated series targets preschool viewers and follows the adventures of everyone's favorite monkey and his insatiable curiosity to bring delightful antics, gentle humor and heartfelt emotion to each fun-filled episode. With a focus on education, the Emmy® award-winning program incorporates early concepts in math, science, technology and engineering and encourages children to use their imagination and expand their own investigations of the world.
Based on the award-winning graphic novel series by Mike Maihack, and executive produced by Doug Langdale (The Adventures of Puss in Boots) and Scott Kreamer (Kung Fu Panda: Legends of Awesomeness), here's your look at Cleopatra in Space:
"Cleopatra in Space" is a comedic adventure focusing on the untold story of Cleopatra's teenage years. Viewers can follow Cleo (Lilimar Hernandez, "Bella and the Bulldogs," "Knight Squad") as she is transported 30,000 years into the future, to an Egyptian-themed planet that is ruled by talking cats and where she discovers she is the prophesied savior of the future world. In order to prepare for her role and mission, Cleo is sent to an elite academy where she has to train to take on the bad guys, figure out how to eventually get herself back home to Egypt, as well as tackling the highs and lows of being a teenager in high school.
Enjoyed this article? Share it!