[rwp-review-recap id="0"]
To say that there are a lot of shows based off of cops would be a huge understatement – like FOX's Prodigal Son, for example. Cop shows make up a silly amount of network television because that setup, like lawyers, make an easy way to do different stories each week. There are also countless shows where the lead character is a troubled male that doesn't play by the rules. It takes a lot for a show to take that mold and make it into something interesting or unique.
Prodigal Son might not have the most original concept but the devil is in the details and the details of this show have some promise.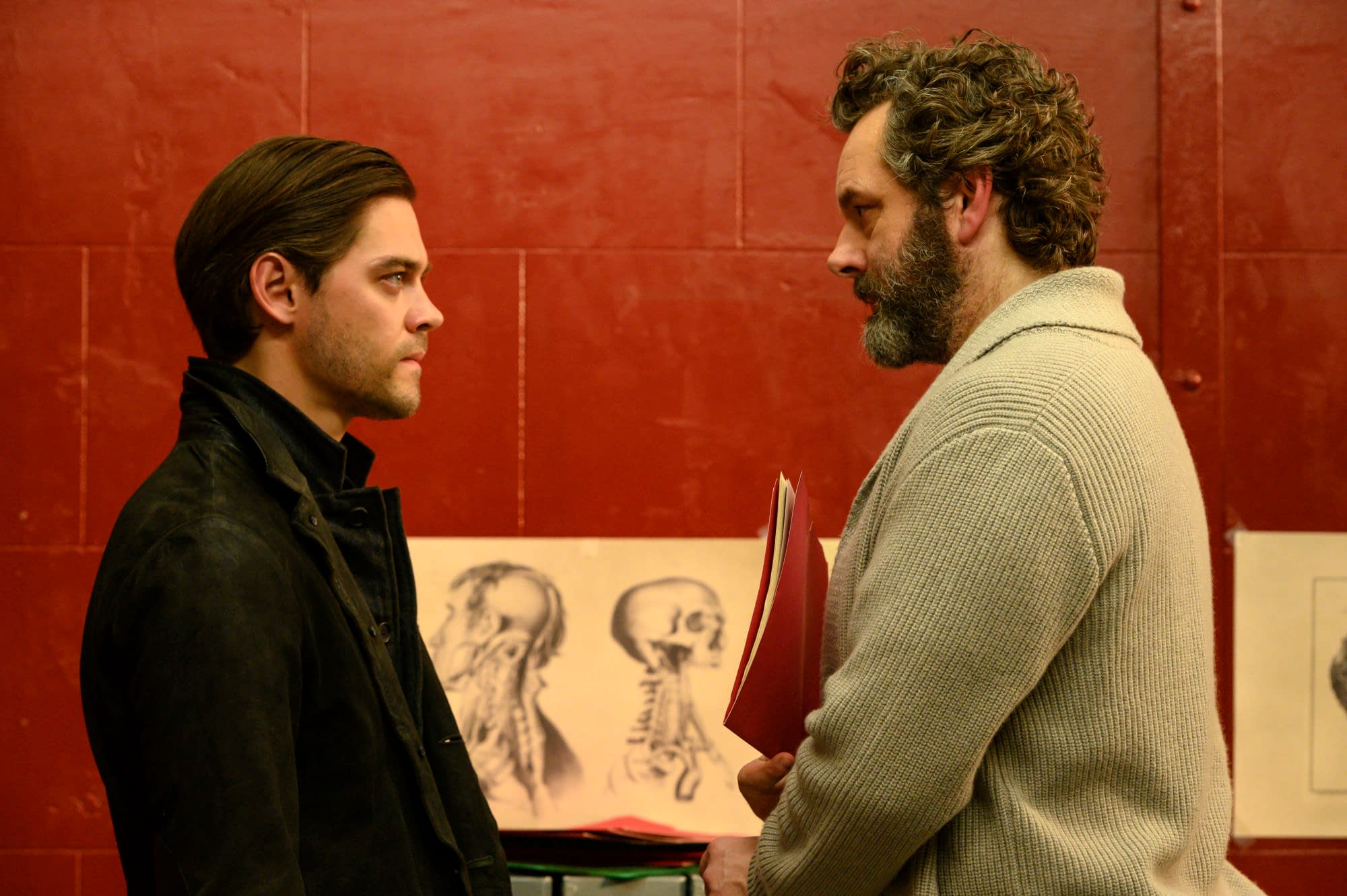 The troubled male star this time is Malcolm Bright, played by Tom Payne. When we see this sort of character on screen we are usually looking at someone like House or the BBC version of Sherlock on Don Draper; a crazy smart person with expresses that by being an asshole. Malcolm is just as damaged as the previous characters but his damage is expressed differently. Instead of being an asshole we see night terrors, we see flashbacks, we see trauma being presented like actual trauma. We also see him dealing with it by taking medication instead of self-medicating.
The fact that we're still this type of trauma and character presented in such a different way is a reason to keep an eye on Prodigal Son. The other reason is the cast and in particular the always amazing Michael Sheen. It is a bit odd to see him on screen after Good Omens playing an all too friendly serial killer. Sheen is one of the actors that people need to remember is good in nearly everything and seeing him on television regularly is a good thing. Even more so when he's channeling his inner Hannibal Lecter.
https://www.youtube.com/watch?v=26C6JqBdb20
The rest of the show isn't nearly as interesting. The promise of Sheen lurking in the background will likely remind viewers of The Blacklist and much like James Spader in that show Sheen is likely going to be the backbone of this one. The rest of the supporting characters don't make that much of an impression though it is good to see that the show doesn't waste an entire season dragging out one particular secret.
Prodigal Son isn't here to break the wheel but there are enough little details that make it something to keep an eye on. Perhaps if you've fallen off of some shows like The Blacklist it's worth a look or if you're a fan of Sheen. The pilot doesn't give us an idea of what the season-long story will be and the show will live and die by that story.
Prodigal Son premieres on September 23rd on FOX.
[rwp-review-ratings id="0"]
[rwp-review-form id="0"]
Enjoyed this article? Share it!