Rabbit Hole: Sutherland's John Weir Feels Like He's Being Played
With the Paramount+ series premiering on March 26th, here's a look at the newest teaser for the Kiefer Sutherland-starring Rabbit Hole.
---
Last month, viewers were treated to their first extended look at Paramount+ and Showrunners John Requa & Glenn Ficarra's upcoming eight-episode spy thriller Rabbit Hole. In the Kiefer Sutherland-starring streaming series, nothing is what it seems when John Weir (Sutherland), a master of deception in the world of corporate espionage, is framed for murder by powerful forces with the ability to influence and control populations. Though there are still a little less than two months before the series premiere, the streamer isn't wasting any time getting us acclimating to Weir's world..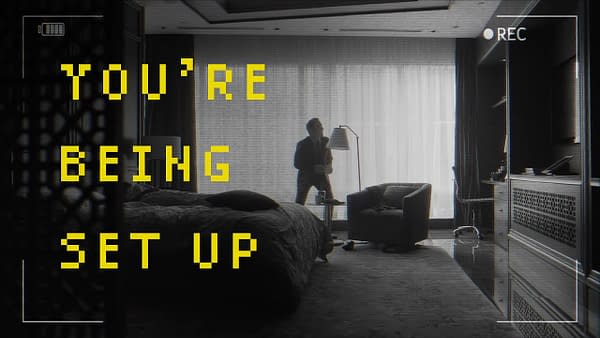 Here's a look at the mini-teaser that was released earlier today (followed by a look back at the previews that were released last month), with Weir realizing that he's being played. Or is he…? Here's a look…
New episodes of the series will drop weekly on Sundays in the U.S. and Canada (and on the following day in the U.K., Australia, Latin America, Italy, Germany, Switzerland, Austria, and France). Now, here's a look back at the teaser that was released last month (with Paramount+'s Rabbit Hole set to premiere on March 26th):
Joining Sutherland on the cast of Paramount+'s Rabbit Hole is Charles Dance (Game of Thrones) as Dr. Ben Wilson, Meta Golding (Empire) as Hailey Winton, Enid Graham (Mare of Easttown) as Josephine "Jo" Madi, Jason Butler Harner (Ozark) as Valence, Walt Klink (Arctic Circle) as The Intern, and Rob Yang (Succession) as Edward Homm. Sutherland serves as executive producer alongside writer-directors John Requa and Glenn Ficarra (This Is Us, WeCrashed), Charlie Gogolak (The Sinner, WeCrashed), Suzan Bymel (Designated Survivor), and Hunt Baldwin (Longmire, The Closer). Now, here's a look at the preview images & key art that were released for the streaming series last month: