Rick and Morty Staff Demanded Justin Roiland Statement & More: Report
Sources: Rick and Morty staffers demanded a public statement from Adult Swim & Warner Bros. Discovery clarifying Roiland's involvement & more.
---
Last month brought the news that Justin Roiland had been charged with one felony count of domestic battery with corporal injury & one felony count of false imprisonment by menace, violence, fraud, and/or deceit (full details here). Not long after, the reaction to the news was pretty swift. Adult Swim parted ways with the Rick and Morty co-creator (but with the adult animated series continuing). Following that, we learned that Roiland resigned from his video game company, Squanch Games. And then Hulu & 20th TV Animation released a statement saying they had ended their association with Roiland, meaning his name will be dropped from Solar Opposites and the recently-debuted Koala Man moving forward. But since that time, things have been pretty quiet as legal matters & other issues (like if NDAs are in play) play out. But earlier today, The Hollywood Reporter went live with an online feature article looking into Roiland's past as well as the current controversy that he's created from a number of angles, speaking with a number of individuals as well as several unnamed sources reportedly close to the situation. While the entire article is worth a read for a greater sense of the history behind what's been going on, here's a look at three takeaways that grabbed our attention from the report: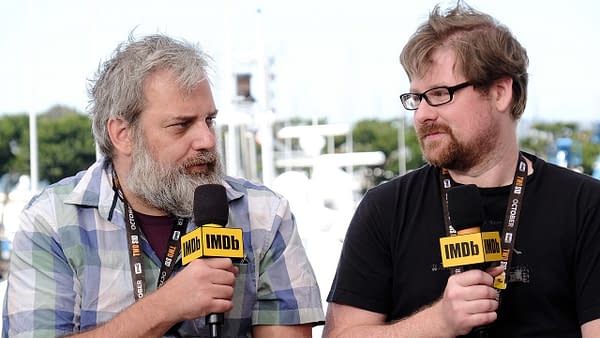 Roiland Began Distancing Himself from "Rick and Morty" with Season 3: As the Adult Swim series brought Community writers and female writers on board between its first and third seasons, sources say that Roiland began distancing himself more and more in the writers' room and, eventually, "stopped showing up." Apparently, writers would only know that Roiland was at the Burbank offices by the sound of his dogs or his remote-control toy car. One source added, "You wouldn't have seen him in weeks, and then you'd see the car come in, which was insane." Sources also shared with THR that Roiland would occasionally bring famous names through the office, including Kanye West (who Roiland and series co-creator Dan Harmon had discussed working with in the past on an episode), members of truTV's Impractical Jokers, and porn star Riley Reid. Since the third season, sources say that Roiland's current involvement in the Emmy Award-winning animated series is now at voicing characters from his home with very little recording/production direction from the main office.
Roiland & Harmon's Relationship Soured Over Time: With sources claiming that the change in the writers' room over the course of the first three seasons contributed to Roiland distancing himself, the report claims that Roiland & Harmon's relationship "had grown so acrimonious" that a mediator was brought in to smooth things over ahead of the duo eventually signing that headline-grabbing 70-episode renewal deal.
"Rick and Morty" Staffers Demand Statement on Roiland: According to sources in the THR report, an "emotional" production meeting was held on January 17th to address the matter, after which time several staff members ("with the blessing of a broad swath of personnel") penned a letter to both Adult Swim and Warner Bros. Discovery that demanded a statement be released clarifying Roiland's position on the show for the sake of everyone else involved with the production. Reports are that there were discussions among the staffers to potentially leak the letter, but the decision was made to first see how things played out. A week later, Adult Swim would announce that it had severed ties with Roiland as more companies followed suit.
As noted by THR, Roiland, Harmon, Adult Swim, and Warner Bros. Discovery declined to comment for the report.