Rick Gives Goomby The Jerry Treatment in New Rick and Morty Clip
At this point, if you're still on the fence about whether to watch the return of Dan Harmon and Justin Roiland's dimension-hopping duo Rick and Morty this Sunday then it's not because Adult Swim didn't try. With the remaining five episodes of the fourth-season ready to run beginning May 3 with "Never Ricking Morty" (UK's E4 starting Thursday, May 7), the network's offered a trailer, promo images, an episode title reveal video, visits with the creative teams, and even karaoke videos for your series return celebrations. Now, Adult Swim and food delivery service Postmates (we're thinking this is some kind of indirect Wendy's tie-in?), are offering the following sneak preview "Goomby's Christmas Rick Story." While the clip definitely raises a lot of questions (like having a Christmas scene in May, what's the deal with Goomby's backstory, etc.), it should make Jerry feel a little better. Because as you're about to see, Rick's a little selfish when it comes to his family and clearly doesn't get the concept that "sharing is caring":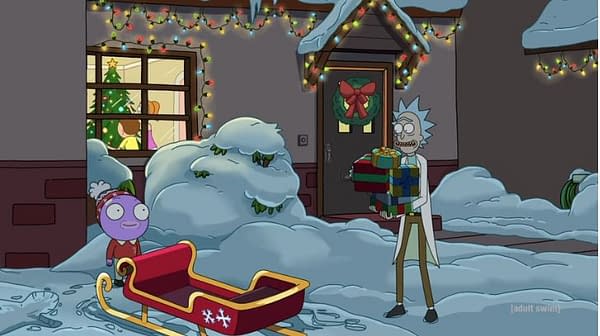 Snowball's return is just one of the things that caught our eyeballs when we first screened the season return trailer. With Rick and Morty apparently helping him fend off a feline invasion, we're left wondering if there's some off-shoot of the Galactic Federation still active (think recent Star Wars trilogy) and backing the cats in the conflict? The laser sword fight between Beth and Tammy has us thinking along those lines, but you can't trust trailer edits and we're not completely sure if the backgrounds match up. With Tammy back, will be lucky enough to get a Phoenixperson sighting? And let's not forget that a very powerful Evil Morty is still out there consolidating power.
Harmon, Roiland, and Adult Swim released an episode titles announcement video that gave a nice "wink-and-a-nod" to The Terminator before revealing the following loaded episode names (with loglines included). Beginning with return episode "Never Ricking Morty," we have "Promortyus" (Get off my face, broth), "The Vat of Acid Episode" (The one with the acid vat, broth), "Childrick of Mort" (Miracle of life, broth. Whole family in this one, broh.), and "Star Mort Rickturn of the Jerri" (Parenting is crazy, broh. Stuff straight disappearin in this one).