Rihanna on Super Bowl Halftime Show's Biggest Challenge & More
Rihanna discusses her reason for taking on Apple Music & Roc Nation's Super Bowl LVII Halftime Show and the biggest challenge so far.
---
With the Grammy Award-winning singer set for a major return to live performing at this Sunday's NFL Super Bowl LVII Halftime Show (sponsored by Apple Music and Jay-Z's Roc Nation), Rihanna went public earlier today at the Phoenix Convention Center for an interview with Apple Music's Nadeska Alexis. With only days to go until the Kansas City Chiefs take on the Philadelphia Eagles, the musical artist explained how becoming a mother factored into her decision to take on the global spotlight and what the biggest challenge has been preparing for her performance.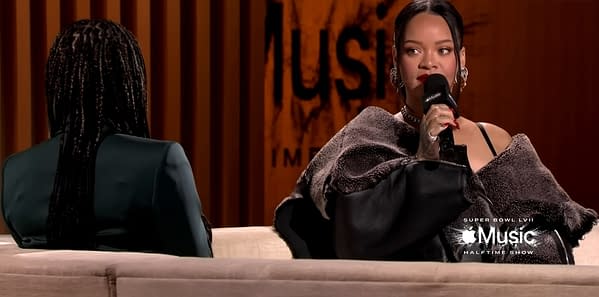 Though readily admitting she questioned the opportunity when it was first presented, it was Rihanna becoming a mother and the idea of her having her child be there that helped her make the decision. "When you become a mom, there's something that just happens where you feel like you could take on the world — you can do anything. And the Super Bowl is one of the biggest stages in the world, so as scary as that was … there's something exhilarating about the challenge of it all. It's important for my son to see that." As for what the biggest challenge has been so far, it's all a matter of time. As in, how do you celebrate & consolidate a nearly two-decade career into just minutes? "The setlist was the biggest challenge. That was the hardest part — deciding how to maximize 13 minutes but also celebrate. That's what the show's going to be — it's going to be a celebration of my catalog in the best way. I think we did a pretty good job at narrowing it down," Rihanna reassured her fans.
Here's a look back at the official trailer for Rihanna's return at the Apple Music Super Bowl LVII Halftime Show, taking place on February 12, 2023:
And here's a look back at the Instagram post and tweet from Rihanna from back in September 2022 that got everyone talking:
Courtesy of the NFL, here's a look back at Dr. Dre, Snoop Dogg, Eminem, Mary J. Blige, Kendrick Lamar & 50 Cent performing during the Pepsi Super Bowl LVI Halftime Show. And speaking of Pepsi…
If you need a sign of just how much things have changed all across the pop culture landscape, look no further than the NFL's bestest buddy Pepsi stepping away from sponsoring the halftime show, allowing a "newbie" like Apple to step into the role. After a long & cozy relationship between the professional football league and soft-drink company, the latter made the decision to step away in May 2022. Some are speculating that the NFL eyeing "significantly higher annual payments for the sponsorship rights" was one of the factors, with Apple's sponsorship agreement reported to be "a multi-year deal."