Posted in: CW, streaming, Trailer, TV | Tagged: alice cooper, Archie Andrews, Ashleigh Murray, Betty and Veronica, Betty Cooper, bleeding cool, cable, Camila Mendes, Casey Cott, Charles Melton, Cheryl Blossom, cole sprouse, comedy, comic books, Comics, cw, drama, FP Jones, Fred Andrews, Hermione Lodge, Hiram Lodge, horror, Josie McCoy, jughead, Jughead Jones, kevin keller, KJ Apa, lauren bacall, lili reinhart, luke perry, madchen amick, Madelaine Petsch, Marisol Nichols, Mark Consuelos, Reggie Mantle, riverdale, Skeet Ulrich, streaming, television, the big sleep, thriller, Toni Topaz, true detective, tv, twin peaks, Vanessa Morgan, Veronica Lodge
---
'Riverdale': A Reflection of America's Nightmarish Reality… Only Fun! [OPINION]
The CW's Riverdale is a bonkers show. It takes the cast and setting of a cute, cozy comic book series and turns it on its head. Instead of Archie and his friends worrying about high school and dating antics, it's a full-on apocalyptic melodrama about the horrible underbelly of America. Everything that was comforting and innocent about America that the Riverdale of the comics represented are a nightmare mirror universe of betrayal, deceit, corruption and murder.
Riverdale is a show about America as it is now – shot through a campy lens, with a knowing wink that dares you to take it too seriously, and it knows you're going to take it just seriously enough.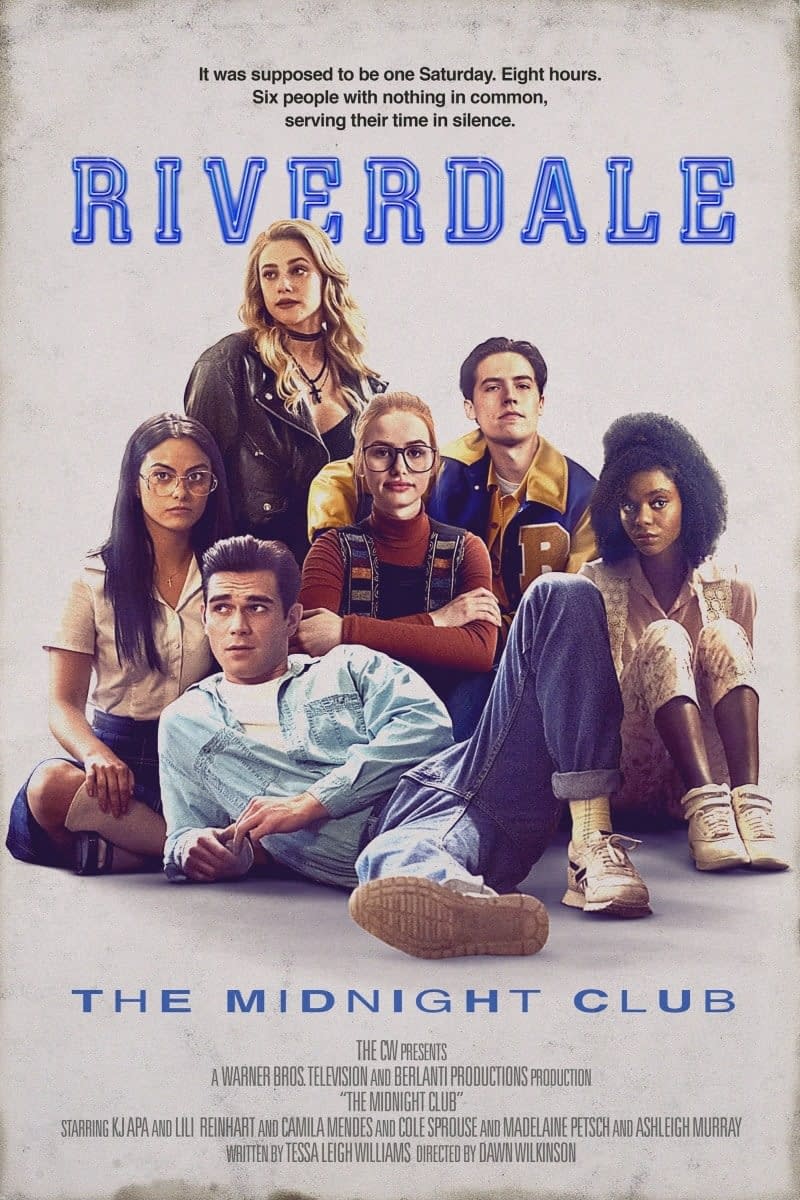 The Riverdale of the TV show is a place that the kids believe "used to be innocent and safe", but that's proving to be an illusion all along. Archie has a sexual relationship with his high school teacher Ms. Grundy, who turns out to be an imposter who took the real Miss Grundy's identity when she died. Veronica's father Hiram Lodge is a gangster. Jughead and his father are a multigenerational family of gang members. Cheryl Blossom's father turns out to be a drug smuggler. Betty's sister gets pregnant with Jason Blossom – who turns out to be her cousin. Betty's father turns out to be a serial killer. Archie is so traumatized and paranoid he flirts with becoming a gangster's henchman and forms a fascist movement without even knowing it. All the kids' parents keep decades-long secrets.
And on and on and on…
This is a world where the kids are never safe. With the exception of Archie's dad Fred, parents consistently betray their kids. Sometimes fathers even murder sons. Authority figures are corrupt and untrustworthy. The local government is corrupt. The town is on the verge of economic collapse before organized crime takes it over. It's part of a major drug-smuggling route on the way to Canada. Even a seemingly innocuous table-top role-playing game turns out to be a cult recruitment and brainwashing tool. Nothing and nowhere is safe.
If there's any television show that captures the current mood of utter chaos and danger, the sense that something – anything – horrible could happen to us at any time? It's Riverdale.
It's as if the world is so awful right now that the only way Riverdale – for both the kids living there and watching it – can make sense of it is through the lens of pop culture genres: murder mysteries, film noir, conspiracy thrillers, juvenile delinquent movies, blaxploitation movies, horror movies, gothic horror, slasher movies, prison movies, telenovelas, road movies, gang movies, gangster movies – virtually every genre you can think of. The writers of the show are massive movie geeks who want to throw everything and the kitchen sink at the wall and don't care if it sticks. Every episode is named after a classic or cult movie, the show constantly has visual references to classic movies and TV – from Chinatown to Twin Peaks. The pop culture references and Easter eggs are like the sugar coating around the bitter pill of what the show is really pushing.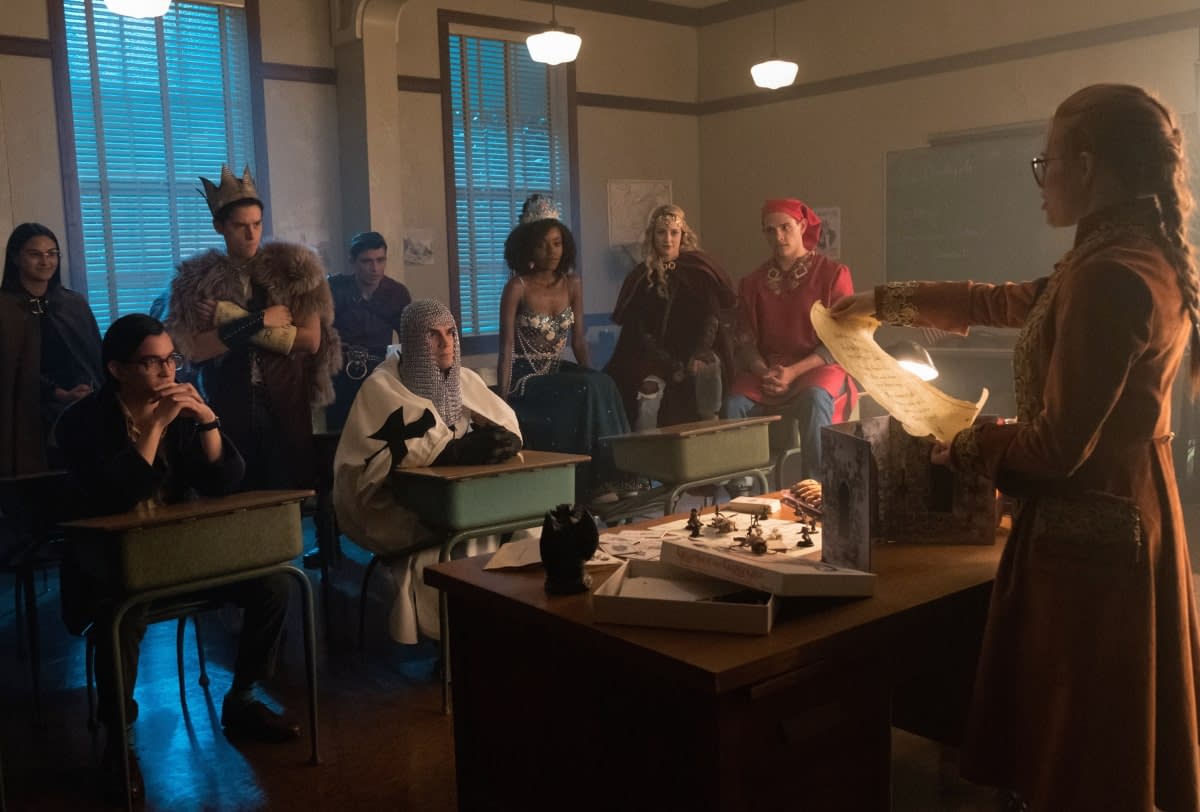 Because to look at the world in its pure horror and unjustness would be too unbearable. We need Veronica dressing up like Lauren Bacall in The Big Sleep to walk into Jughead's office to hire him to investigate her dad's shooting. We need Cheryl Blossom donning a red hood and shooting arrows like she's in a lost episode of Arrow. Of course there would be a drag race out of Rebel Without a Cause. Of course the Ghouls & Gargoyles role-playing game would open its players to a paranoid Lovecraftian cult of drugs and murder. It's all utterly ridiculous and deadly serious at the same time.
Is it any wonder that Riverdale is massively popular amongst kids and teens? It's one of the most popular shows on Netflix – who pay a premium to license the show to stream worldwide. Kids know the world is scary and messed up, and Riverdale speaks to them about that. Archie, Betty, Veronica, Jughead and the gang can only get some sense of control and power over the world by playing detectives, crusading reporters or Robin Hood-type gangsters and get away with it in ways that only a television can allow.
It's silly and completely nuts, but the CW's Riverdale is about right now.
https://www.youtube.com/watch?v=eLuyHeZD-BQ
RIVERDALE stars KJ Apa as Archie Andrews, Lili Reinhart as Betty Cooper, Camila Mendes as Veronica Lodge, Cole Sprouse as Jughead Jones, Madelaine Petsch as Cheryl Blossom, Marisol Nichols as Hermione Lodge, Madchen Amick as Alice Cooper, Luke Perry as Fred Andrews, Ashleigh Murray as Josie McCoy, Casey Cott as Kevin Keller, Mark Consuelos as Hiram Lodge, Skeet Ulrich as FP Jones, Charles Melton as Reggie Mantle, and Vanessa Morgan as Toni Topaz
Riverdale airs on The CW on Wednesdays.
---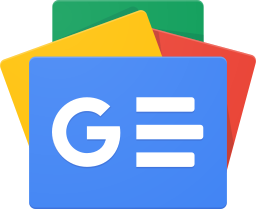 Stay up-to-date and support the site by following Bleeding Cool on Google News today!