It must be my birthday because somebody has granted me a dream pairing! Bob The Drag Queen is back hosting an all-new episode of RuPaul's Drag Race All Stars' season 5 edition of "The Pit Stop," with her very special guest this week, Alaska Thunderf*ck. For those of you who are new around here, I am a big fan of both Alaska and Bob, so this episode practically has my name on it. Let's dive right in then – and yes, honey, there will be spoilers, if you even care about that. So let's find out who went home this week and get that T.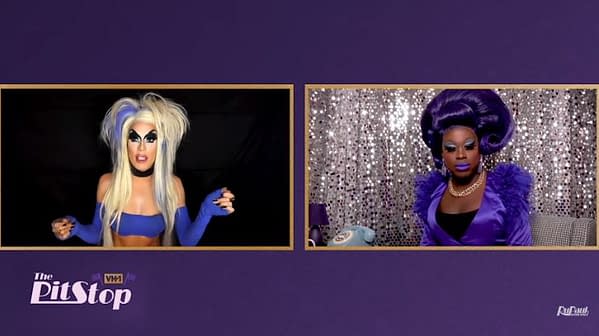 Last week we said goodbye to Mariah Paris Balenciaga, and this week's challenge saw Alexis Mateo not screwing around – she's hilarious and amazing and everything that makes this show completely irresistible. According to Alaska, "Alexis Mateo is a Drag Queen, with a capital D and capital Q." We also got Justin Beiber – I mean, Blair St. Clair making an appearance as a "dudebro". So, the main challenge this week was an improv scene – the queens were paired up and had to take on the role of different C-list celebs in a tabloid confrontation with SheMZ.
The quick nailed it and failed it of this episode: team Alexis and Shea Coulee owned this to sickening levels; Mayhem Miller and India Ferrah. On the runway this week, the category is camouflage. Of course, I'm going to say that Alexis and her snow queen winter camo getup won the runway, but Shea and Miz Cracker slew the runway as well. Bob has serious beef with Mayhem's bodysuit, and Alaska has issues with her attitude.
In the end, we got an absolutely epic lip sync battle between Miz Cracker and this week's assassin Morgan McMichaels. which resulted in a tie. Luckily for us, the girls all chose Mayhem's lipstick, after she said she didn't want to be here anymore. She gave up on herself, and there's just no room for that in Drag Race. And so six queens remain, and with that, we are required to wait another week for more Drag Race realness.
Enjoyed this article? Share it!