RuPaul's Drag Race Season 12 Takes a Stand, Rises Above: Review
Personal opinion disclaimer: a certain contestant (who is nowhere near as sweet as cherry pie) on the 12th season of RuPaul's Drag Race is a skeevy predator and was disqualified immediately after her actions came to light. This queen is a disappointment and seriously lets down the title of "camp queen", which is a real shame because she did finish fourth and was set to continue to the finale. If she had not been great at her craft, this wouldn't be nearly as disappointing. But, the community has zero-tolerance for sexual predators, abusers, and unapologetic morally corrupt artists, no matter how great their art is.
She appears in this season (as all except for the finale and reunion were already filmed), but a disclaimer was added to each episode and her parts were edited down significantly, especially after the first few episodes. Honestly, I'm angry at her; she took up space in this competition, in the finale, that could have gone to queens who are genuine, good people as well as great artists. I'm not asking all drag queens to be Mother Teresa, I just think they (and people in general) shouldn't be creeps and prey on young men.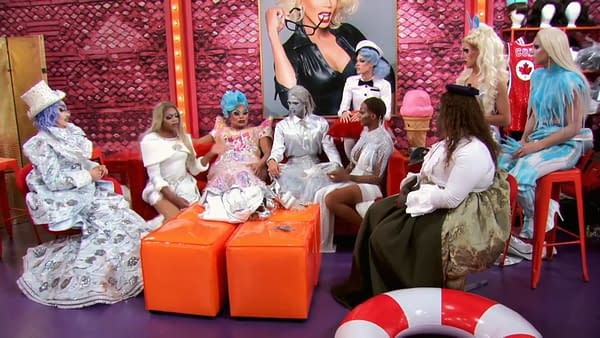 Now, on to the real contestants who take this competition seriously and are upstanding members of the LGBTQ community. This season was full of some great queens and a whole lot of look. There were a number of fashion queens this season and honestly, they're like Barbie dolls come to life, or the classic 1960s paper dolls who are always just perfection. But that doesn't mean they're all form and no substance: we got a Madonna Rusical, acting, dance, and improv challenges, rap challenges, a talent show, and even a sports-themed challenge.
I am living for "simply Jan" (her real name being Jan Sport – obviously there were product placement issues with her full name, same for Brita Filter) and I'm a little bummed she didn't go farther in the competition. But hey, there's always All Stars, right? Speaking of those two, there were loads of New York queens this season, and I am not surprised they dominated. When you're a performance artist, large cities like New York, Los Angeles, or Atlanta give more of an advantage for venues to perform in, mentors, learning opportunities to perfect your craft, and of course, the best resources for materials and fashions.
When your main drag performance space is online or in a small local club or venue, you're not subject to the same scrutiny that demands you to be better and keep improving in order to compete. That's why the more established city club queens absolutely mop the floor with a lot of these Instagram queens – they're just on a whole other level. It's not exactly fair, but it's why a lot of queens relocate to the city. In a competition that has such an emphasis on live performance, being a bedroom queen really does work against you sometimes. Case in point: Rock M. Sakura and Aiden Zhane.
Now, Rock M. is from San Francisco, but she has the qualities and performance level of an Instagram queen. The fashions are fun and she's cheeky, which makes for a cute internet persona, but the lip syncs just aren't polished, the stage presence isn't there, and she looked a little lost in front of real people. Aiden fared better and actually did pretty well, but just wasn't quite on the same level as ladies like Jackie Cox, Jaida Essence Hall, Brita, Jan, Gigi Goode, or even Crystal Methyd. Don't get me wrong, I really like Aiden – she's got the whole Liza Minnelli 1930s look and I am living for it, but there were so many other queens this season that were just more polished and knew the craft better.
This season was delightfully international and I dig it so much. Nicky Doll was also our first French queen – it's just a shame the judges kept calling her out for the same complaints as last season's Brooke Lynn Hytes; yes she's polished and perfect, that's the culture and style. She doesn't need to be a hot mess to be beautiful, sometimes flawless can just be perfection and it's better to not see the flaws. I don't always want human realness from my drag queens – by design, they're meant to not be 100% realistic; it's fantasy.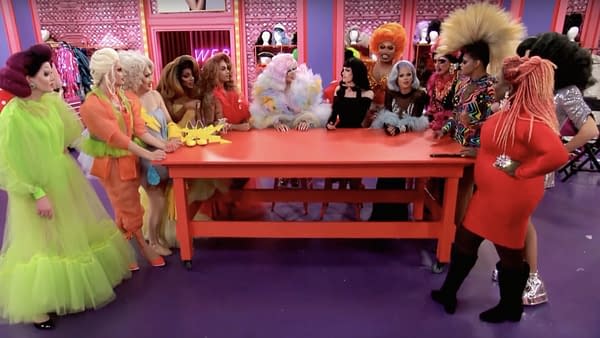 Speaking of international, Jackie was our first Persian queen and I absolutely love love love how much she embraced her heritage and brought her culture into everything. I mean, from greeting everyone with "Salaam" upon her first entrance into the "werkroom" to her patriotic runway look being a hijab? This is the all American drag I want. Sign me up for everything Jackie for now and forever, please. When I said in my disclaimer that the fourth spot in the finale should have gone to more deserving queens, I mean Jackie. She's retro, hilarious, quippy, and witty, and on top of it all, totally unafraid – even proud and excited – to share her culture with the world, even though that culture still punishes homosexuality by death. That is the very definition of pride.
There's simply too much going on in the Drag Race season finale this year for me to go into it now, but you can check it out here. Gigi, Crystal, and Jaida duke it out in some lip-sync battles from home that are pretty great. Just try and avoid Ru's absolutely horrid at-home facekini fashions, because they are truly terrible.