Sasha Banks Responds to Sammy Guevara's Rape Comment Apology
AEW star Sammy Guevara is trending on Twitter right now, and if you're hoping it's not for bad reasons, you're in for some disappointment. As the #SpeakingOut movement sweeps the wrestling industry with accusations of sexual misconduct, a 2016 podcast interview featuring Guevara resurfaced on Twitter in which Guevara "jokes" that he wants to rape WWE star Sasha Banks. After the comment went viral Sunday, Guevara responded Monday afternoon with an apology on Twitter.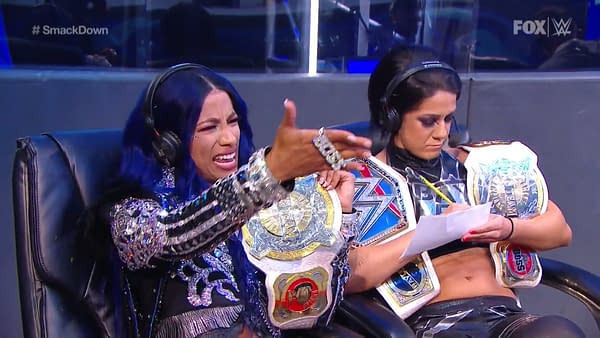 "I've made stupid, inappropriate and extremely offensive comments in my past," Guevara wrote in his apology. "In my idiotic mind, I thought I was being funny in using words and terms that represent nothing but horror and pain. I am truly sorry for my hurtful words and actions, and I will never forgive myself."
Guevara also apparently reached out directly to Banks, who posted a statement of her own on Twitter in response. Banks wrote, "Earlier I spoke with Sammy, he apologized and we had an open discussion. Words like the comments he made, jokingly or not, have absolutely no place in our society! I don't condone or tolerate this kind of behavior. What one thinks is just a side comment can have a massive impact on someone else's life, and can send the wrong message. We have to hold ourselves accountable for our actions and the words we say, and I hope this situation shows him that. I hope from this point on, in order for growth and change within our community to take place, we all can continue to have these conversations. No person, man, woman or child, should ever be subjected to a feeling of fear, or any unsafe environment. We all have to do better not just for ourselves, but for generations to come."