'Schooled' Season 1, Episode 7 "Kris Kross" Wasn't Wiggity, Wiggity, Wiggity Wack [SPOILER REVIEW]
Welcome to Bleeding Cool's thoughts on ABC's Schooled as we take a look at this week's episode "Kriss Kross." It was February 27, 1990-something, and the school is preparing for X-Day, the annual arts festival that is hated by the staff and the possible birthplace of life-long humiliation for the students.
With a premise like that, let's not waste any time. First up, a little reminder…
Schooled s01e07 "Kriss Kross": After two students show up to school dressed in backward clothes, a la Kris Kross, Lainey tries to get kids to conform to social norms to protect them from ridicule while CB encourages them to embrace their uniqueness. Meanwhile, Principal Glascott struggles to say no to his teachers and disappointing his friends, so he enlists the help of Mellor to lay down the law. Written by Kerri Doherty and directed by David Katzenberg

Schooled stars Tim Meadows as Principal Glascott, Bryan Callen as Coach Mellor, AJ Michalka as Lainey Lewis and Brett Dier as CB. Guest starring is Stephen Tobolowsky as Earl Ball, Lennon Parham as Liz Fleming, Alphonso McAuley as Coop, Greg Proops as Mr. Granger, Dallas Edwards as Aaron, Reece Caddell as Debra and Hayley Orrantia as Erica Goldberg.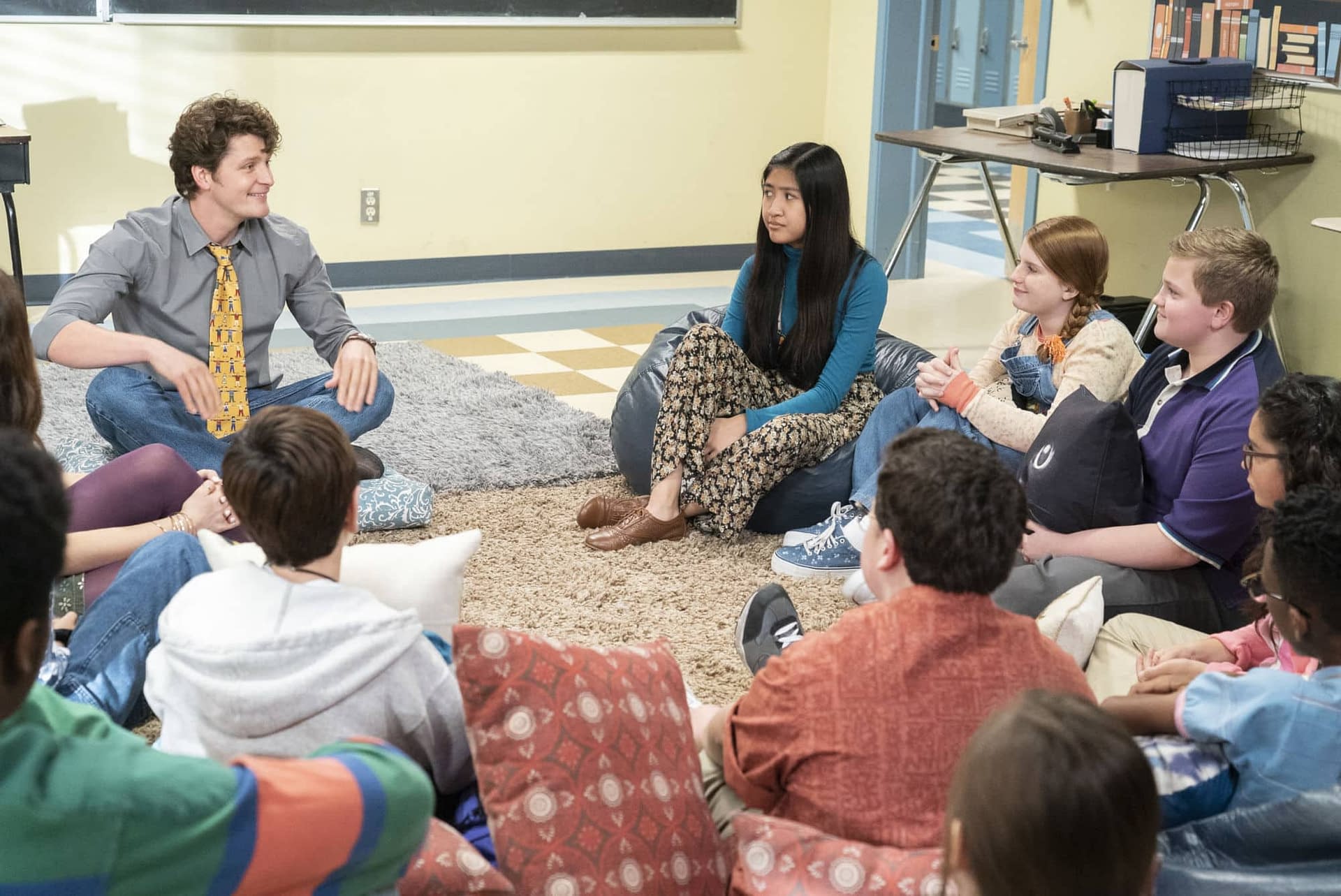 Aaron and Ed come to school with their clothes on backwards. When Laney stops them in the hall and asks why it looks like they both got dressed in the dark, they tell her that they're going to lip sync and dance to Kris Kross' Jump at the X-Day talent show. Laney has a flashback to the time that she and Erika performed New Kids on the Block's The Right Stuff on stage in front of the whole school and how the ridicule following that performance has followed her to this day. Being the good guardian of her students's mental and physical well being, Laney tells them that middle school is no place to stand out.
Teach keeps it real with her students.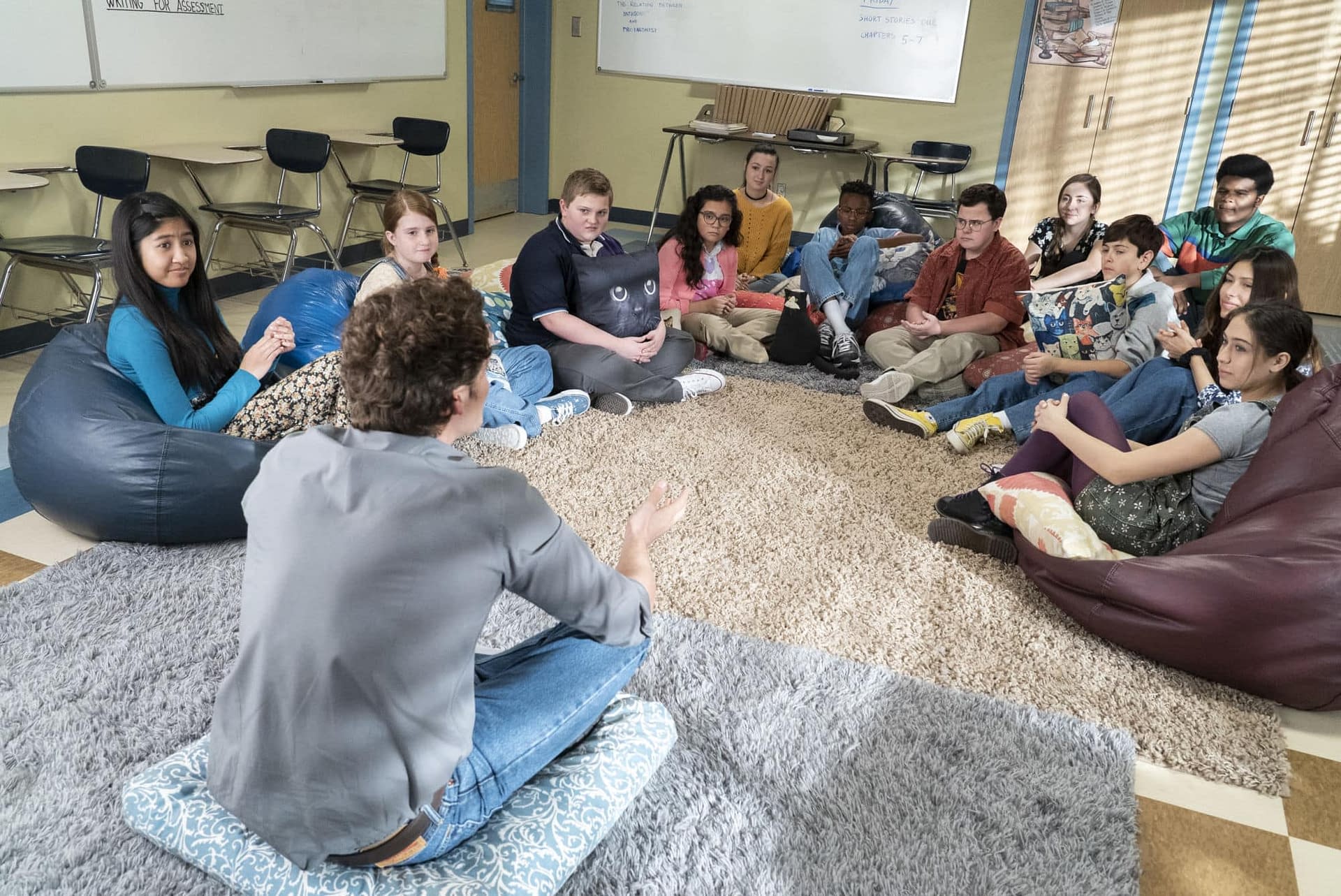 On the other hand, CB believes in creating a safe space for the students to express themselves. If they don't engage in judging one another, then everyone can be free to express himself or herself. While I'm picking up what CB is laying down, I'm going to side with Laney on this one. You don't want to put yourself out there in middle school. There's time enough for that in high school, once you've found your The Breakfast Club-style clique. Getting through middle school is like swimming from one end of the hormone-filled pool and calling it a victory when you make it out the other side.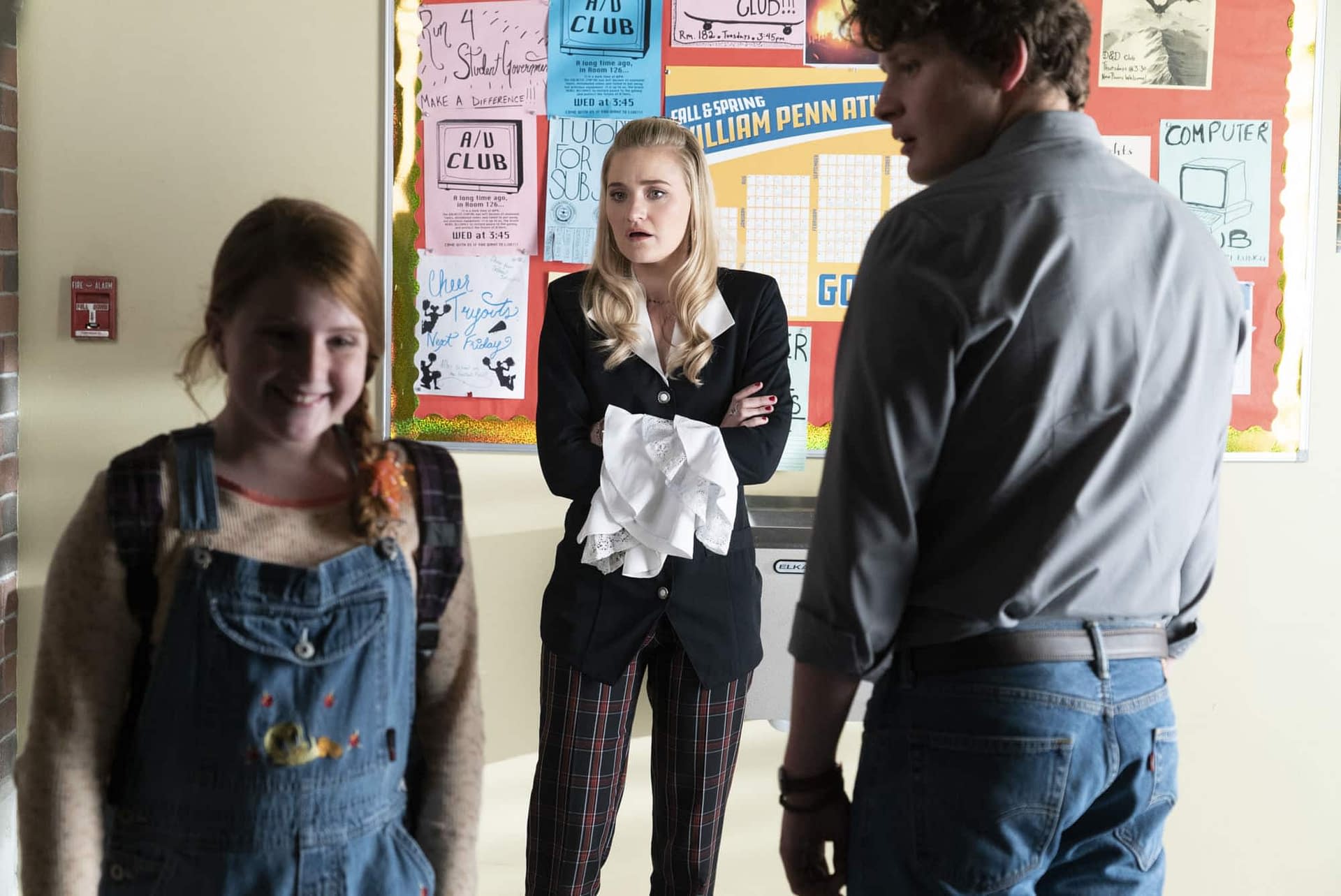 The two teachers engage in a struggle for the hearts, minds, and souls of the students, which makes whatever happened during the commercial break sound way more epic than it probably should. The kids take Laney's advice to heart, then take it to the extreme. The entire debate team quits, birthday parties are cancelled, and the students stop socializing with one another altogether: lest they be mocked and ridiculed.
All except for Aaron and Ed, who follow CB's advice and decide to go with their routine. The boys perform and no one cares. Personally, I'd have called that a win – but we can't let Laney off the hook that easily, can we? She and CB join in on stage with Aaron and Ed, turning indifference (again, a win in middle school) into the kind of fun time support… that can only happen in a sitcom.
I don't see how the guys performing to Kris Kross in the 90s would have been a big deal. The song was inescapable. Come on, they even used it in Mrs. Doubtfire. I'd have had the art teacher mistakenly think the kids were performing to Christopher Cross and had them on stage in their backward clothes looking as though they were caught between the moon and New York City as Arthur's Theme played and getting laughed at until Laney and CB fixed the issue.
Call me, ABC…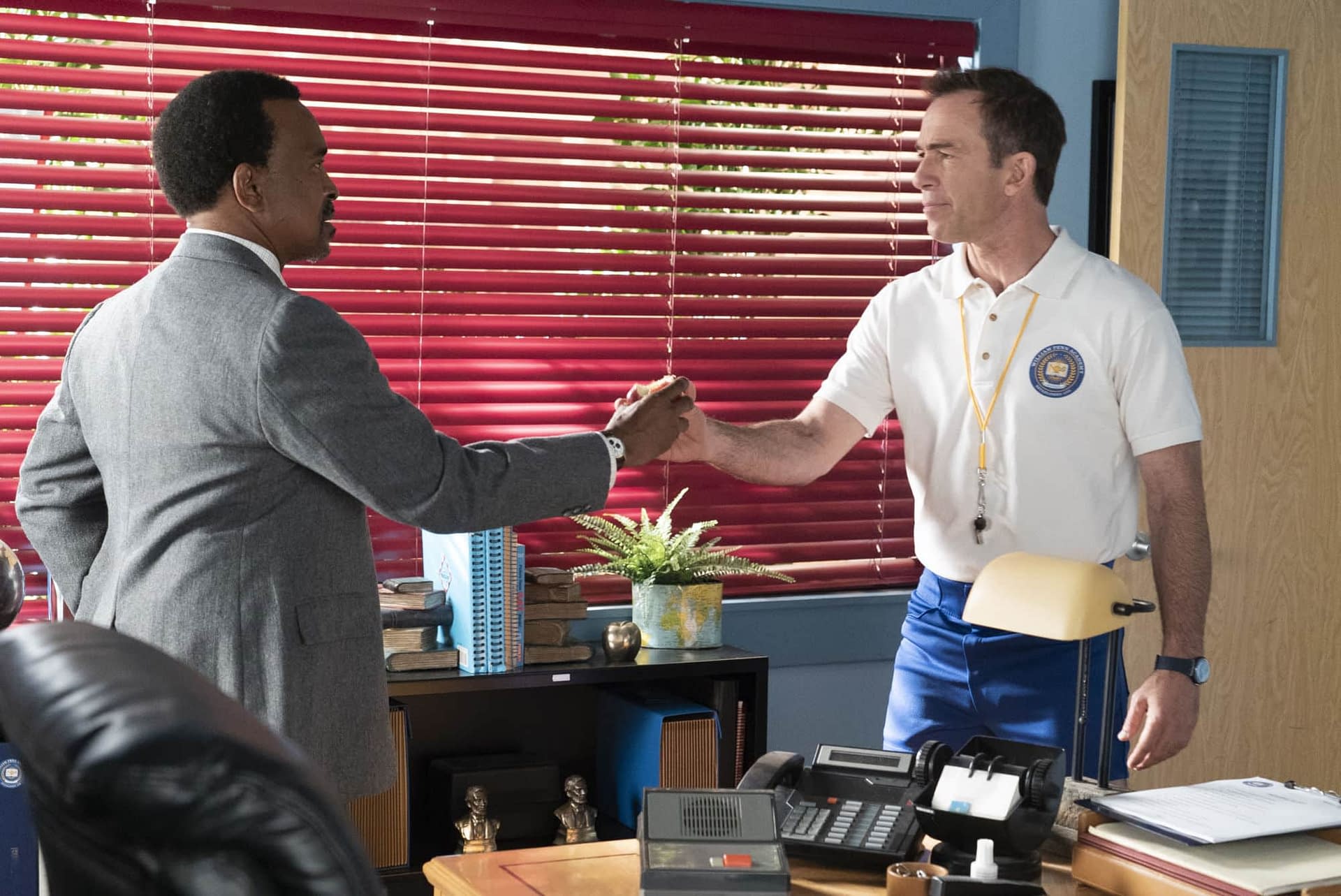 The B story centered on Glascott and his relationship with his staff. None of the other teachers want to put in the extra time and work to make the art teacher's pet X-Day project happen: it's a budgetary strain and a pain in the rear. Glascott agrees, but he's unable to say "no". Coach Mellor offers to be Glascott's muscle – and for one fleeting moment, the X-Day is off and none of the rest of the episode matters.
Glascott appreciates having someone to deliver bad news and puts Mellor to work shutting down the other teachers's requests. Mellor is all too happy to help his buddy out. In exchange, Mellor want to bring the climb the rope and ring the cowbell program back to P.E.
I think I speak for men of a certain age everywhere across this great nation when I say, "Screw you, Coach!"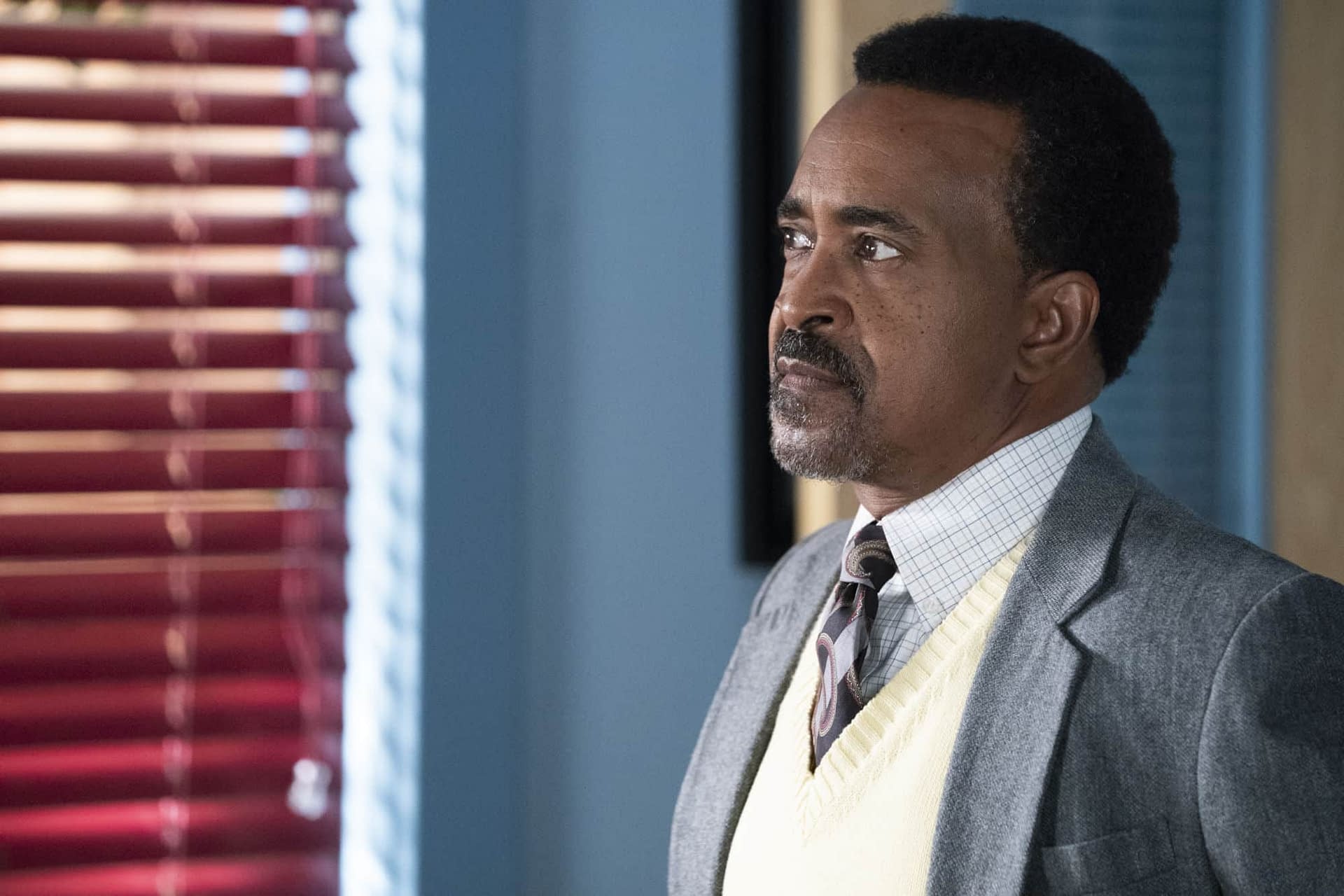 The rope unit is a problem. It's an insurance liability. Rather than tell Mellor "no", Glascott utilizes the rest of the teachers as his hatchet men and women to shut one another down. The problem is that Glascott is still trying to be his former co-workers' friend instead of their boss. When the teachers corner Glascott and call him on it, Glascott strips all their pet projects and announces that X-Day is back on… though no one really seemed to act like it was ever cancelled.
In the end, Glascott realizes that the faculty needs him to be their leader… not their buddy. He doesn't give into all of his teachers's demands, but he makes smart compromises, and everyone walks away happy.
The McGuffin that is used is one of those Magic Eye pieces where you squint at the squiggles and you see a 3-D image. Glascott finally sees the pod of dolphins and realizes he needs to be a leader.
Now, Kevin Smith directed the episode of The Goldbergs immediately preceding this episode of Schooled. To me, if you're going to make a Magic Eye your Chekhov's Gun, then why not have it be a schooner?
Seriously… these things practically write themselves, people! Does ABC need me to give them my number… again?
Schooled airs at 8:30 p.m. ET/7:30 p.m. CT on ABC.