Shark Week Celebrates 30th Anniversary, 2018's Schedule of Jawsome
There are fewer true joys in the summer than Discovery Channel's annual Shark Week. This year the aquatic fete will hit 30 years on the air, and they've got some pretty big programming lined up to celebrate.
These are just some highlights of the 2018 Shark Week schedule:
On Sunday, July 22 at 7pm (EST) Alien Sharks: Greatest Hits-
"To flying jaws… to flailing saws… from ghostly green eyes… unbelievable adaptations… and unique mutations… Deep below the ocean's surface live some of the strangest creatures and most frightening sharks on Earth. And the deeper you go, the more mysterious they get. In Alien Sharks: Greatest Hits, we're recounting the biggest discoveries, weirdest adaptations, and most memorable moments from the past five years of Alien Sharks."
On Sunday, July 22 at 8pm (EST) Bear vs. Shark –
"We've seen Bear Grylls survive almost every land-based scenario imaginable, but in Bear VS Shark, Bear takes on a whole new set of challenges against the ocean's most powerful predators. And in typical Bear Grylls fashion, he pushes the limits beyond anything we've seen in the history of Shark Week. Chumming from a helicopter? Check. Diving into a feeding frenzy? Check. Human bait? Check!"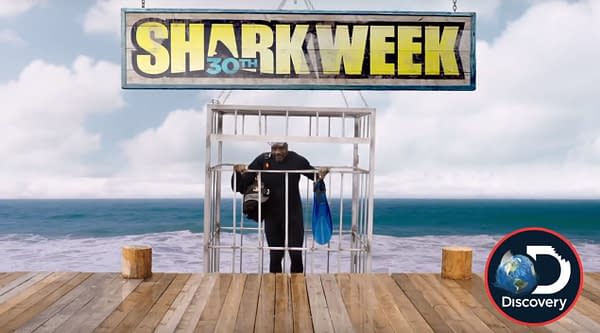 On Sunday, July 22 at 9pm (EST) Shaq Does Shark Week –
"In the hopes of securing the ultimate symbol of fame and fortune — your very own week — Shaquille O'Neal inadvertently signed himself up to be thrust into the teeth of the 30th Anniversary of Shark Week. There's only one problem. Shaq doesn't do Sharks. To overcome his fear of sharks, he's gonna need some help — enter Ex-Navy/Marine and comedian Rob Riggle, who will help train him for the big plunge."
On Sunday, July 22, 10pm (PST) Ronda Rousey Uncaged –
"Olympian and UFC Hall of Famer Ronda Rousey sets out to test her courage and prove the fighter mentality that made her a champion will allow her to stare down any opponent — even the Mako Shark. Former Navy diver and shark attack survivor Paul De Gelder coaches rookie diver Ronda Rousey through three rounds of survival training against heavyweight opponents including deadly Bull Sharks, all building to a historic 'Main Event' where Ronda attempts to step outside the safety of any cage to face the ultimate fighter of the sea — The Mako."
On Monday, July 23 at 9pm (EST) Great White Abyss–
"The deeper you dive the bigger the sharks? A team of experts go to Great White hot spot Guadalupe Island to look for the biggest sharks of their kind. Once before, a 20-foot female named Deep Blue showed herself, then disappeared into the deep. Is that where all the giant sharks live? Dr. Mauricio Hoyos thinks so. In a combination of deep-water cage and submarine dives, Hoyos and expert shark diver Jimi Partington, plus Andy Casagrande go looking for the biggest sharks in the deep water around Guadalupe."
On Wednesday, July 25 at 8pm (EST) Air Jaws: Back from the Dead –
"In 2001, filmmaker Jeff Kurr joined shark photographer Chris Fallows off South Africa to witness an amazing great white behavior — sharks launching out of the ocean as they attack seals. The fabulous Air Jaws series was born! Now, 17 years and seven shows later, orcas have killed several sharks off Cape Town and driven off the rest, so the future of the phenomenon is in question. Jeff and Chris travel to New Zealand to search for a new Air Jaws location — and look back through the fabulous visual record of South African 'flying' sharks to help them find the right spot."
On Thursday, July 26 at 8pm (EST) SharkCam Strikes Back –
"SharkCam Strikes Back celebrates the remarkable discoveries the team have made in the last six years and takes a tongue-in-cheek look at some of the disasters. From napping great whites to SharkCam being attacked, it highlights footage SharkCam has captured over the years. It all started with the Shark Week's 2013 Return of Jaws."
On Thursday, July 26 at 9pm (EST) Sharkwrecked –
"It's the most dangerous stunt Shark Week has ever undertaken. In a raw, immersive adventure that includes blowing up a boat in the middle of the ocean, Paul de Gelder and James Glancy spend two days floating with sharks. With no food, water or sleep, their physical condition deteriorates and the risk of shark attack rises. How will the sharks behave? And will the men get attacked? The location is the waters of Cat Island, the Bahamas. One of the last refuges for the endangered Oceanic White Tip. A shark said to be responsible for hundreds of deaths of shipwreck survivors during WW2.The experiment is so dangerous, a safety and medical team will float 300 feet away from the men, monitoring their every move. Within minutes, sharks start to arrive. Over the next two days an extraordinary survival story unfolds as the sharks get increasingly confident. As Paul and James weaken, and drift more than 25 miles out to sea, they experience a feeding frenzy in this unique, high octane adventure: Sharkwrecked."
On Friday, July 27 at 8pm (EST) Megalodon: Fact vs. Fiction –
"In Megalodon: Fact Vs. Fiction, we'll dive into the question: WHAT IF the largest shark that ever existed were still alive today? With the help of experts, we re-examine the original Shark Week special, dissecting key scenes to see if they paint an accurate picture of how Megalodon would have lived and hunted if it were alive today. We'll look at new evidence from Megaladon's beginnings."
And to close out 2018, on Sunday July 29th at 9pm (EST) Naked and Afraid of Sharks –
"Stranded on a barren island in the middle of the most shark-infested waters on earth, five Naked and Afraid All-Stars must survive for 14 days, exclusively on what the ocean provides. Ky Furneaux, Ryan Holt, Chris Fischer, Steven Lee Hall, and Eva Rupert are separately inserted by boat on an island in the Bahamas. They may be Naked and Afraidveterans but here they are in Shark territory. The boat lands and our Shark Expert comes ashore with the familiar looking bags and some unfamiliar items. These items will help the all-stars survive and get to their completion point over the next 14 days."
There will also be some exclusive stuff for The Meg!