Shawn Michaels appeared on WWE's The Bump livestream ahead of NXT Takeover: In Your House on Sunday. The Heartbreak Kid looked back at some of his most memorable matches, a lot of which occurred at various In Your House PPV events. One such event was In Your House 7: Best Friends, Better Enemies, where Michaels took on Kevin Nash for the WWF Championship.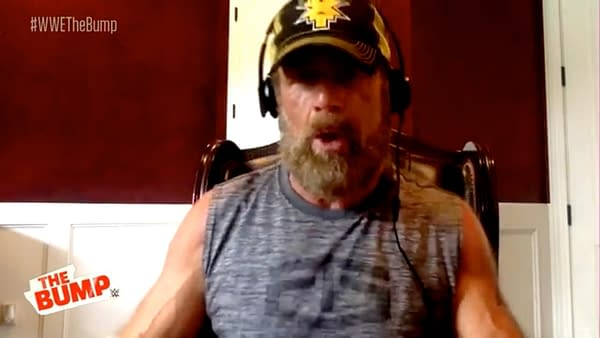 "It was all I could do to get through each and every day back then," Michaels remembered. "You began to realize, okay, so now you're going every month. I'm the champion. Yes, I've got an opportunity here to really solidify myself as a top-notch performer. One of the first In Your Houses was me and Nash, coming off of my title victory of the championship, and getting to go into a no holds barred match with Kevin which I just feel was a wonderful opportunity. He was leaving. It was the kind of match that, at that time, WWE wasn't doing a lot. It was a chance to showcase myself in a little rougher, tougher way. So I certainly looked at each and every performance from a, anything that was gonna make it on TV or be televised, I always thought of that as an opportunity to do my best to set myself separately from everybody else as a performer if I could.
One of the most memorable parts of the match was Kevin Nash using the artificial leg of Mad Dog Vachon as a weapon. Michaels credits Pat Patterson with the idea. "I gotta believe, Kevin would have to correct me, I think it was Pat Patterson," Michaels said. "Because Pat and Mad Dog go back. He was the one that was gonna ask him and he was so into it. They were both great about it. He was great about it. But have to give Pat Patterson the credit for that. We at the time, I mean, again, people always make sure to point out and I'm always good with it, which is like, hey, I wasn't easy to deal with, but that took me, Kevin, everybody by surprise. Like oh my goodness, you want us to do what? You rarely get the green light for something like that, but usually, it's you as a talent suggesting it. When one of the guys in charge is suggesting it, you're like, oh my gosh."
Michales just hopes that God is a smark and doesn't buy into kayfabe. "On one hand, you go, oh my goodness, that's brilliant, but then on the other hand, you go, oh gosh, is lightning gonna strike me after something that?" Michaels said. "Where does that fall on the whole karma thing? I hope the Good Lord knows that it's all just pro wrestling fun. Look, it turned out great. It was memorable. I think that whole match was well-timed as well considering what was ahead for WWE in the future."
Enjoyed this article? Share it!