Justin Roiland and Mike McMahan's (Rick and Morty) animated sci-fi/comedy series Solar Opposites has proven itself to be every bit the hit that Hulu hoped it would be. So much so that the streaming service announced that the series would be back for a third season (a second season was already built into the show's original contract). Which means viewers are getting a ton more time to spend with (and be badly influenced by) Korvo (Roiland), Terry (Thomas Middleditch), Yumyulack (Sean Giambrone), Jesse (Mary Mack), and The Pupa (Sagan McMahan). So to celebrate, the streaming service posted a very rare clip indeed: footage from the one and only time the main cast were together under one roof to record. To say that the session's ad-libbing got a bit weird would be an understatement, and please don't turn "baby biscuit" into a drinking game. Trust us. You'll never make it to the two-minute mark.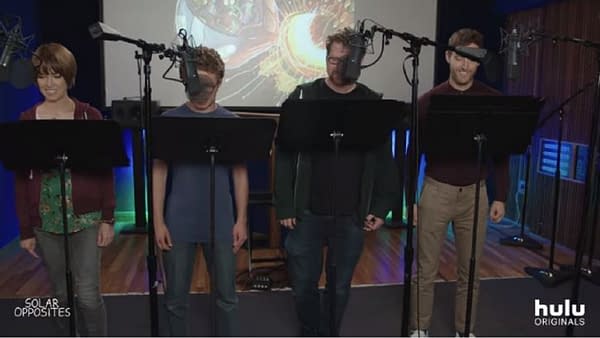 In Roiland and McMahan's adult animated series, a team of four aliens who escape their exploding homeworld only to crash land into a move-in ready home in suburban America. They are evenly split on whether Earth is awful or awesome. Korvo (Roiland) and Yumyulack (Giambrone) only see the pollution, crass consumerism, and human frailty while Terry (Middleditch) and Jesse (Mack) love humans and all their TV, junk food, and fun stuff. Their mission: protect the Pupa (McMahan), a living supercomputer that will one day evolve into its true form, consume them, and terraform the Earth. The series also features an all-star line-up of voice actors that also includes Alan Tudyk, Alfred Molina, Christina Hendricks, Jason Mantzoukas, Liam Cunningham, Rainn Wilson, Tiffany Haddish, and more. Here's a look at the official second and third-season renewal announcement video:
Enjoyed this article? Share it!