The NFL is having their own #MeToo moment as a second lawsuit has been filed against one of the teams. Earlier this month, the Houston Texans were sued by a group of former cheerleaders, alleging that they were subjected to a hostile work environment involving harassment and intimidation, as well as a lack of full compensation. Now another team, the Dallas Cowboys, are being sued by a former cheerleader who is claiming she wasn't fully paid for her work and made less money than 'Rowdy', the team's male mascot.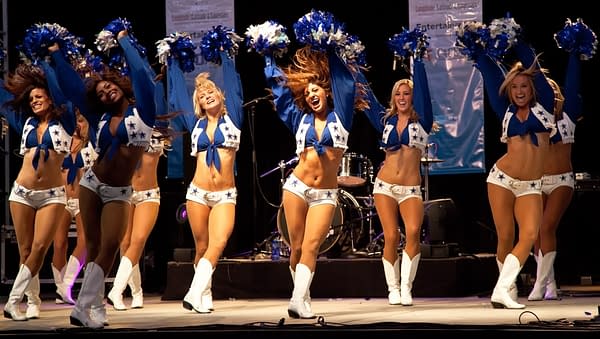 Erica Wilkins worked for the Cowboys from 2014 to 2017. According to ESPN, she is seeking "unpaid overtime wages, minimum wages and all other available damages." Court papers show she is citing the Fair Labor Standards Act in the lawsuit. The suit says Wilkins was paid $8 an hour and at times the payment was incomplete. It also states that 'Rowdy' made $25 an hour and roughly $65,000 a year.
The Dallas Cowboys Cheerleaders are the most recognized cheer squad in the NFL. They started in t960 with a group of male and female members called CowBelles & Beaux. Tex Schramm, the team's general manager, had the idea to change it to an all-female squad and debuted the iconic uniforms in 1970. In 1977 they made the first NFL cheerleader calendar, which turned out to be a big hit and led to multiple television appearances. In 1979 there was a made-for-TV movie about the DCC starring Bert Convy and Jane Seymour. A sequel was made in 1980.
Enjoyed this article? Share it!