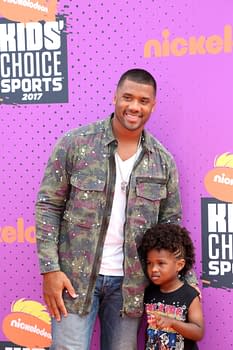 Okay, Seattle Seahawk fans… you can take a breath. Your 29-year-old quarterback is still yours. But Russell Wilson's baseball rights have been trade from the Texas Rangers to the New York Yankees. Wilson has no plans to become a dual sport threat like Bo Jackson or Deion Sanders, but he has a desire to keep his ties to baseball because of his love of the game.
Wilson has made it clear that he would love to one day play for the Yankees, so the Rangers GM Jon Daniels and Yankees GM Bruce Cashman found a deal to swap his rights for future considerations. Wilson is expected to appear at the Yankees' Grapefruit League camp in Tampa, Florida, sometime in February or March. Wilson will be assigned to the Double-A Trenton roster, the Yankees said.
Cashman said in a statement:
We've admired Russell's career from afar for quite some time. This is a unique opportunity for us to learn from an extraordinary athlete who has reached the pinnacle of his profession.

After talking to a number of our players, there is a genuine excitement in having Russell join us for a short time in camp. We are all looking forward to gaining insight into how he leads teammates toward a common goal, prepares on a daily basis for the rigors of his sport, and navigates the successes and failures of a season.
After the trade was announced, Wilson said:
While football is my passion and my livelihood, baseball remains a huge part of where I came from and who I am today. I've learned so much on the baseball field that translates to my game physically and mentally playing quarterback in the NFL. I thank the Rangers and their great fans for making me feel at home and a part of the family! While I embrace the chance to be a New York Yankee, I will forever be grateful to have been a part of a world class organization like the Texas Rangers.
Wilson will spend a short amount of time with the Yankees in Spring Training, but will be back with the Seahawks in time for OTAs.
Source: ESPN
Enjoyed this article? Share it!