'Star Trek: Discovery' Season 2, Episode 7 "Light and Shadows": Is It Spock Yet? [PREVIEW]
The second season of CBS All Access's Star Trek: Discovery has been like a really long car ride in pursuit of the source of the red signals and the Red Angel. Like the children in the backseat of the car, fans have been promised Spock (Ethan Peck). However, six episodes into the season, the world's favorite half-Vulcan has yet to make an appearance. Like metaphorical children, viewers go into each episode asking "Is there Spock yet?"
So far, after multiple teasing near-misses and misdirects, the answer has always been "not yet." In this week's episode of Discovery "Light and Shadows," Michael Burnham (Sonequa Martin-Green) journeys back to her adopted home of Vulcan to see her foster parents. If the previews can be believed, the search for Spock might finally be over. Yellow alert, studio-provided spoilers and conjecture headed your way.
The preview released by CBS All Access for "Light and Shadows" is eerie. We can sort out two distinct plot points from the images. In one collection of scenes, we see the Discovery investigating some sort of "anomaly." Captain Pike (Anson Mount) and Ash Tyler (Shazad Latif) are in a shuttle heading towards the phenomena when they are attacked by a metallic object that looks a lot like Doc Oc from Spiderman. I'm not sure how they find the "anomaly" or if it has anything to do with the Red Angel storyline, but it appears unwise to have the Captain flying towards the unknown in a small shuttle. We also see Burnham and Georgiou (Michelle Yeoh) fighting – maybe she objects to Burnham going back to Vulcan? I have no idea, but I cannot wait to see that fight!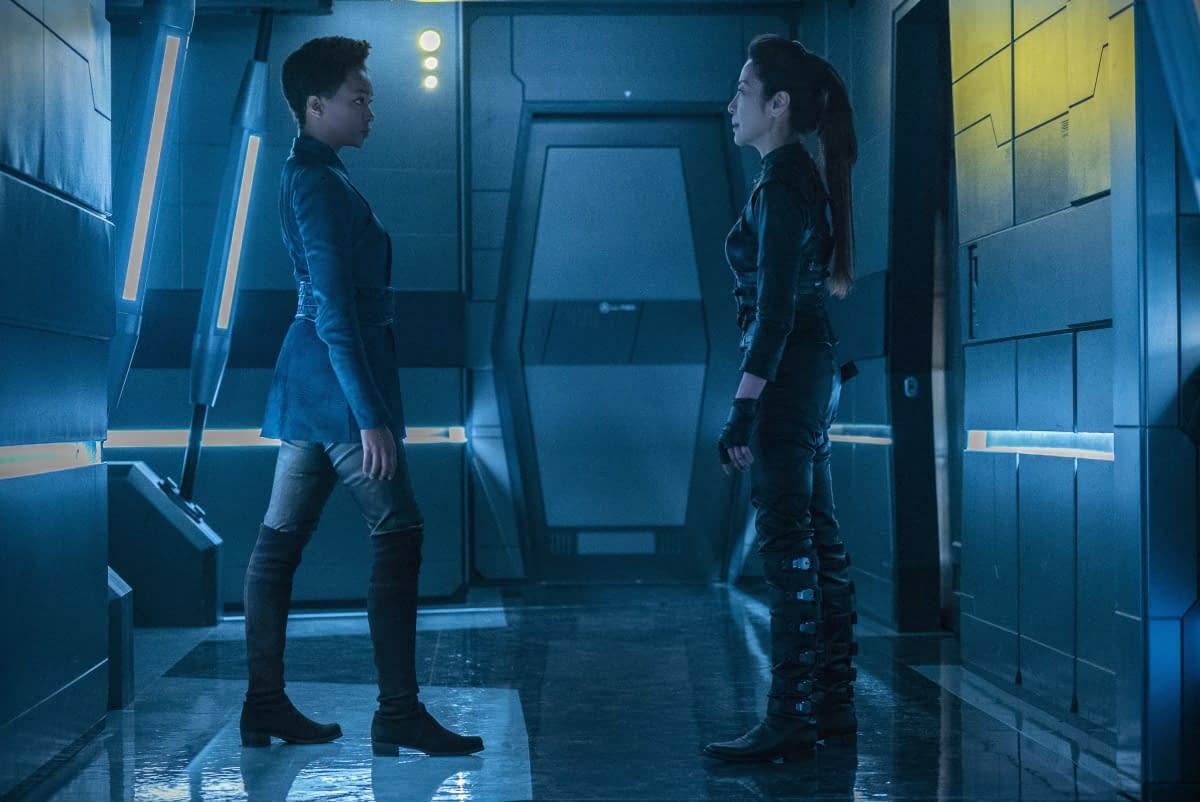 An ongoing theme throughout the season has been Burnham's love of Lewis Carroll's Alice in Wonderland. We already learned that Amanda (Mia Kirshner) used to read the book to Michael when she was a child. As we see scenes in the preview of Burnham with Amanda walking into a cave, we hear Burnham quoting a passage from the book about Alice's fall down the well. At the very end of the preview, we see Spock in a location that looks very similar to the cave that Burnham enters with Amanda. We can only hope that this is not a memory, but that Burnham and Amanda do, in fact, locate Spock. While I originally thought Alice in Wonderland was being used to illustrate Burnham's personal journey, now I am starting to think it is depicting Spock's emotional and mental struggles.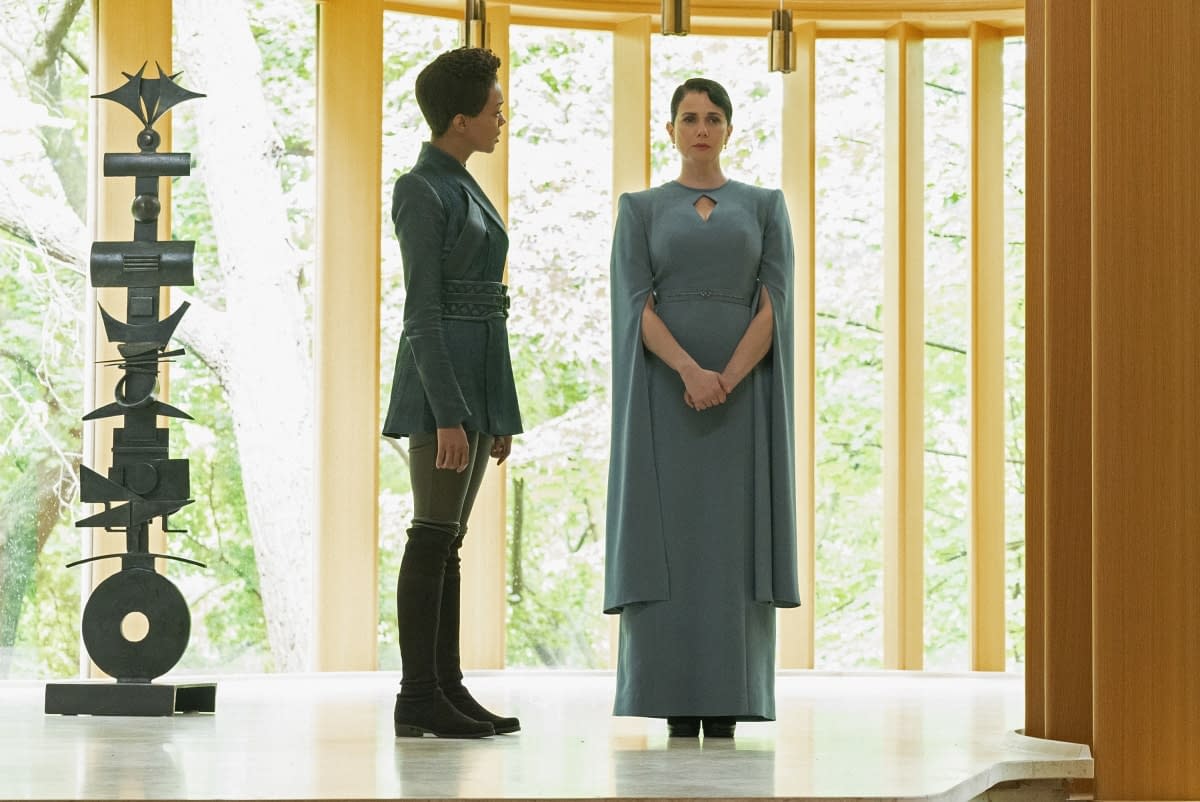 CBS All Access has released six new images from "Light and Shadows" (all appearing in this article), and it does not appear the red carpet is being rolled out for Michael on Vulcan. Amanda still seems upset with Burnham for pushing Spock away. It also appears that the relationship between Amanda and Sarek (James Frain) might also be suffering. As Sarek and Michael are very close – and Spock and Sarek continue to have a difficult relationship even in The Next Generation – it would be understandable if Amanda blamed Sarek for Spock distancing himself. Given all of the tension, it may be that finding Spock and solving the Red Angel mystery won't be enough to pull Spock back from the brink. The family bonds between Spock, Michael, Amanda, and Sarek might need to be mended – at least partway – before Spock is healthy again.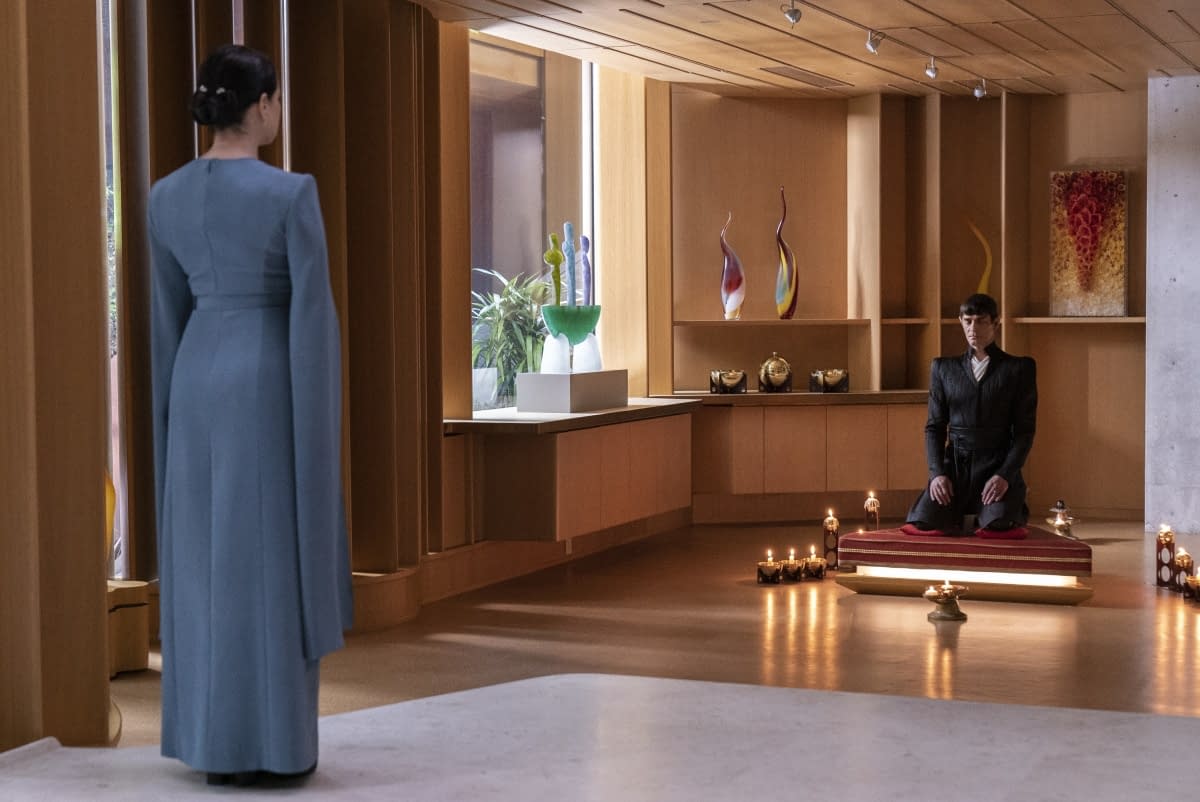 Leaving Vulcan for a minute, I have to wonder what is going on with this "anomaly" storyline. Generally I would assume that it has to do with a red signal and the search for the Red Angel, but I have been wrong before. It seems like the Discovery is exploring the mysterious occurrence while Burnham is away, but the fight scene with Georgiou on the ship makes me think Burnham is around for some of the secondary plot.
On a related note, the view of the "anomaly" that we see in the preview looks a lot like previous time vortices we have seen in Star Trek – including the "anomaly" that destroyed the Kelvin in the reboot films. A time vortex would make sense in the context of suspicions that the Red Angel is travelling through both time and space.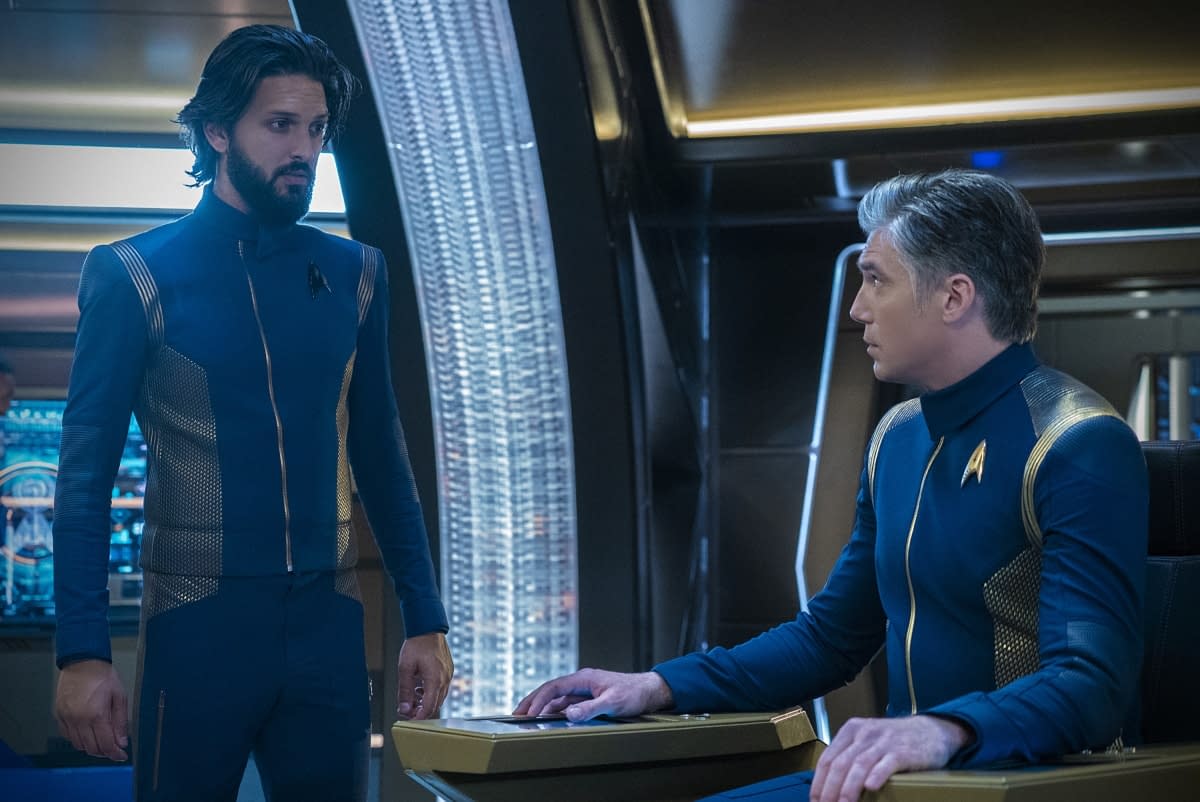 While the Red Angel arc has been interesting to watch – and I am curious to know what Section 31's real interests are – all of the build-up this season is really about Spock. Trailers screened at the San Diego Comic-Con and New York Comic Con as well as the official season 2 trailer all emphasized the importance of Spock to Discovery's second season. Fans new and old have been waiting for what Spock would be like in this new pre-Enterprise incarnation.
But we're still waiting. So as a fan, a follower of Star Trek, and someone who writes about the show, I have to say:
It is time.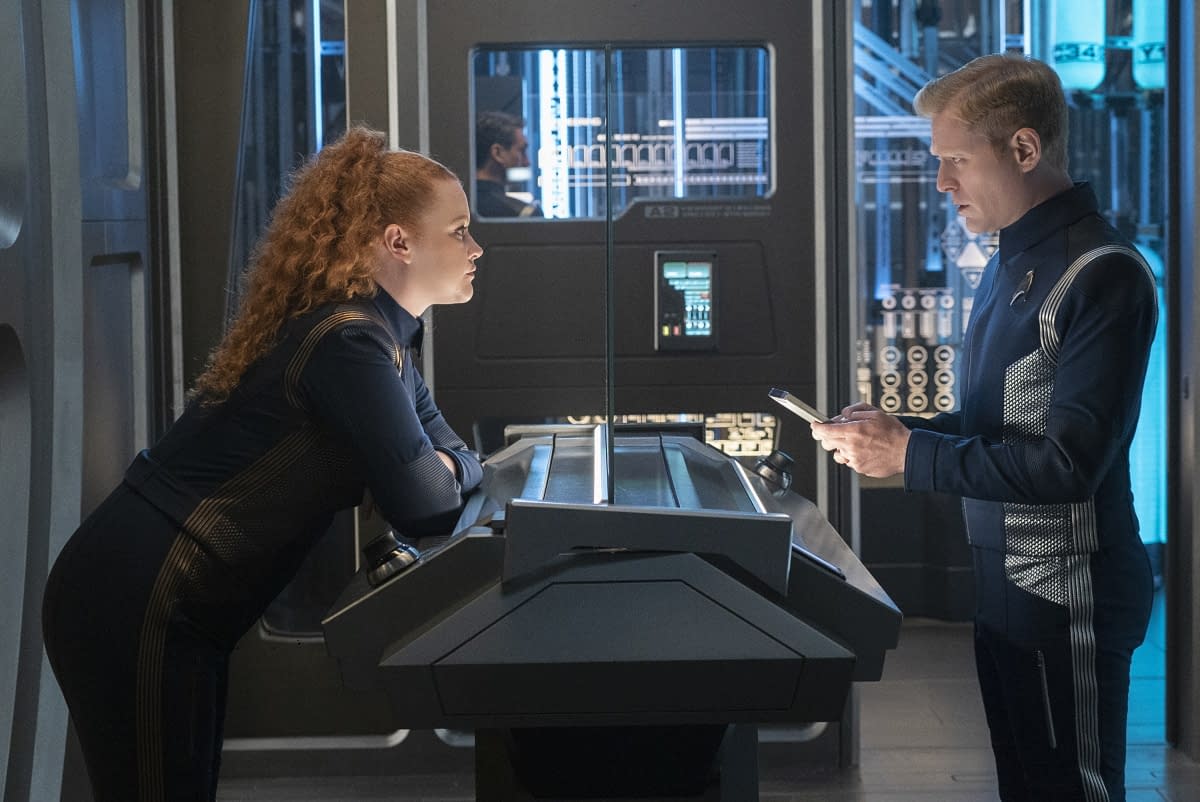 It is time for the guessing to stop.
It is time for the fake-outs to end.
It is time for this metaphorical car to pull over and stop for the night.
It is time for Spock.
Not only are the guessing games getting old, but at this point the "Spock-watch" is distracting from other plotlines. There is so much more to know about Culber (Wilson Cruz) and Stamets (Anthony Rapp), Saru (Doug Jones), Tilly (Mary Wiseman), and Jett Reno (Tig Notaro) – but as long as all eyes are peeled for Spock, those storylines won't get the attention they deserve.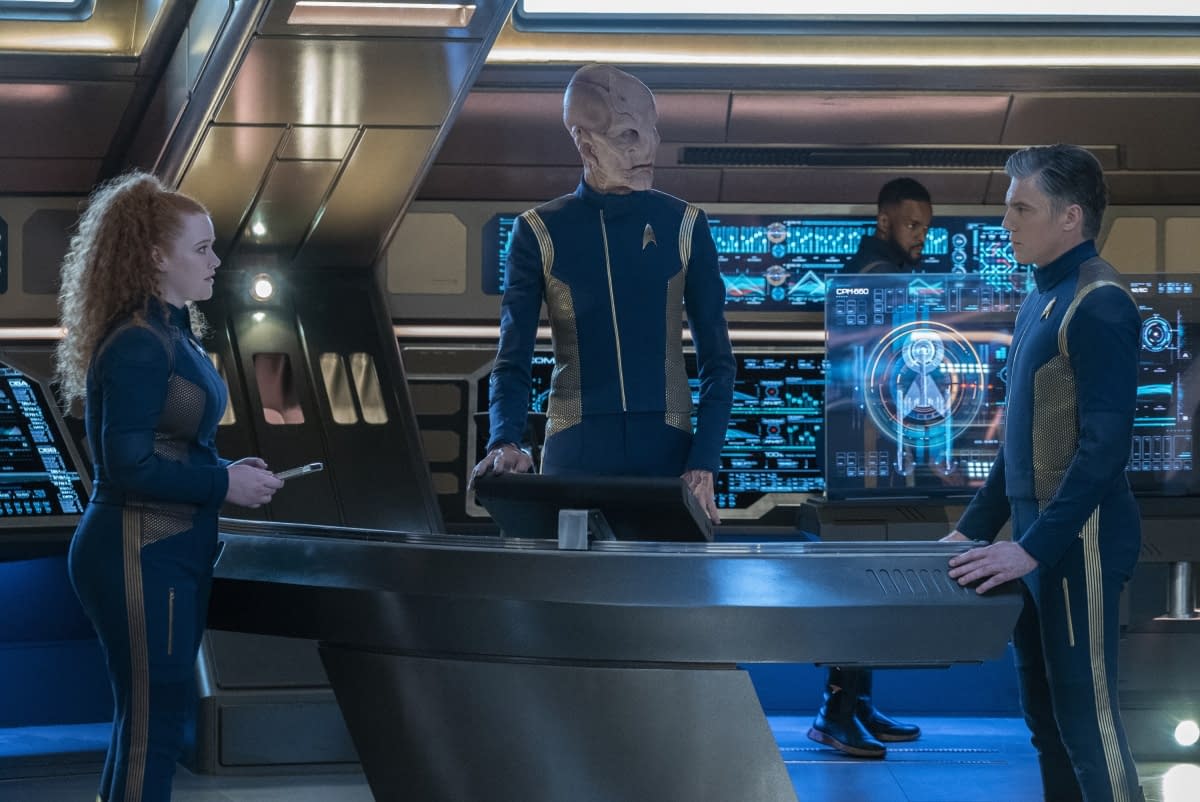 This season has been very good so far. The writing has been fantastic, the dialogue funny and smart, and the story a mix of engaging "Monster of the Week" episodes and slow-burn mysterious arcs. Discovery has things to show us and places to take us.
I just hope that first, it takes us to Spock.

Only one more day until we find out: Star Trek: Discovery s02e07 "Light and Shadows" will be available on CBS All Access starting Thursday, February 28, at 8:30 p.m.