Posted in: Paramount+, Review, Star Trek, streaming, TV | Tagged: Brent Spiner, Data, Geordi La Forge, LeVar Burton, paramount, Picard, Review, star trek, Tim Russ, Tuvok, Voyager
---
Star Trek: Picard S03E07 Review: Overdue Redemption for Data & Geordi
Star Trek: Picard S03E07 "Dominion" dives into Vadic's backstory and some long-overdue soul-bearing from LeVar Burton's Geordi La Forge.
---
The biggest casualty when it comes to war, aside from the obvious loss of life, is the ethics as we come to find the sins of Star Trek's past (especially with regards to Section 31) comes to a head in the Picard episode "Dominion." As much as the Dominion War defined Deep Space Nine during the franchise's syndicated years, we come to find out the lengths to which the Federation was willing to not only achieve victory but also reap its spoils. The following contains minor spoilers for the episode.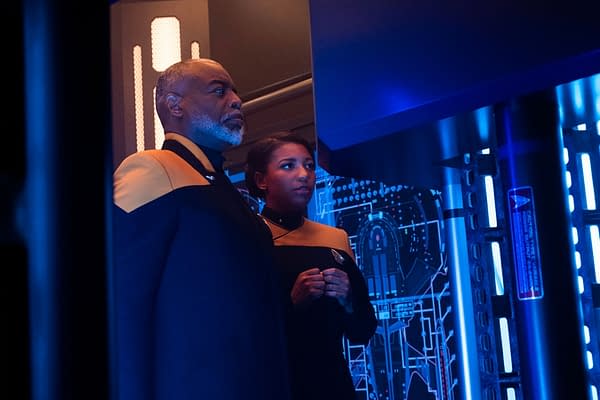 Star Trek: Picard: The Latest Mystery Guest
When we catch up to our heroes onboard the U.S.S. Titan-A, the crew is desperate to find help from within Starfleet that isn't compromised. Seven (Jeri Ryan) turns to an old friend from her U.S.S. Voyager days with a special guest spoiled early by Paramount+ and social media to be Tim Russ. Reprising his role as Tuvok from Star Trek: Voyager, we learn that the second featured cast member to play a Vulcan in a franchise series has been promoted to captain. When the grim reality of just how deep Starfleet infiltration goes sets in, the crew has to find other means to stop the Changeling conspiracy before Frontier Day hits.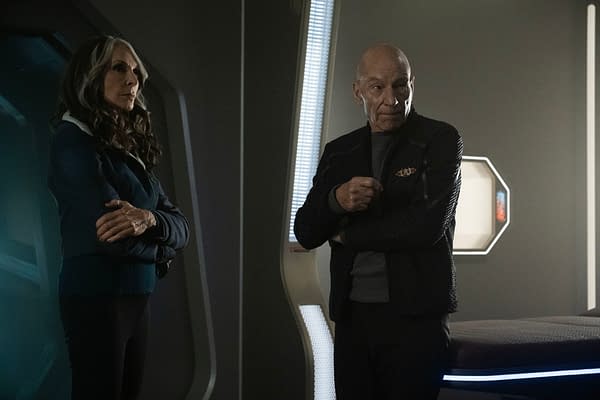 They devise a plan to draw Vadic (Amanda Plummer) and her crew from the Shrike into boarding the Titan to try to take Jack (Ed Speleers), who they targeted all season. There are some peak, impressive action sequences as we've experienced all throughout the season. Another cog in the wheel of this episode is the dynamic between LeVar Burton's Geordi La Forge, Mica Burton's Alana La Forge, and Brent Spiner's "Data" whose body is also shared by his evil twin Lore. While some may say, "Why would you hook up the unstable android to the ship's computer?" My response is: listen, I get it might not make sense to you, but when you're desperate and almost completely out of options, there's a little suspension of disbelief you have to have there and wiggle room for them to tell the story.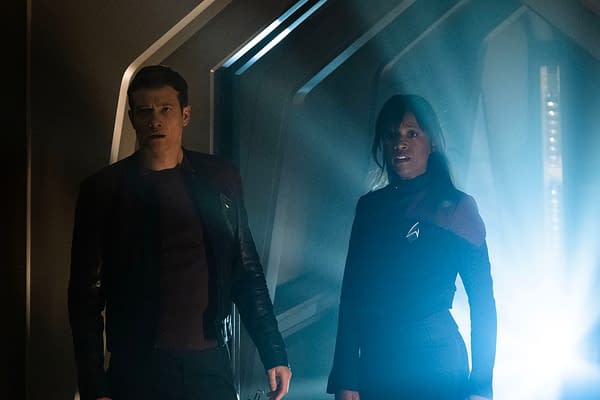 So naturally, it goes about as bad as expected as Spiner's having to randomly shift between Enterprise-D's beloved former lieutenant commander to his counterpart who shares their villains' goals to see the Federation burn to the ground. At the same time, we really get that important loose end nearly tied we never got from previous canon from Burton and Spiner's characters, given their relationship across TNG's seven seasons and four films as best friends. It was particularly a near-soul-crushing moment from Burton and the side we never really saw from their syndicated days. As much as there have been debates dividing fans on whether Star Trek should be told in serial or non-serialized formats, you can't be so rigid not to accept the gifts you get as they're presented. It shouldn't ever matter as long as it's quality storytelling.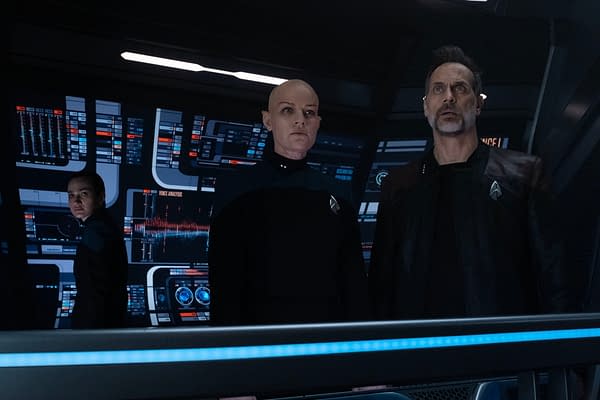 TNG worked for what it was, but Picard seeks to build on an already stable foundation that its predecessor laid out. In one scene, we saw Geordi bury the pain in his soul, trying to live his life the best way he could since he was not able to be there physically for his best friend in his final moments… not once, but twice. I can't help but think how much resentment Geordi secretly might have since his former captain was around both times when Data died. Directed by Deborah Kampmeier, who also directs the follow-up episode, and written by Jane Maggs, "Dominion" offers another strong episode with standout performances by Plummer, Spiner, and especially Burton. I'm also digging "LaCrush" more, as Speleers is more than capable of carrying out his own action vehicle, while Ashlei Sharpe Chestnut's Sidney La Forge is shining brighter with each episode. Star Trek: Picard streams Thursdays on Paramount+.
Star Trek: Picard Season 3 Episode 7 "Dominion"
---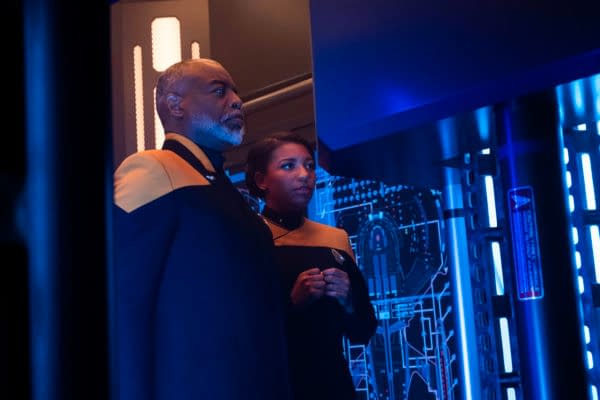 ---
LeVar Burton turned in perhaps his finest performance to date as Geordi La Forge in the Star Trek: Picard episode "Dominion," tying up a major emotional loose end by bearing his soul to Brent Spiner's Data - evoking the duo's history across all of The Next Generation. Credit to director Deborah Kampmeier, writer Jane Maggs and showrunner Terry Matalas for delivering another action-packed and nuanced episode that finally also sheds light on the season's villains, the Changelings.
Credits
---
Director
Deborah Kampmeier
---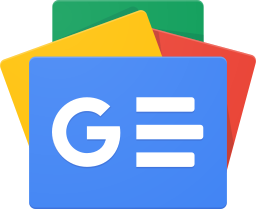 Stay up-to-date and support the site by following Bleeding Cool on Google News today!