"Star Trek: Picard" Season 1 "Maps and Legends" Charts New Journey, Bridges to What's Still to Come [REVIEW]
The latest episode of CBS All Access' Star Trek: Picard establishes the status of two of the largest factions in the franchise, the Federation and the Romulans. "Maps and Legends" maintains similar pacing to "Remembrance" focusing on Jean-Luc (Patrick Stewart). He tries to do what's necessary to find out more about the legacy of his fallen friend Data (Brent Spiner).
[rwp_box id="0"]
Picard's Media Fallout
Picard doesn't have much to go on aside from an elusive cyberneticist Bruce Maddox. His research into synthetics starts to create more questions than provide answers. The beginning of the episode recollects the disaster involving synthetics and Mars 14 years ago. We see more of the principal players with Starfleet's Commodore Oh (Tamlyn Tomita), Admiral Kirsten Clancy (Ann Magnuson), and Lt. Narissa Rizzo (Peyton List).
Naïve to how his comments to Federation media would be received, Picard visits Clancy for reinstatement at HQ. With his goodwill out the window and as shown in the previews, the admiral reminds Jean-Luc what he did and the bridges he's burned. The episode shifts more to what Romulans are doing with Borg technology revealing more about Narek (Harry Treadaway) and Soji (Isa Briones).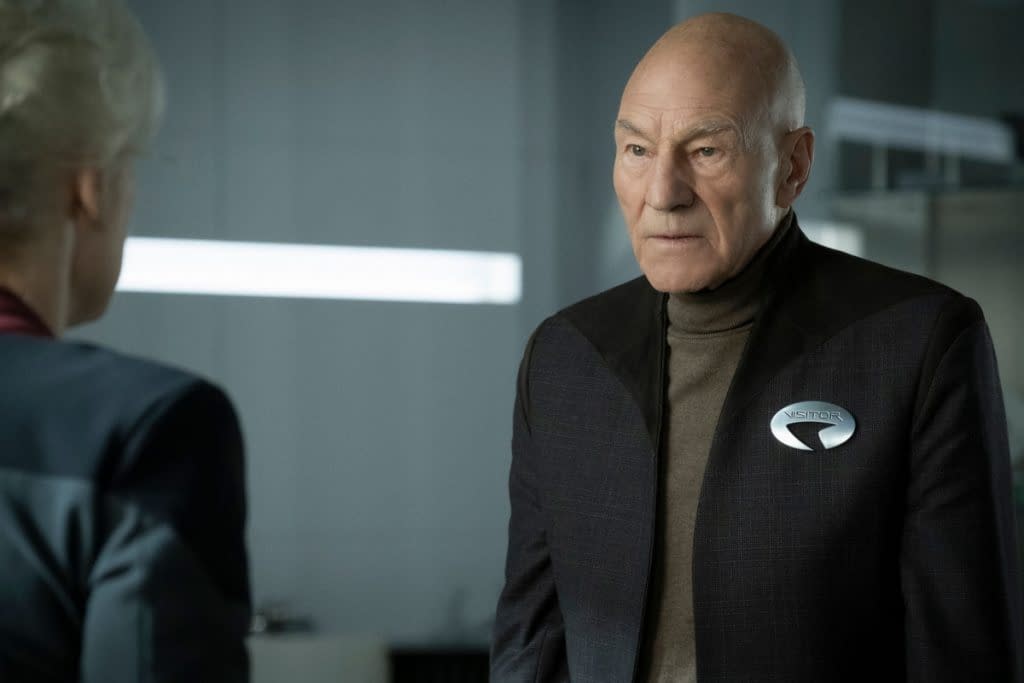 Conspiracy in the Making?
We also come to find out more from Picard's employees Laris (Orla Brady) and Zhaban (Jamie McShane) about Romulan politics and secretive organizations like the Tal Shiar. Hanelle M. Culpepper directed "Maps and Legends" not skipping a step from the previous episode "Remembrance". Executive producer Akiva Goldsman wrote the episode.
"Maps and Legends" serves more to fulfill exposition before Picard begins to establish his crew and the boundaries in the world he has to work with. It moves the story more than "Remembrance", but had fewer stand out moments by design. There were no former Next Generation cameos. We see how Jurati (Alison Pill) and Raffi Musiker (Michelle Hurd) fall into place. It's another strong Star Trek episode from CBS All Access.

STAR TREK: PICARD features Sir Patrick Stewart reprising his iconic role as Jean-Luc Picard, which he played for seven seasons on "Star Trek: The Next Generation." The new series will follow this iconic character into the next chapter of his life.
Star Trek: Picard is produced by CBS Television Studios in association with Secret Hideout and Roddenberry Entertainment. Stewart, Alex Kurtzman, Michael Chabon, Akiva Goldsman, Heather Kadin, James Duff, Rod Roddenberry, and Trevor Roth serve as executive producers and Aaron Baiers (Secret Hideout) serves as co-executive producer and Kirsten Beyer as supervising producer.