Star Trek: Picard Showrunner/EP on Season 3 Evoking TOS, Films & More
Star Trek: Picard Showrunner/EP Terry Matalas explains how Season 3 evokes The Original Series as well as the films & discusses the trailer.
---
Upon the release of Star Trek: Picard's final trailer for its third and final season on Paramount+, executive producer and showrunner Terry Matalas is always happy to analyze and break down every facet with an eye to the past and present without venturing into spoiler territory. Among the reveals is a callback to The Original Series films, Seven of Nine/Annika Hansen's (Jeri Ryan) position with Starfleet, and new characters introduced on the U.S.S. Titan-A Jean-Luc (Patrick Stewart) and Riker (Jonathan Frakes) meet on board.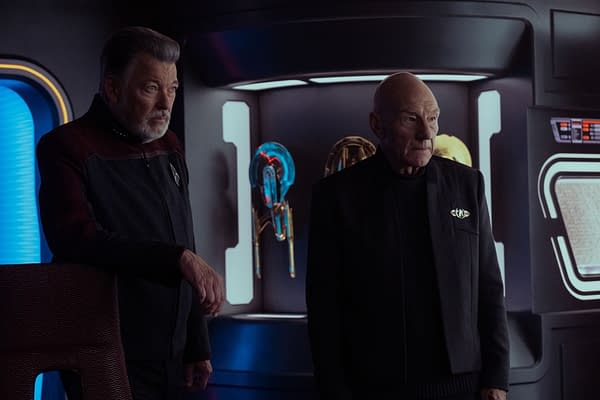 Star Trek: Picard's Reference to The Original Series Films
When Picard and Riker board Seven's ship, they're greeted by a crewmember with a boatswain whistle. "I very much prefer Starfleet to feel like the Navy," Matalas told TrekMovie. "And certainly, 'The Original Series' and a lot of what [Star Trek II and VI director] Nick Meyer did feels like that the most. And the trailer, like the first episode, starts with an air of pomp and circumstance. So it's just getting a feel of what I think Starfleet should feel like. It's the military. It's serious. There are protocols. And that sort of permeates throughout the season." As far as if it's the same one from the 1991 film The Undiscovered Country, "It felt like those whistles are usually traditional and are passed down from ship to ship to ship. So we thought that might be the case here. I suppose it could be the same one [from Star Trek VI] or just an older, hundreds-year-old model."
If Seven feels she's at home in the Federation, "It is very much a conflict for her as to how fast she was inducted into Starfleet and whether or not she truly feels as though she belongs, and [whether] her captain feels as though she belongs," Matalas explains. Upon the reveal of 12 Monkeys & Star Trek: Enterprise alum Todd Stashwick as Titan-A's Captain Liam Shaw, "I think he's going to be a fan favorite. When it comes to the speech, Shaw talks about to Picard and Riker how their inspecting will be boring rather than the more traditional blowing things up, "Again, harkening back to what I said earlier about this being the military and how legacy characters like Picard and Riker tend to be able to throw their weight around within this organization and get special treatment doesn't always sit well with everyone within the Navy."
For more, including how season three ties Worf (Michael Dorn) with the Dominion War from Deep Space Nine, the debut of the Enterprise-F, Ed Speleer's new character and how it ties to Gates McFadden's Beverly Crusher, and more, you can check out the full interview here. Star Trek: Picard season three premieres February 16th on Paramount+.