Star Trek: Picard Season 3: No Janeway But "Other Voyagers" Teased
Though a Janeway cameo isn't in the cards, Star Trek: Picard Season 3 Showrunner Terry Matalas teased that "other voyagers" might be around.
---
With less than two weeks away until the season three premiere of Star Trek: Picard, executive producer & showrunner Terry Matalas is always happy to answer fan inquiries when he can… within reason. One such fan is hopeful that Kate Mulgrew makes her live-action return as she did in 2002's Nemesis, writing, "All I want from #StarTrekPicard is for Janeway to have a mini cameo. J-L asks her how her kid is doing bc they got in trouble again. Janeway rolls her eyes & says, 'Don't get me started. Sometimes I think they're the worst idea Chakotay & I ever had.' Is that so much to ask?🥺" Matalas dashed her hopes, but also cryptic response.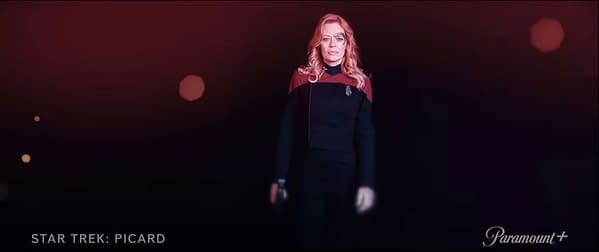 Star Trek: Picard EP Terry Matalas' Cryptic Voyager Tweet
"Before anyone gets their hopes up, Janeway is exclusively on #StarTrekProdigy. But there are other voyagers out there in the Alpha Quadrant," Matalas wrote. The season marks the reunion of the cast of Star Trek: The Next Generation, but the EP also offered allusions to its syndicated spinoffs to Deep Space Nine and Voyager.
Recapping the other Voyager cameos starts with Robert Picardo, who was the U.S.S. Enterprise-E's Emergency Medical Hologram, as he was on the UPN series, in the 1996 TNG film First Contact, which, like Mulgrew's film cameo also predates streaming. For the ones in the current Paramount+ era, you have Robert Beltran reprising his role as Chakotay, revealed to be the captain of the U.S.S. Protostar on Prodigy, and Robert Duncan McNeill reprising his role as Lt. Tom Paris as a hallucination in Ensign Brad Boimler's (Jack Quaid) mind on Lower Decks, both are animated series.
The only Voyager star to return in live-action form in the Paramount+ era is Jeri Ryan, reprising her role as Seven of Nine/Annika Hansen for Picard since season one. Season three has her finally taking the Starfleet commission with the rank of commander. Of what Paramount+ has revealed from previous trailers so far of Seven, she's guiding Admiral Jean-Luc Picard (Patrick Stewart) and Captain William Riker (Jonathan Frakes) presumably to the bridge of the U.S.S. Titan-A. Picard returns on Paramount+ on February 16th.