CBS All Access just released the first trailer for the upcoming episode of Star Trek: Short Treks which will focus on Harry Mudd, as played by Rainn Wilson.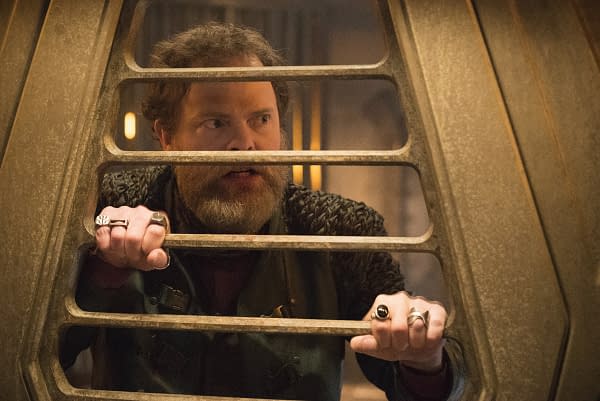 Titled "The Escape Artist", the episode will focus on the galactic criminal and con man Harry Mudd, brought to life in Star Trek: Discovery by Wilson, who also directed this episode. The script for "The Escape Artist" is by Rick and Morty head writer Michael McMahan, who will also be showrunning the upcoming animated Trek series, Star Trek: Below Decks.
The released synopsis of the episode reads:
"Harry Mudd (Rainn Wilson), back to his old tricks of stealing and double-dealing, finds himself in a precarious position aboard a hostile ship – just in time to try out his latest con."
And here's the trailer:
Wilson said in an interview with ComicBook.com:
"There's going to be that 10-15 percent of fans that go, 'Oh, no way. I'm not going to watch a short film about Star Trek. This isn't how it works.' But I love that they're breaking molds and breaking new ground, and it's a terrific mini Harry Mudd adventure. It goes to a lot of different places, from different aliens, lot of fun situations, some great twists and turns, and I get to direct it and star in it. It's like a dream come true. It's like, 'Write me a dream job.'"
Mudd's Short Trek episode is set to air on January 3rd 2019. Season two of Star Trek: Discovery returns to CBS All Access on January 17th 2019, with
Enjoyed this article? Share it!