"Star Wars: The Clone Wars": Ashley Eckstein Dishes On Ahsoka's Return
In February, Star Wars: The Clone Wars returned to Disney+ for a long-awaited seventh, and final, season. Last week, Anakin Skywalker's epically popular former padawan, Ahsoka Tano (Ashley Eckstein) crashed back onto the show. Now, there are rumors that Ahsoka might soon make the jump to live-action in Mandalorian. Just when the world needs hope, and a spunky Jedi hero, Ahsoka is back. To celebrate, the equally awesome Ashley Eckstein generously agreed to answer all of our questions about Ahsoka's long-awaited return. Keep an eye out for the second half of Bleeding Cool's interview with Ashley, all about her upcoming children's book I am a Padawan.
Interview edited lightly for clarity, and to cut out my inane fangirling.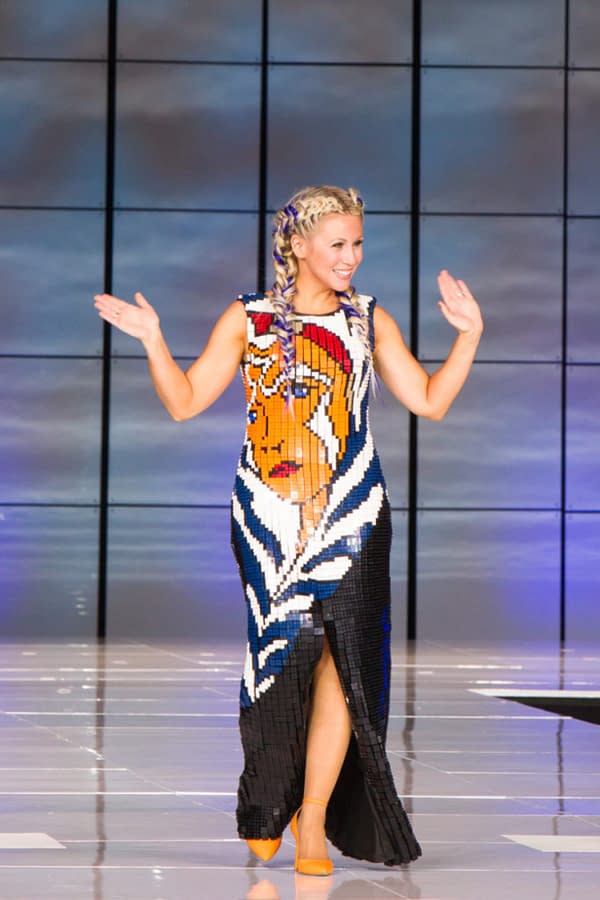 BLEEDING COOL: Thank you so much for speaking with us! Interestingly, I was in the room at San Diego Comic-Con when it was announced that the The Clone Wars was coming back. It was a long year-and-a-half wait, and now Ahsoka is back on the air, you are finally getting to see her onscreen again. How is that for you? And how was that almost 2 year wait for you?
ASHLEY ECKSTEIN: Oh my goodness, well its so exciting to finally be able to share these episodes with everyone. We have been working so hard on them, and its truly, I feel like, everyone's best work. I have always said "it takes teamwork to make the dream work" and its an entire team of us that it takes to bring this to life. And I am so proud, so proud of everyone.
But yeah, I will say the hardest secret to keep was when I found out that Clone Wars was coming back. From that point in time until San Diego Comic-Con, because we knew we wanted to keep it a secret and surprise fans as just the right time. So that was actually the hardest part. And then from San Diego Comic-Con until now, it was just a lot anticipation, of wanting to share these episodes. But at least I didn't have to keep a secret anymore.
I was there with like 4 different devices trying to get a signal out of the room so we could be one of the first places to have it up. The room was going nuts and I was like trying to send tweets.
Well then you know. Unless you were in that room, it literally was electric. You can't explain it unless you were there. Its was like literally the roof blew off of the place. It was a moment I will never forget. I will remember for the rest of my life.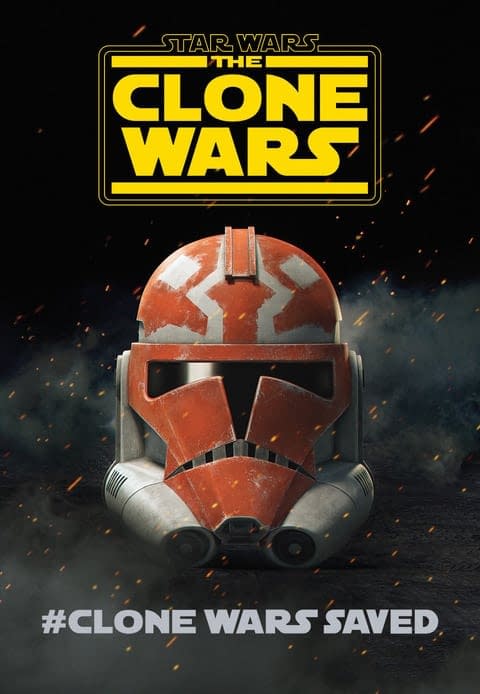 Me too. It was absolutely amazing. And, you know, I feel like many of us are of an age. Clone Wars was kind of the only Star Wars we had for a really long time. And I have to admit that I wasn't a huge Ahsoka fan right at the beginning, and then by the end I grew to absolutely love her, to the point where she is one of my favorites. She was kind of controversial at the beginning, and then by the time she decided to leave the Jedi Order, everyone loved her and thought she was part of what made the show work. So can you take us through that, and what part you played in taking her from such a controversial character to one of the most beloved Star Wars characters?
You know, I have to say, thank you for your support from the beginning, it really means a lot. And I will say, you are not the only one. The majority of fans were kind of rubbed the wrong way by Ahsoka in the beginning, and it was for various reasons. First of all, people were shocked to find out that Anakin Skywalker (Matt Lanter) had a padawan. There was that shock from the beginning.
Then she came across as very snippy. She was snippy, she used these nicknames, they were like "How dare you call Artoo "Artooie!"" "How dare you call Anakin Skywalker "Skyguy!"" So, there was that side of it. And then, furthermore, she was groundbreaking. And I say that because it is easy to forget now but, just 12 years ago when Clone Wars came out in 2008, Ahsoka was the first female Jedi that was a lead character in the Star Wars universe. Yes, there were other female Jedi, but they were always just small parts, bits and pieces in the background.
There was never a lead character that was a Jedi that was a female up until that point. Also at the time, we didn't have characters like Rey, in StarWars. We didn't have characters like Rose or Jyn. We didn't have a Black Widow movie or a Wonder Woman movie. The times were drastically different back then. And Ahsoka came onto the scene and not only was she this massively important character, being Anakin Skywalker's padawan, but she was a 14 year old girl. And people were shocked by that. And so I kind of feel like she had all the odds stacked against her. And I have to say, I have been a lifelong Star Wars, fan but I was also very naive.
I was so excited by being able to be the voice of Ahsoka, and fortunately we were always a season ahead of what the fans got to see. So, when Clone Wars first came out in August 2008, I'm not going to lie, when all the hate came in, I had a day where I was just devastated. Because I knew how great this character was, and I read all of the hate.
I was in a hotel room in Boston. And I remember they had a Cheesecake Factory down at the bottom of the hotel, and I went down and I got some cheesecake to go. And I went up to my room and kind of locked myself in the hotel room, and I just kind of cried and ate cheesecake all day. But after I had a good cry and a good moment to just let the emotions out, then I was like "you know what, no, this character is fantastic and she is a great addition to the Star Wars universe." And I knew that because we were already a season ahead, and I knew how far she had come in just one season.
So I started doing interviews and going to social media and I just asked fans, I asked them for their patience. I asked them to go on this journey with Ahsoka. Because I said "you know, no character is perfect at first, and they shouldn't be perfect at first. Because if a character starts out perfect, well then there is nowhere for this character to go."
And I promised them, I said "its going to get better, you're going to like Ahsoka, just please trust me, and go on this journey with me." And fortunately, fans did. And I am so thankful that they didn't give up on her, and so thankful that we have had all of these years to share her story.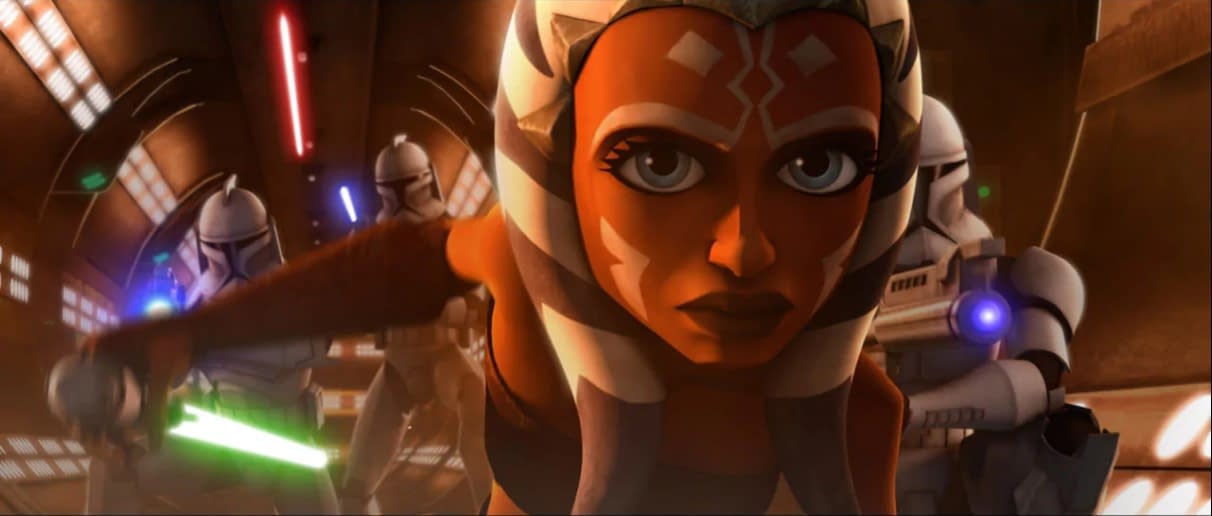 So, then bring that back to last week. And looking at the reaction to seeing Ahsoka on Season 7 of The Clone Wars for the first time, and seeing how fans received that. How did you feel when you saw people get excited because Ahsoka was back?
Its always so surreal. I don't know how to explain it, because I personally don't have kids. But Ahsoka became like a baby to me, she's literally a part of my heart and soul. So, to see the reaction for Ahsoka, and people's excitement, it just means so much to me. To see everyone's reactions, when truly Ahsoka is just part of my heart and soul. To see what she represents to people all over the world.
That she represents so much hope to people, especially during times like right now, when we all need hope. You know, we're all looking for that little bit of hope. Literally, enter Ahsoka. Its almost kind of like at the best time, the time when we all need it the most, is when we are getting more Ahsoka. And I just couldn't be prouder.
I am only one part of a team of people that it takes to bring Ahsoka to life. But anything that Ahsoka is involved in, I will always be happy with and want to support. And I am just so pleased that we are getting more Ahsoka.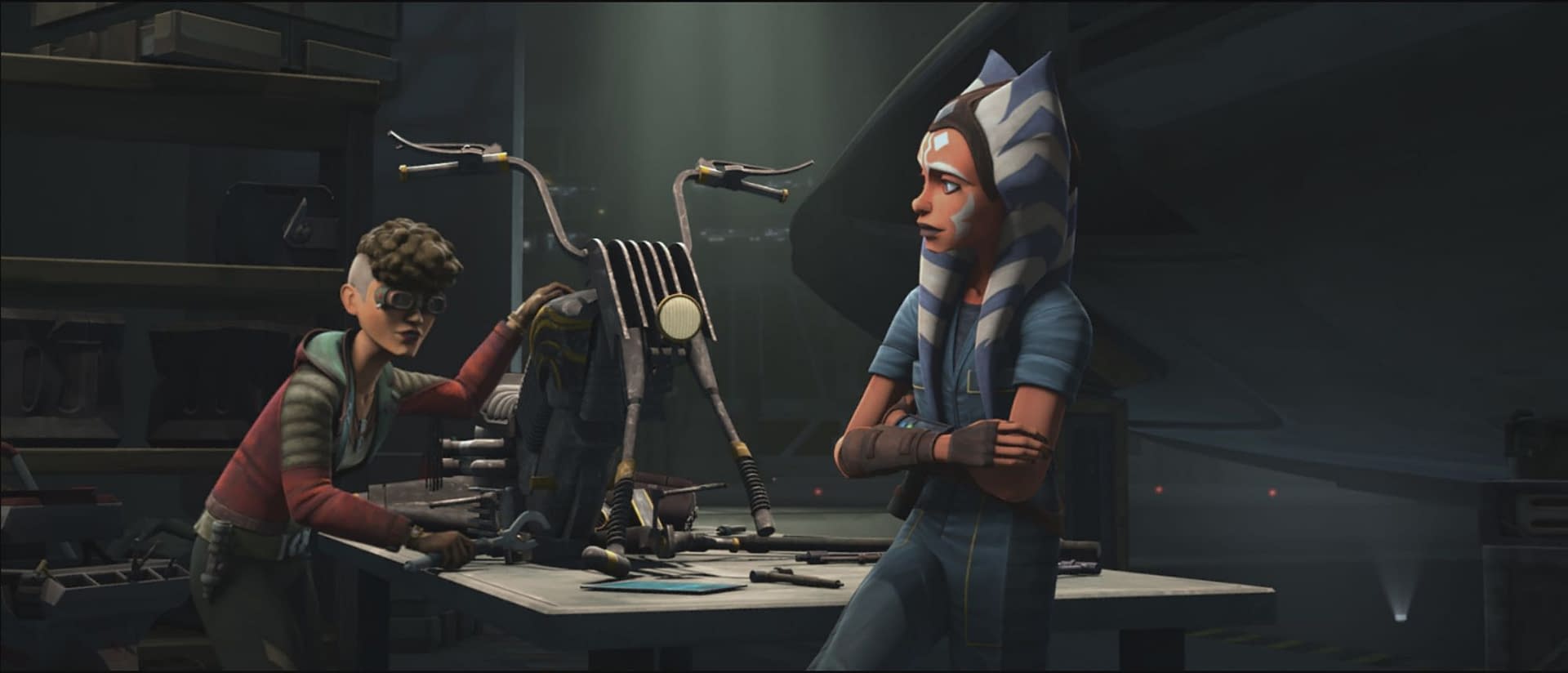 Given current events and what's going on, the possibility that someday Ahsoka could move on without you playing her. How do you feel about that possibility of you seeing Ahsoka maybe go somewhere that you may not go with her?
Well, I will say, as I shared on Instagram, I've been so fortunate to be able to be a part of this character for 14 years. And I say 14 years because we actually started recording the Clone Wars in 2006. I've had so many incredible opportunities that has changed my life. And I've always said from day one that I'm just one member of a team of people that it takes to bring Ahsoka to life.
So it's never just been me. And I will continue to hope to be a part of stories with Ahsoka, but I will always support stories with Ahsoka because Ahsoka brings people so much hope. Ahsoka represents so much good and so much light and that should always be celebrated. We need all the good and all the hope we can get in this world. And I will always support that.
That's an amazing attitude for it. And I agree, we do need all of the Ahsoka. Tell whoever it is that you need to tell. I will make sure I write that.
Thank you so much. I really appreciate it. I think, you know, right now, especially like I said at the beginning of the interview. But these these next couple of episodes with Trace (Brigitte Kali Canales) and Rafa (Elizabeth Rodriguez). There's really a theme about helping people and friendship. And then with the Siege of Mandalore, to me personally, the episodes are all about hope, even when it looks like all hope is gone.
And I know at first when these episodes were, when all of this was happening with corona virus, I'll be honest, we had a lot of plans. A lot of plans around the the Clone Wars and autograph signings and screenings and all of these things that were supposed to happen. And it was it was really sad. It was really a bummer that things just were getting canceled left and right.
And then I realized, I'm like, wait a minute. It couldn't be a better time to have these episodes. Everyone's home. Everyone is looking for the next thing to stream and Clone Wars, the entire series is streaming on Disney+. And then we're getting new episodes. And these episodes are sharing stories of help and light and hope. And I'm so proud of what we were able to do with these episodes and that everyone is as able to watch them at this time. I think it's what everyone needs.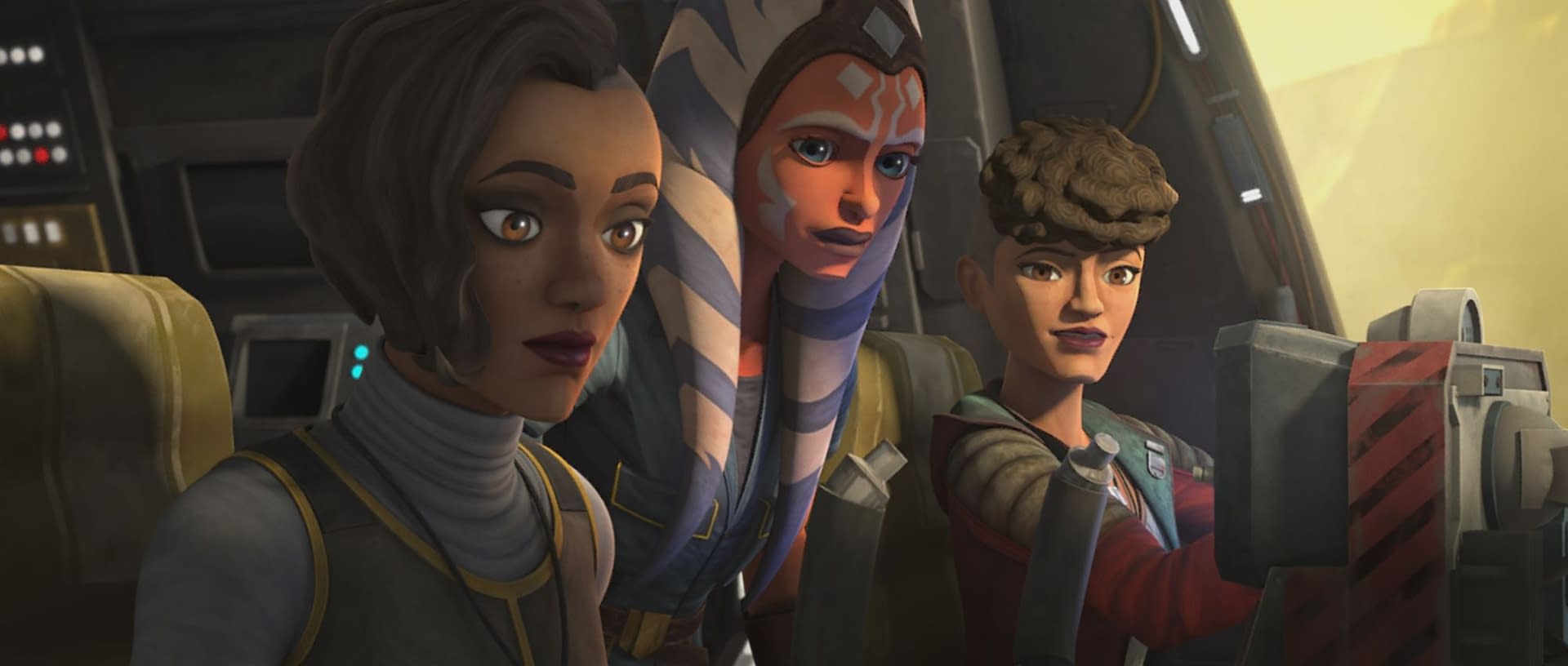 It's definitely what I need. Though I've been looking forward to it since The Clone Wars ended. I've long both written and supported the idea that The Clone Wars is really what led to the reawakening of Star Wars, of the interest, and kind of passing it along to the new generation, enabling the interest that we have now. There was so long with nothing. And then we got The Clone Wars. It was amazing. And then we got Rebels, which was also amazing. And when Ahsoka walked on on Rebels. And your heart dropped and you go, "oh, my God, it's her! And she gets to wear clothes now!" Thank you for bringing yourself to Ahsoka and for bringing yourself to things like Her Universe and geek girl clothes. I wore your Her Universe Ms. Marvel dress to a Con. Thank you for not stopping at voice recording, for taking the next few steps, because that meant a lot to not only me, but a lot of the female geeks out there.
Thank you. Well, you know what? One thing to to finish the answer I said before, and this is the way I look at it. You know that the final decisions with Ahsoka were never mine to make. And I can't control those. However, what I can control is, I can be a real life Ahsoka. And I can control my everyday decisions.
I founded Her Universe because I asked myself what Ahsoka would do. And now my passion is being an advocate for mental health., and speaking up about the importance of mental health and how our mental health is just as important as our physical health. And, you know, I asked myself with that "what would Ahsoka do?" What I can do is, I can continue to strive every day to be a real life version of Ahsoka, and that will continue to guide me.
Stick around for the second-half of our amazing interview with the insightful Ashley Eckstein!