Stranger Things 4 Will Reveal Hopper's "Darker Palette" to Viewers
Following up on Thursday's look at all the scripts for the fourth season (well-played, Stranger Things 4 writers' room), series star David Harbour (Jim Hopper) dropped some intel teasers for fans to throw into the dumpster fire of mindless speculation. During Deadline Hollywood's Contenders Television virtual event, Harbour and series creators Matt Duffer and Ross Duffer offered a detailed and extensive look back at what went into the third season as well as an examination of the series overall. Of course, when you have a major cast member and a show's creators, you can't help but try to get a scoop on what's still to come.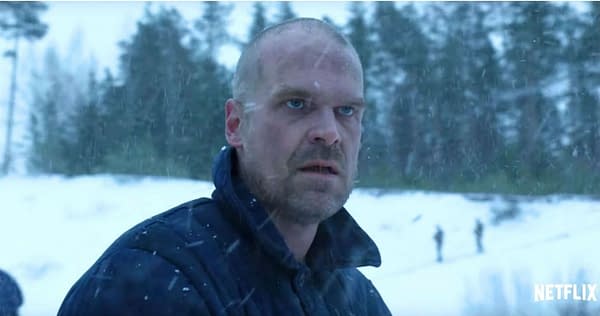 While there are still questions marks surrounding when formal production will resume, Harbour did confirm that production was already a few weeks underway in Lithuania and that work in Atlanta had started at the time of the COVID-19 shutdowns). With the Duffer Bros' commitment to making each season its own thing and "something different," Harbour says viewers should expect "very epic and very big in a Stranger Things way," including some "Indiana Jones-type action." Fans of Hopper should be especially excited, as the season delves further into the law man's "deep back story." For Harbour, that means fleshing out some of the "deep colors" of Hopper's past that were alluded to in the second season and revealing to viewers a "darker palette" to the man they are just now starting to know. You can check out the clip below:
In early March, the cast of Stranger Things took us inside the show's fourth season "secret" table read. We couldn't help but smile at what was more a family reunion or a return to summer camp (if there with Demogorgons in the woods, that is) than going back to work. Noah Schnapp (Will Byers) revealed earlier that he had gotten his hands on the first four scripts when asked about starting production on the fourth season (which explains his good vibes heading into the table read): "I look forward to this so much. It's my favorite thing in the world, and I love working with these people. It's like a family. I read the first four scripts, and they are amazing. I can't wait to see where they go with the rest of the season."
To celebrate last year's "Stranger Things Day," the writers revealed the title of the first episode of the fourth season (written by the series' creators) that appears to be a friendly nod to 80's X-Men comics. Confirmation of the series' return came more than three months after the show's third season debut, with the Duffer Bros. signing an overall multi-year deal with the streamer. The show's creators are excited about the "many more stories" they have to tell:
"We are absolutely thrilled to continue our relationship with Netflix. Back in early 2015, Ted Sarandos, Cindy Holland, Brian Wright, and Matt Thunell took a huge chance on us and our show — and forever changed our lives. From that first pitch meeting to the release of Stranger Things 3, the entire Netflix team has been nothing short of sensational, providing us with the kind of support, guidance, and creative freedom we always dreamed about. We can't wait to tell many more stories together — beginning, of course, with a return trip to the Upside Down!"