"Where's Your Moose?" In Conversation With Supernatural Actor Mark Sheppard
By Octavio Karbank
No comic con feels right without the presence of the fan-favorite show Supernatural, and this year lucky con-goers got to experience an hour with actor Mark Sheppard. Though he's been on many cult classic and geek-centric TV shows, Sheppard seems mostly known for his time on Supernatural as the demon Crowley. Because this was a Supernatural panel, many questions revolved around the Sheppard and his time on the show (obviously) and chief of all, whether he was happy with how his character turned out.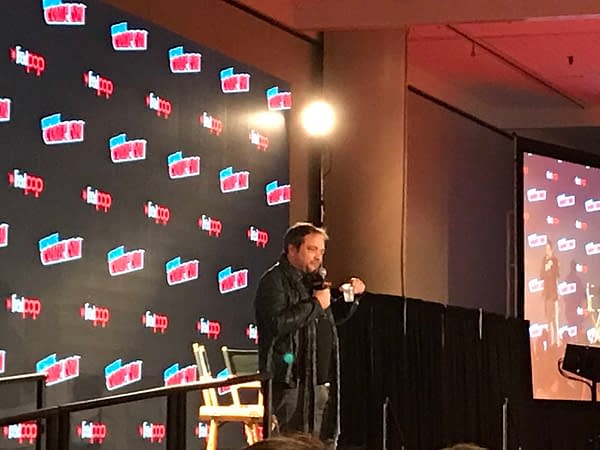 The answer, for those who are wondering, is no. One of the panel's biggest moments was when he expressed disappointment with the Supernatural writers towards Crowley and his final season (or two). In short, Sheppard discussed that he believed the writers didn't really know what to do with Crowley and killing him off was almost something of a mercy from the actor's point of view.
This wasn't the sort of panel you went to in hopes of hearing dramatic news stating that Sheppard was returning to Supernatural, because he isn't (he's content to let Crowley stay dead) but rather the London-born thespian opted to run the show by simply letting the audience ask him questions, no matter how ridiculous they might be. With a dry wit in one hand, and a cup of water in the other, Sheppard paced the room, walking the floor as he made his way to each and every audience member, making sure to give them a good tease along the way.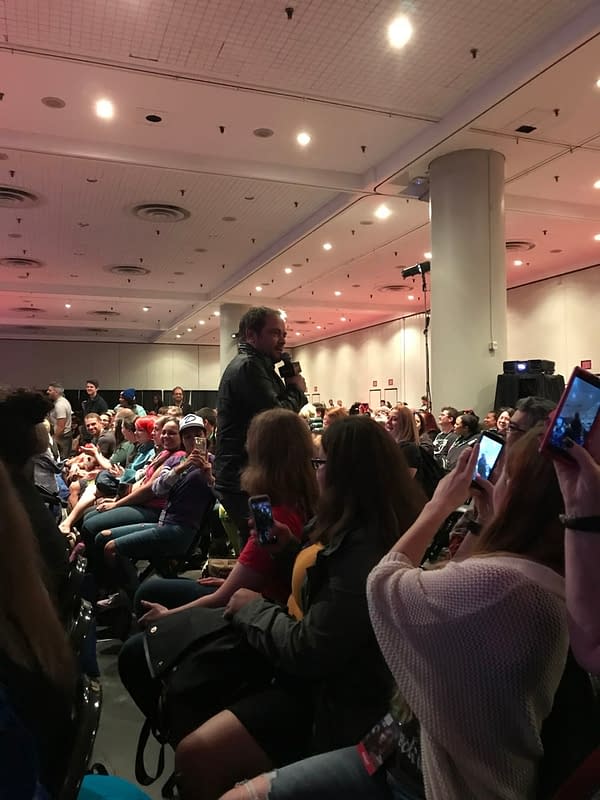 Aside from his many feelings on Crowley, Sheppard talked on everything from how part of his youth was spent with music and drugs, to the nature of art and why it affects us so profoundly. To answer that last bit, Sheppard explained that things that have a profound impact on us, generally do so because they are made with heart and passion. That passion connects deeply to those who have an open heart.
An incredible and poignant speaker, I could've listened to Sheppard go on about philosophical musings for the whole day, but somebody asked what his favorite quote was from Supernatural, to which he replied, "Where's your moose?"
That folks, was an hour with Mark Sheppard in a nutshell.