Posted in: CW, Review, Trailer, TV | Tagged: Alexander Calvert, bleeding cool, cable, Castiel, cw, Dean Winchester, drama, Episode 16, eric kripke, family, fantasy, horror, humor, hunting, Jack, Jared Padalecki, Jensen Ackles, lucifer, Mark Pellegrino, Misha Collins, Review, Sam Winchester, Season 14, SPN, SPN Family, streaming, Supernatural, television, thriller, tv
---
'Supernatural' Season 14, Episode 16 "Don't Go In The Woods" Review: Even Jack Knows Jack About Jack [SPOILERS]
Will Jack (Alexander Calvert) hit the road? I can't help but ask after the way things ended with him in "Don't Go In The Woods." The episode gave us a taste of old school CW Supernatural as Sam (Jared Padalecki) and Dean (Jensen Ackles) a new creature that evolved from Native American folklore. While the boys are hunting, Jack tries to impress the townies who experienced the Winchesters' special set of skills firsthand. Unfortunately, young Jack learns his first lesson in how to play well with others… and it costs him very dearly.
https://youtu.be/G-GPmUi9kjs
I'm going to bypass the slightly under-whelming and pretty standard MOW (monster-of-the-week) storyline and jump right into the juicy bits. Sam and Dean are worried about Jack's questionable state. They don't want him using his newly restored power and bench him for this road trip. However, Dean sugarcoats the blow by making him in charge of manning the bunker and refilling their food (and mostly beer) supply. If only he was completely honest with the kid from the start.
Jack encounters Eliot (Cory Gruter-Andrew), Max (Skylar Radzion) and Stacy (Zenia Marshall) on his supply run. He's awkwardly adorable as he fumbles through an attempt at polite conversation with his peers. We are hilariously reminded that Jack is technically a two-years-old, who looks twenty-something and has the taste of someone even older thanks to Dean's affinity for Classic Rock. Point being, this kid has a lot to learn – millennial stuff that his mentor isn't privy to.
The kids invite him to hang out. Eliot is eager to learn all about the supernatural and macabre. Jack is even more excited to share the truth with "outsiders." Lying always makes his tummy feel icky. Awwww, looks like he still has a substantial amount of his soul, after all. Storytelling soon turns into showboating when Jack recklessly decides to use his angelic skills to impress his new buds.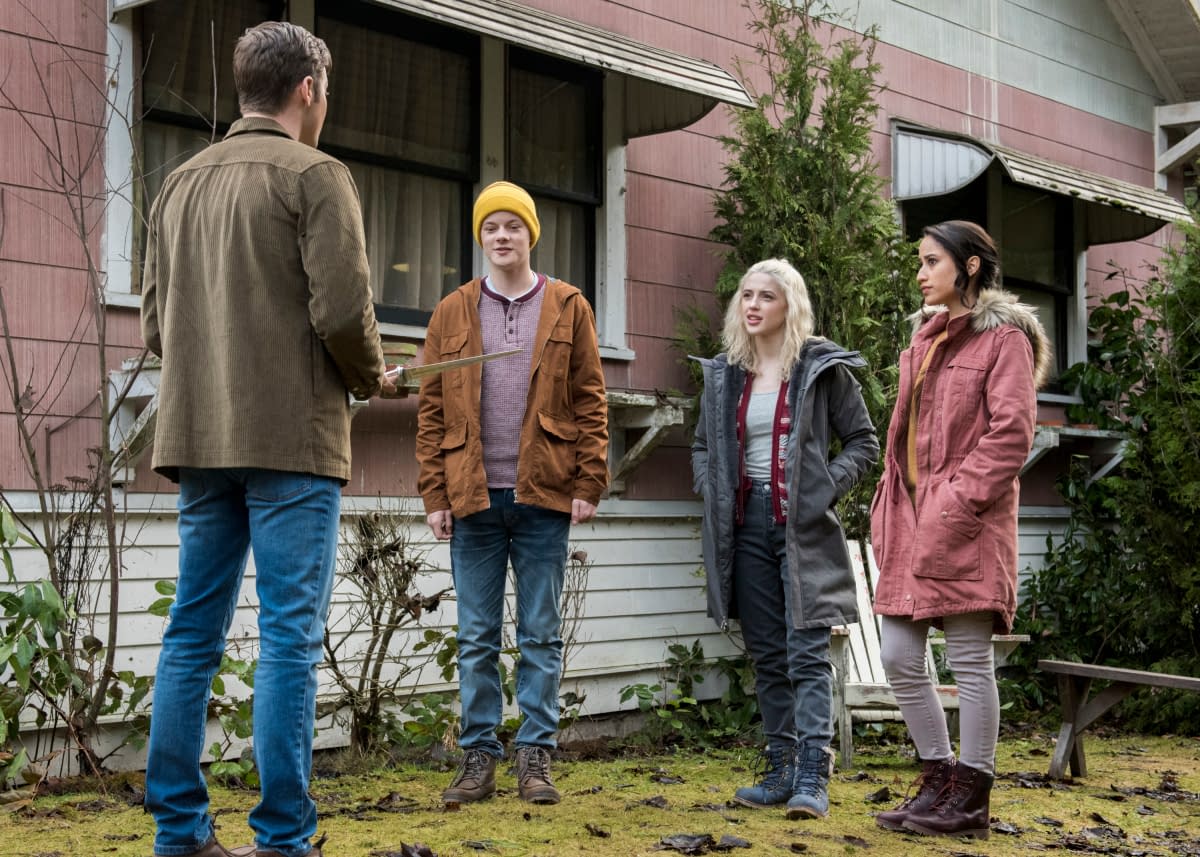 Jack's desperation to belong results in Stacy's inadvertent stabbing as he telekinetically wielded the angel blade through the air, freaking the crap out his peers. He uses more soul juice to heal her. He saves her life and thinks that automatically makes everything okay, but that is not how it works in the real world. The Winchesters get do-overs and forgiveness, but there are always dire consequences to pay for their actions – no matter how glorious they may seem.
When Sam and Dean return from hunting, they tell him the truth about why he had to sit this one out. They don't want Jack to use his powers until he's stable and they know it is safe. He acts understanding and then lies to their faces. No sign of tummy-ache this time.
Meanwhile, we're sitting at home and getting chills…
Dammit, Jack! We were this close to everything being relatively smooth for the Winchesters. I really like Jack – more than I ever thought I would. His similarities to Castiel (Misha Collins) are eerie and compelling. His adoration of the boys is endearing. This is a good kid who just wants to join the family business – because Jack is a part of the Winchester family. But now, we are venturing into unbearably painful and annoying "Soulless Sammy" territory plus unmatchable super powers.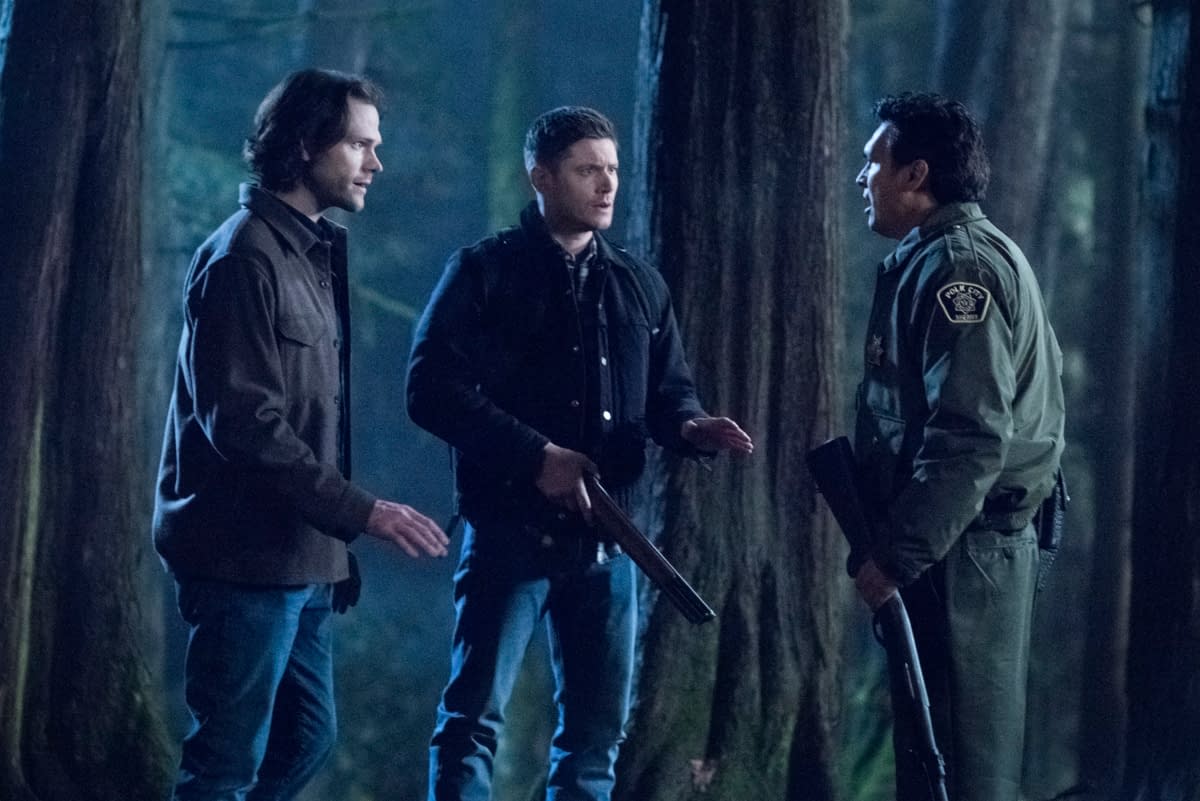 I'm going to be straight with you, SPN Family. I do not want to venture into this territory again… especially not when we are entering the final season Supernatural… *holding back tears while typing* We have come too far to have another Winchester turn bad/evil/possessed/whatever. I don't want Jack to be the bad guy – too heart-breaking and too "been there, done that." I'd prefer another, unrelated entity.
Given Lucifer's (Mark Pellegrino) return in this week's episode "Game Night," I fear Jack might start bonding with his biological father… now that he's less inhibited by his soul.
Supernatural s04e17 "Game Night": IT'S ALL FUN AND GAMES UNTIL SOMEONE GETS HURT — Sam (Jared Padalecki) and Dean (Jensen Ackles) race to help a friend in need. Meanwhile, Mary (guest star Samantha Smith) is concerned for Jack's (Alexander Calvert) wellbeing, and Castiel (Misha Collins) enlists help from Jo/Anael (guest star Danneel Ackles) to track down a miracle. The episode was directed by John Showalter and written by Meredith Glynn.
Supernatural airs Thursdays at 8 p.m. on the CW.
---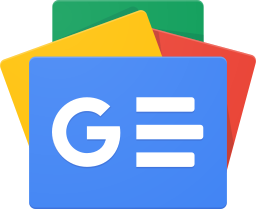 Stay up-to-date and support the site by following Bleeding Cool on Google News today!