Musician, author, and performance artist Amanda Palmer has a new album coming out, There Will Be No Intermission. There's a new single too, Drowning In Sound, which uses crowd-sourced comments from her blog. Here it is…
And a new solo piano tour, with dates for the USA and Canada. Oh, and an artbook too, for her Patrons. The album will be released on March 8th, her first solo album in four years, and can be pre-ordered now in the US and in Europe.
Oh, and she's also appearing in the upcoming second season of the Syfy TV show Happy. You know, the one that had a corrupt former cop-turned assassin, and the imaginary friend of the little girl he is trying to rescue, based on the Grant Morrison and Darick Robinson comic book, and directed by Crank's Bryan Taylor.
I got the chance to fire some questions at her from the set of the show. I did my best…photos from Michael McComiskey.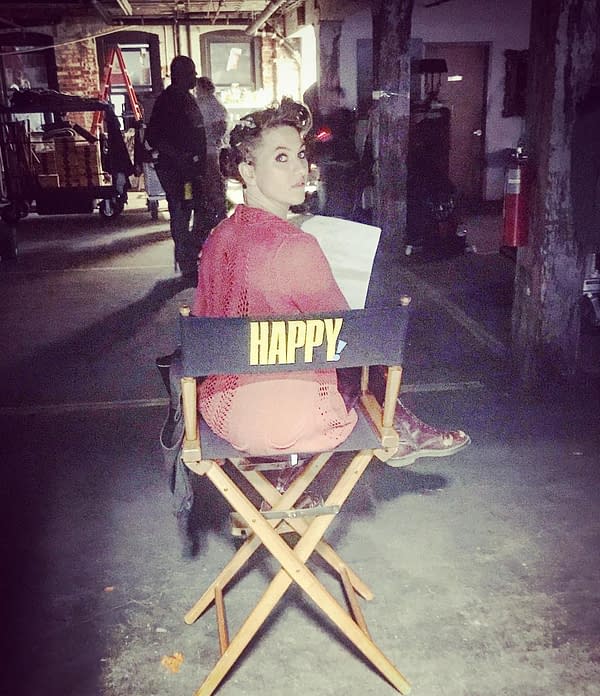 Rich Johnston: You're in the second season of Happy – I'm presuming you are not imaginary. What was it about the outspoken, outrageous, publicity-attracting, oft-naked Amanda Palmer that you think appealed to director Brian Taylor?
Amanda Palmer: Haha–well that's a question for Brian. We had some great chats before we shot everything and he's an actual fan of my MUSIC, not just my book, my TED talk, or my tits. Thank Christ. I even tested his knowledge, and he knew some deep tracks, so I know he wasn't lying.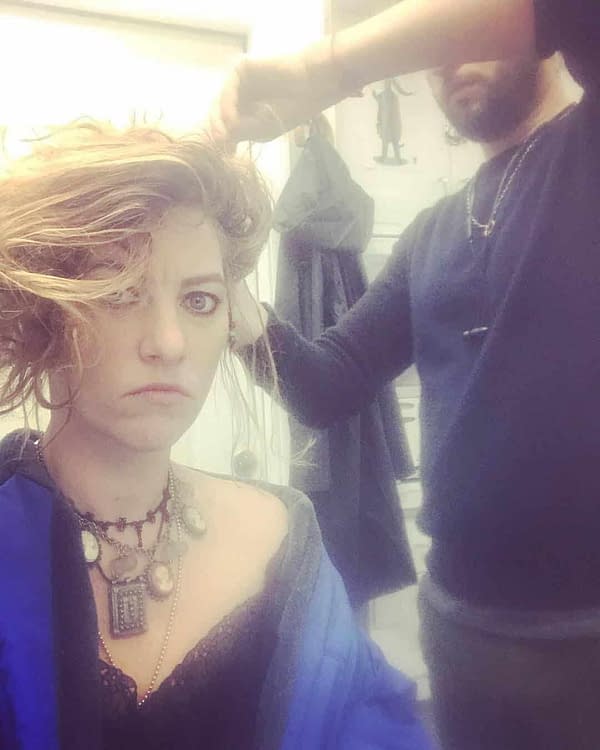 Rich Johnston: Okay, so who are you playing and how are you playing them? And what reaction has that got from the rest of the cast?
Amanda Palmer: I'm not allowed to talk about my role (spoilers!) but I'll tell you this much: I was definitely type-cast. And spoiler, I wore clothes! The rest of the cast was just brilliant. I haven't spent much time around TV acting, and I mostly just enjoyed the educational ride. I've done a lot of theatre and I walked into the TV experience assuming I'd just wing it – which I did, but I was also humbled by how little I actually knew about how TV gets created. I love seeing other processes, and how all art-sausage is made. Brian is a great, calm, fun director. And everybody in the whole production seemed like a happy (no pun-intended) tight-knit psycho family.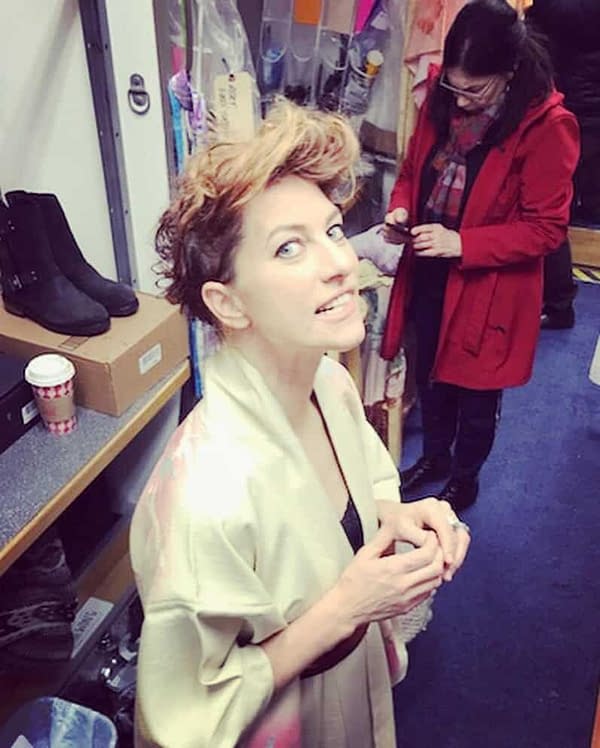 Rich Johnston: Talking of which, how have you found Happy co-creator Grant Morrison? And where have you found him?
Amanda Palmer: I haven't found him!! WHERE IS HE, besides on twitter?? Just kidding. He and Neil are friends, like all comic nerds. I hope I get to hang out with him when we head back to the UK next fall, my touring schedule is taking us there.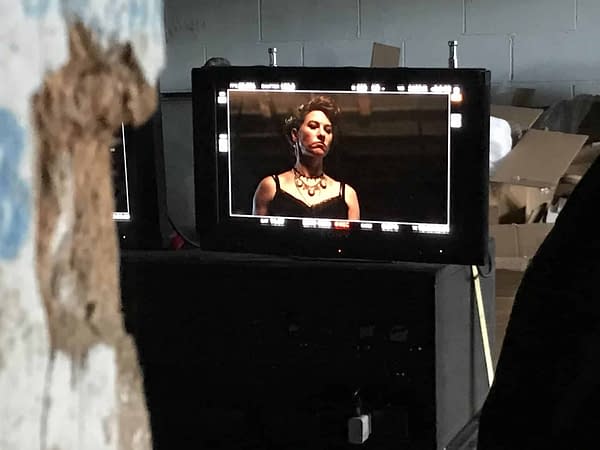 Rich Johnston: We are, yes. Okay, let me get this straight, you've got a new album, a new single, a new tour, a new artbook, new prints, and a new T-shirt. Anything I missed? Or that you wish had been in there?
Amanda Palmer: New baby? Well, he's three years old now, I guess he's not new. He still LOOKS new to me. I am looking for a new backpack – do you have any recommendations? I'm working on a new website. I have a new love of The Chordettes. That's mostly the three-year-old's fault.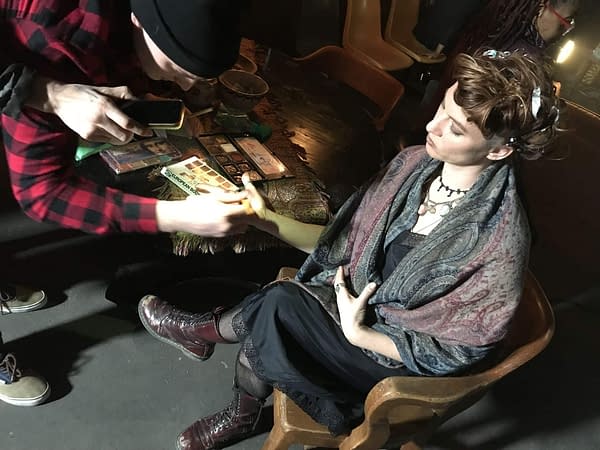 Rich Johnston: My kids won't be seen anywhere without their Chinese knock-off Fjallraven Kanken backpacks. On sale at Camden market with a sign saying genuine fakes. They're a must.
The new album – There Will Be No Intermission – the title suggests a lack of pause, rest or reflection, rather a relentless surge and no let-up. The launch single though, Drowning In Sound seems to be built of intermissions. It's a song of reduced percussion, with spaces, empty beats, interruptions between the crescendos of new romantic noises. Is that an intentional contradiction? If so why? And am I full of crap?
Amanda Palmer: YOU UNDERSTAND MY ART! Thanks! You're not full of crap. The production on "Drowning In The Sound" was built that way very deliberate – full of pause. The title of the record is a reference to how brutally relentless the last seven years have been, for me, for everybody, maybe. Beyond the political shitshow, I've experienced the death of three loved ones, including my best friend, and Neil and I held hands through two abortions, a birth, and a miscarriage. It just never let up. Writing this collection of songs over those years was my way of coping with everything.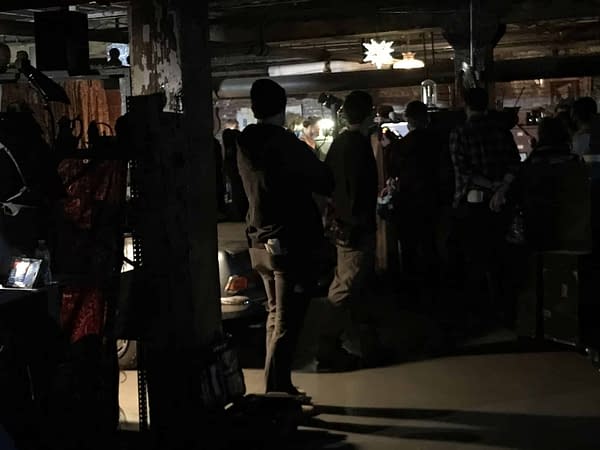 Rich Johnston: Talking of Neil, given your success, why doesn't Neil Gaiman give away all his writing for free?
Amanda Palmer: He really should, the greedy bastard. What is he doing charging money for his so-called "art" when his millionaire wife can obviously support him? GET BACK IN THE KITCHEN NEIL GAIMAN AND WRITE ME SOME NEW BOOKS BITCH.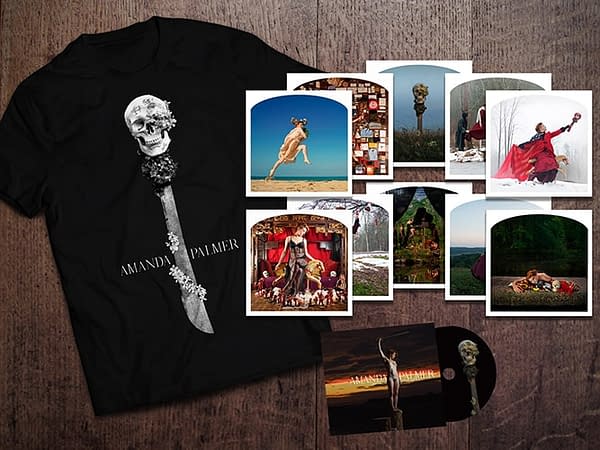 Rich Johnston: Do what she says, Neil.
There Will Be No Intermission will be released on March 8th. Happy Season 2 premieres on Syfy on March 27th. Here's the trailer.
Enjoyed this article? Share it!