The Bleeding Cool Top 30 TV Series Influencers 2020: "The Nevers", "The Orville", "Lucifer", "AHS" & More [COMPLETE LIST]
Welcome to The Bleeding Cool Top 30 TV Series Influencers 2020, a look inside our "crystal ball" as we predict the broadcast, cable, and streaming shows that can and will have a major influence on your viewing habits as we steamroll into 2020 – and beyond.
So for those of you who were with us last year, you'll notice that we made some changes this year – so here's what you need to know: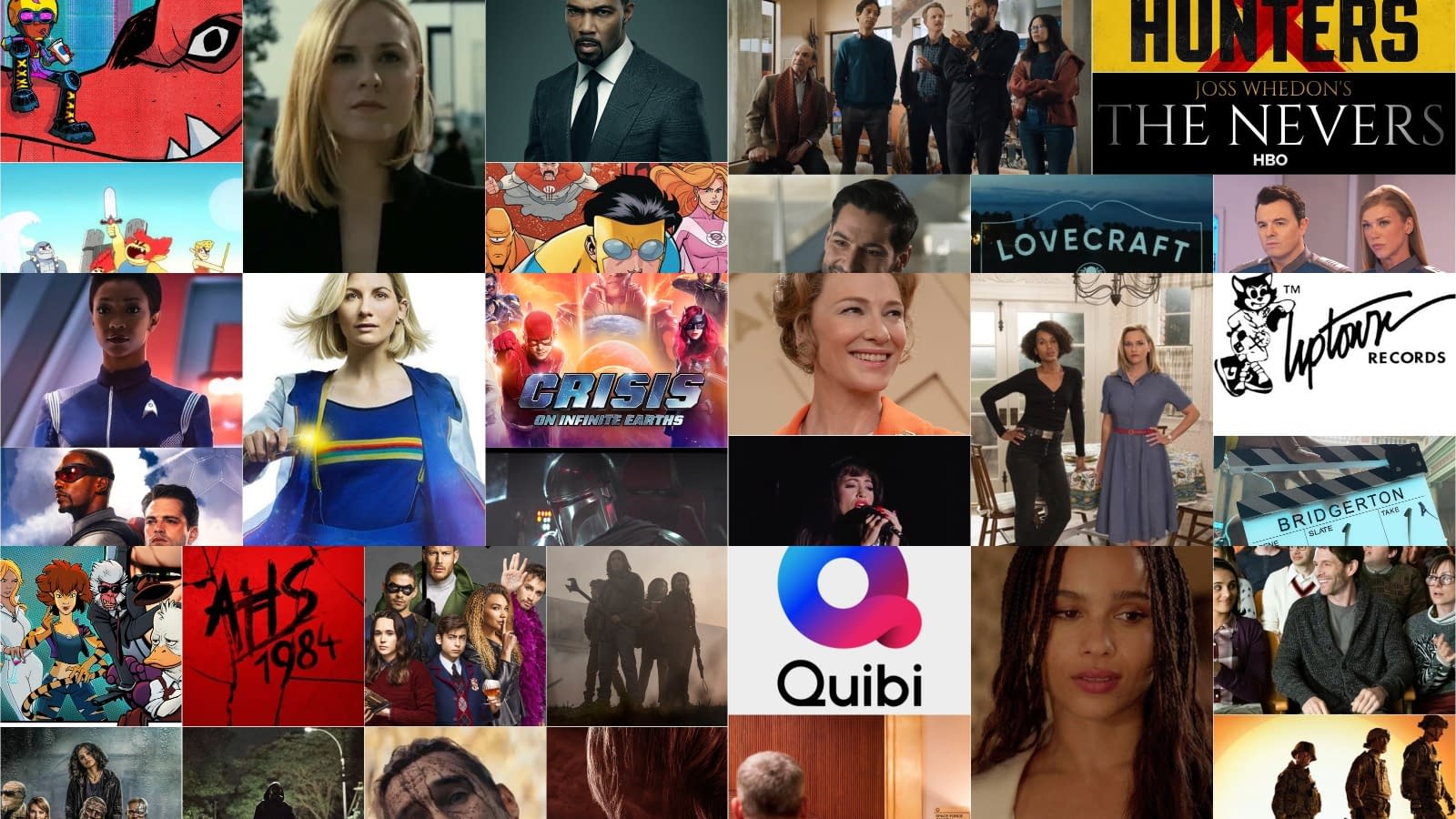 ● With the growing number of streaming services on the horizon and the tidal wave of content across all platforms continuing to grow, we're shifting our focus exclusively to new and returning series/limited series.
● Our 30 selections were based on a year's worth of Bleeding Cool television coverage, third-party coverage, analytics, trends, and raw gut instinct. Our inital list began with nearly 100 new and returning series/limited series, which was nearly halved to 50 before being shaved down to the 30 we're about to present.
● Just to be clear… being a "series influencer" does not necessarily mean that you are the best show or that you are necessarily better than series that didn't make the cut. Along with judging the quality of what we know about a show so far (director, cast, platform, etc.), we're also taking into consideration the impact a show's success (or failure) can have on the proverbial "bigger picture".
Now here's your look at the complete selection list for The Bleeding Cool Top 30 TV Series Influencers 2020:
#30 – "Selena: The Series" (Netflix)
Netflix's biographical drama series based on the life of Tejano superstar Selena (Selena Quintanilla-Pérez) has two major things going for it ahead of Part 1's 6-episode debut in 2020. First, The Walking Dead's Christian Serratos. As impressed as I've been with the changes we've seen with TWD, I still feel like Serratos hasn't been given a storyline yet that's strong enough to match her talent. A role like this could do exactly what it did for Jennifer Lopez after starring in 1997 film version of the singer's life.
Second, don't make the mistake of underestimating the influence the late singer still has, even after over two decades. With Netflix seemingly committed to an extensive look at Selena's life and tragic death, the streamer will make sure to roll out its public relations army 6-8 months in advance to have her story and music in our eye and ear holes. If Netflix does that? The viewers will be dreaming of her one more time.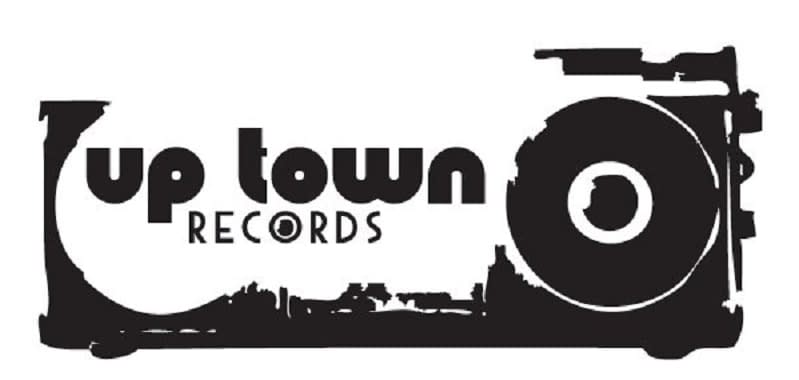 #29 – "Uptown" (BET)
You had me at, "Andre Harrell's Uptown Records". An original scripted BET miniseries (though it feels like it could go more) that looks at the life and still-very-current times of the label that played a vital role in the careers of some of the most influential voices in hip hop, soul and R&B. With a story that includes names such as Heavy D & The Boyz, Mary J. Blige, Notorious B.I.G., and Sean "Diddy" Combs (and many more), Harrell and fellow executive producer Jesse Collins have the potential to shine a truthful light on a time period in music very rarely addressed: the late 80's and 90's hip hop, soul, and R&B – and its lasting impact on a new generation of artists.
Plus, the fanboy in me is kinda' excited about the casting possibilities…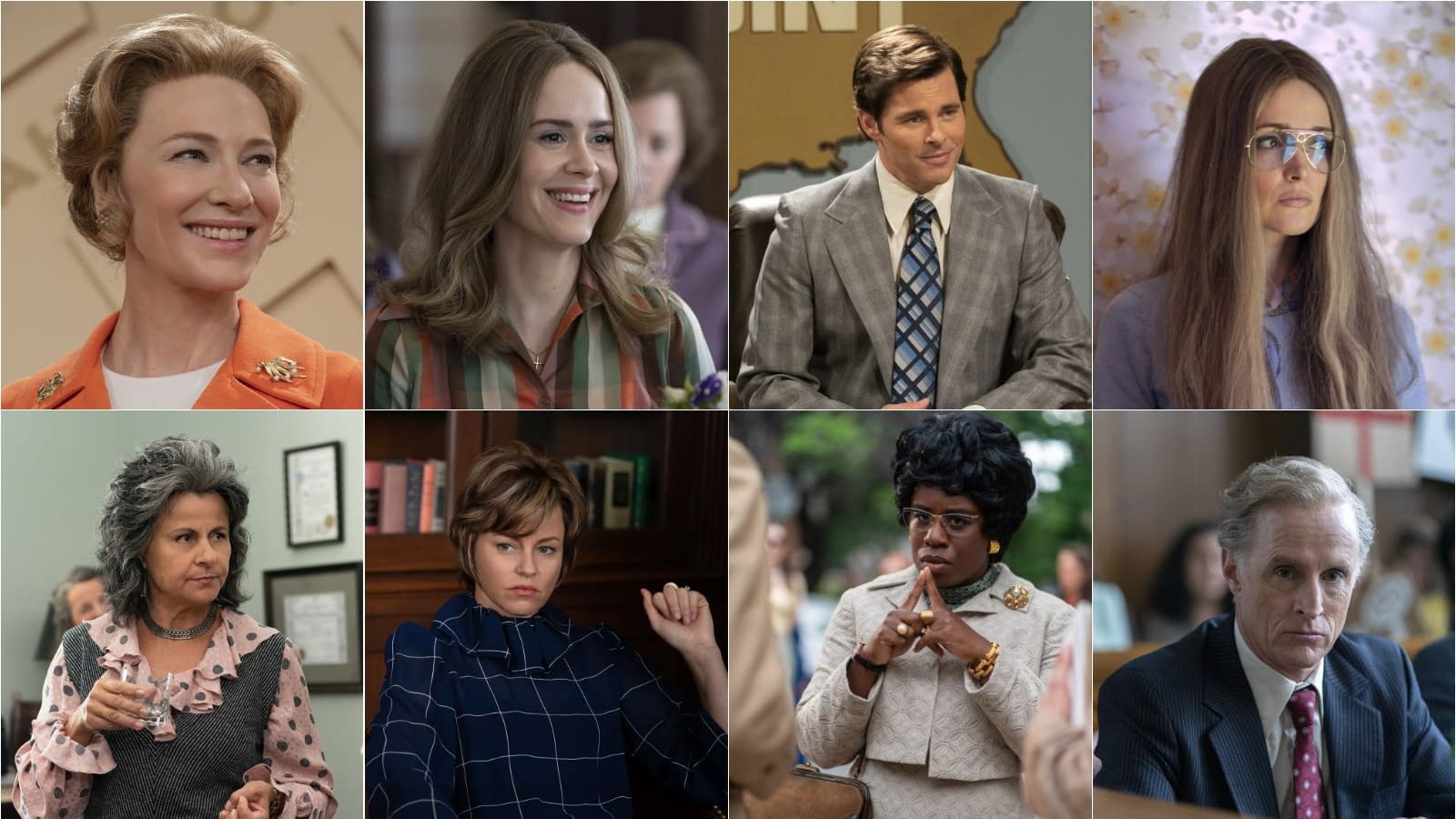 #28 – "Mrs. America" (Hulu/FX)
Originally set to debut on FX before shifting to Hulu as part of their new "FX on Hulu" deal, Mrs. America tells the story of female conservative leader Phyllis Schlafly's (Cate Blanchett) efforts to crush the Equal Rights Amendment in the 70's. Opposing her are names that would become icons in the march to equality: Gloria Steinem (Rose Byrne), Shirley Chisholm (Uzo Aduba), Bella Abzug (Margo Martindale) and others.
So let me see… historical topic that's as timely today as it's ever been? Check!
Killer line-up of out-spoken actors and actresses (let's not forget Kayli Carter, Ari Graynor, Melanie Lynskey, James Marsden, Sarah Paulson, John Slattery, Jeanne Tripplehorn, Tracey Ullman, Elizabeth Banks, and Niecy Nash)? Check!
Premiering during a volatile election year? Check!
Wouldn't be the first time television influenced an election… won't be the last time this topic comes up on our countdown, either.
#27 – "Little Fires Everywhere" (Hulu)
Let me start by saying that Reese Witherspoon and Kerry Washington will always find ways to leave their bloody best on the stage (so to speak), even if it's a film or series I'm not a huge fan of overall (Apple TV+'s The Morning Show feels like a weak mashup of The West Wing and The Newsroom). But Celeste Ng's novel of the same name contains more than enough dramatic shifts to keep viewers tuned to the twisted fates of Witherspoon's Elena and Washington's as Mia.
I know it's not fair to do – especially with the Witherspoon connection – but I can't help but see this as the "heir apparent" to HBO's Big Little Lies, especially after what felt like an over-rated (except for Meryl Streep) second season. Television has shown us time and again that there is a seriously strong audience out there for "smart thrillers" and "smart mystery drama" (even the film industry caught on to it with the success of Knives Out). If Little Fires Everywhere plays its cards right, it has the potential to be 2020's most NPR-autopsied series.

#26 – Shonda Rhimes' "Bridgerton" Series (Netflix)
I don't know about anyone else, but I feel like the time is more than ripe for a series adaptation of bestselling author Julia Quinn's "Bridgerton" series that feels like a mix of Downton Abbey (just not as many white people, and less time spent polishing silverware), lovingly melodramatic night time soaps like Dynasty and Dallas, and Game of Thrones (with dramatically less dragons).
Because that's the vibe I'm getting from creator/executive producer Chris Van Dusen and Shondaland head Shonda Rhimes' upcoming series – and I'm so okay with that. Set in the early 1800's, Bridgerton on the life and adventures of the eight children of the late Viscount Bridgerton in Regency, England: Anthony, Benedict, Colin, Daphne, Eloise, Francesca, Gregory, and Hyacinth.
So why is that enough for it to make the cut? Well, it's not. The reason it makes the cut is two-fold. First, Rhimes. The creative powerhouse that still owns a large chunk of ABC's Thursday nights is getting the chance to flex her creative muscles even further under her Netflix deal – I know she's swinging for the fences with this one. Second reason is Bleeding Cool's very own Erin Wilhelm, who is a huge fan of the Bridgerton book series and seems impressed with what she's seen so far. Considering her "golden touch" when it comes to Doctor Who and Star Trek: Discovery, I tend to trust her judgement calls and instincts.
Oh, and did I mention Julie "M*****-F******" Andrews is on board as Lady Whistledown? Yeah, that's a spoonful of good news that didn't need a spoonful of sugar to help it go down.
#25 – "68 Whiskey" (Paramount)
With a pilot directed by Ron Howard and written by Roberto Benabib, 68 Whiskey has the potential to be the show that redefines Paramount as more than just "The House That Yellowstone Built" (though I'm sure that's a title they don't mind owning). Highlighting the lives of a diverse group of Army medics stationed in Afghanistan, the series has the unenviable task of trying to balance what looks to be some pretty broad humor and and some harsh realities.
Go too funny, and you're painted as demeaning the military and its efforts. Go too serious, and then you're expected to be "all in" serious – and I'll refer you back to the "too funny" option to show you where that goes. But if they can find the right balance in an ever-changing social structure of what's considered "too much", 68 Whiskey could be 2020's M*A*S*H or China Beach… or Cop Rock.
Guess there's always another Yellowstone spinoff waiting in the wings…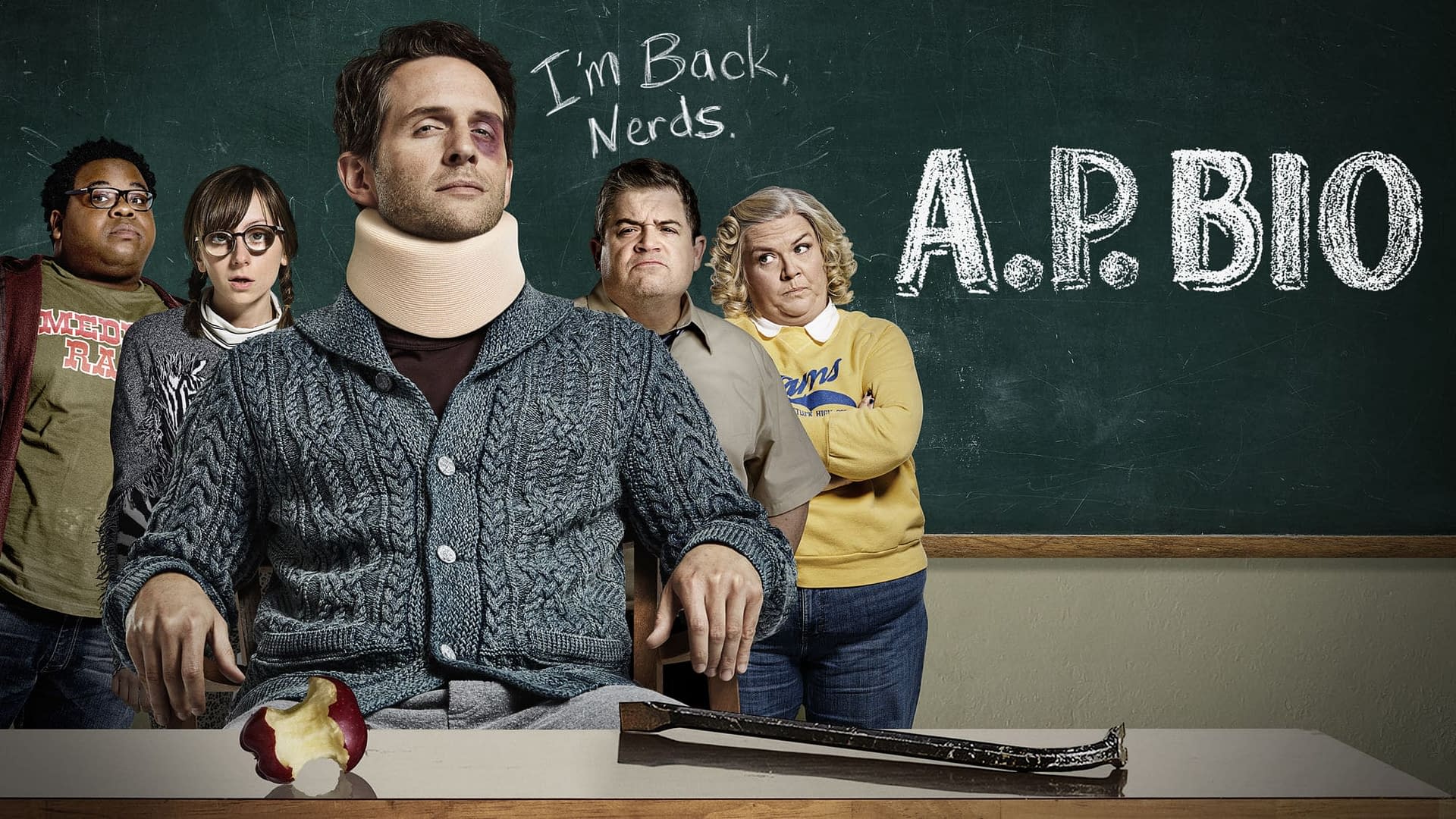 #24 – "A.P. Bio" (Peacock)
Putting cards on the table? I'm a huge fan of once-NBC-now-Peacock sitcom A.P. Bio. With a cast that includes Glenn Howerton, Patton Oswalt, and Paula Pell, as well as a young cast of guaranteed "future stars" like Aparna Brielle, Nick Peine, and Allisyn Ashley Arm, you would almost need to to purposefully sabotage a series like this for it not to work.
You'll notice I said, "almost".
Because the series lost a little "something" in the second season, almost as if it's trying to hard to win network approval at the expense of what made the first season so unique. So when it was cancelled, I was sad but not surprised – but I was pleasantly surprised when Hulu picked it up for a third season.
I wasn't surprised that it was picked up by a streaming service, because its delayed viewing numbers were always strong. I was surprised (and impressed) that A.P. Bio was the first comedy series that Hulu would attach its name to in a post-Disney deal world. So for Peacock, there's pressure for the show to succeed if for no other reason than to show that the streaming service can offer more creative room to work with than the broadcast network – and it keeps them in the Howerton/Always Sunny business. For A.P. Bio – aside from keeping people employed – it's a chance to get back to first-season storytelling and to stretch those creative muscles in a more welcoming "sandbox".
#23 – "High Fidelity" (Hulu)
Speaking of Hulu and a "post-Disney deal world"… Zoë Kravitz's modern take on Nick Hornby's 1995 novel is giving us all the right feels for what we wanted and expected. Along those lines, as someone who worships the John Cusack 2000 film version? Kravitz doesn't owe that movie dick when it comes to how it approaches the novel. That said, I'm glad the series gives me the same vibe as the both the book and film – but with it's on swagger.
But the reason why I have this on the list is what the series represents in the ever-changing world of streaming. High Fidelity was originally intended to be a Disney+ series… you know where I'm going with this, right? That means nothing "worse" than PG-13 for High Fidelity to weave its tale – and that's just not going to do.
But once Kravitz came on board and the series began taking shape, a truth became painfuly clear: no way that's making it onto Disney+. But instead of stepping in and trying to force changes, "The Mouse" decided to shift the series to Hulu – which will now clearly be the new home for Disney's bloodier, sexier side. At a time when companies still find new places on their feet to shoot themselves, this was a win-win move: maintain Disney+'s mission statement, start building up Hulu's rep, and maintain good creative relations with artists.
https://www.youtube.com/watch?v=5QgJR4pAPlE&t=3s
#22 – "Space Force" (Netflix)
Based on (jokes on us) Trump's now officially-authorized "Space Force" branch of the military, the Steve Carell-starring Netflix series should be a no-brainer when it comes to success. Space Force is workplace comedy done in the style of NBC's The Office… from a decent chunk of the creative minds behind NBC's The Office (like Greg Daniels)… starring the lead from NBC's The Office.
But that's where things actually get a bit more complicated "big picture". Because while The Office pedigree helps open doors, it also dramatically jacks up expectations.
Where's my "Space Force" Pam and Jim?
Who's the "Space Force" Dwight?
Will Carell's General Mark R. Naird be nothing more than a space-travelling Michael Scott?
Carell, Daniels, the writers, and a supporting cast that includes John Malkovich, Ben Schwartz, Diana Silvers, and Tawny Newsome, need to find a way to keep some nostalgia in the air while also keeping viewers guessing.
And laughing.
Who knows? Could definitely see the show's success having an impact on a The Office reunion/reboot – good and bad.

#21 – Quibi
Okay, we know we're breaking our own format here – but Quibi demands it. On April 6, 2020, the short-form mobile video service comes to life – and it will be one of the greatest breakthroughs in the history of television… or join the ranks of "New Coke", MySpace, and attempts to make "fetch" a thing.
We stand on the side of "breakthrough" – for several reasons.
First, look who's backing it. Founded in 2018 by entertainment industry powerhouse Jeffrey Katzenberg and with corporate powerhouse Meg Whitman serving as CEO, Quibi hit the ground running with $1B and buy-ins from all the major Hollywood studios, including: The Walt Disney Company, NBCUniversal, Sony Pictures, WarnerMedia, Liberty Global, ViacomCBS, and Alibaba Group.
Second, look at the variety and creative forces behind the nonstop programming announcements. From Steven Spielberg-penned horror series Spielberg's After Dark to a new season of Reno 911!… from Curtis "50 Cent" Jackson's animated adaptation of comic book Trill League to a modern take on MTV's Singled Out… there's more than a little something on the service for everyone.
Third, the multi-tasking wannabe geek is an untapped market with a ton of potential. Forget binge-watching – sometimes, just watching a single episode is difficult. But smaller, more digestable "bites" of creative content? The kind that can be consumed on a lunch break or during a brief evening down time? That's an attractive option – and with the brand names attached, the viewers need very little "learning curve" to transition. You trust Spielberg's work? Then it should be a no-brainer watching his show here – at least Quibi hopes that's how you think.
Biggest problem? Is Quibi ready to handle the backlash to its success if it does work? Imitation may be the highest form of flattery – but not when it comes at the expense of the bottom line. A number of the studios backing Quibi also have streaming services of their own to promote, so Quibi's success could be just the thing for Disney+, Peacock, HBO Max, and others to start up their own library of short-form content.
Here's hoping Katzenberg and Whitman are already looking at Netflix's playbook…
#20 – "Power" & Spinoffs (STARZ)
Who shot Ghost?
On January 5th, millions of viewers will be tuning into STARZ to find out the answer to that very question – and there's no one more nervous about that answer than the cable network itself.
Because the answer to that deadly riddle makes up the focus of the final episodes of Power, shuffling off STARZ's programming "mortal coil" after six seasons. Created by Courtney A. Kemp and executive produced by Curtis "50 Cent" Jackson, the urban crime drama has been a ratings juggernaut for the cabler: driving strong number when it comes to both "in moment" and delayed viewing, and a diverse viewer demographic that other cable networks and streamers envy.
But now that the show's ending its run in February, STARZ will have to hope that Power eyeballs are so invested in the show's universe that they would be willing to find their way to a spinoff sequel series (Power Book 2: Ghost, rumored to take place immediately after the main series' finale and star Mary J. Blige) and prequel series.
Television lore tells tales of successful series that died slow, paniful deaths via their spinoffs.
Big factor in all of this is how quickly a new Power series can make it to air – the longer the delay, the harder to get the eyeballs back. That said, if even one of these series is a hit? STARZ will be taking some much-needed victory laps – and considering the beating they've been taking lately over American Gods, they could use some good press.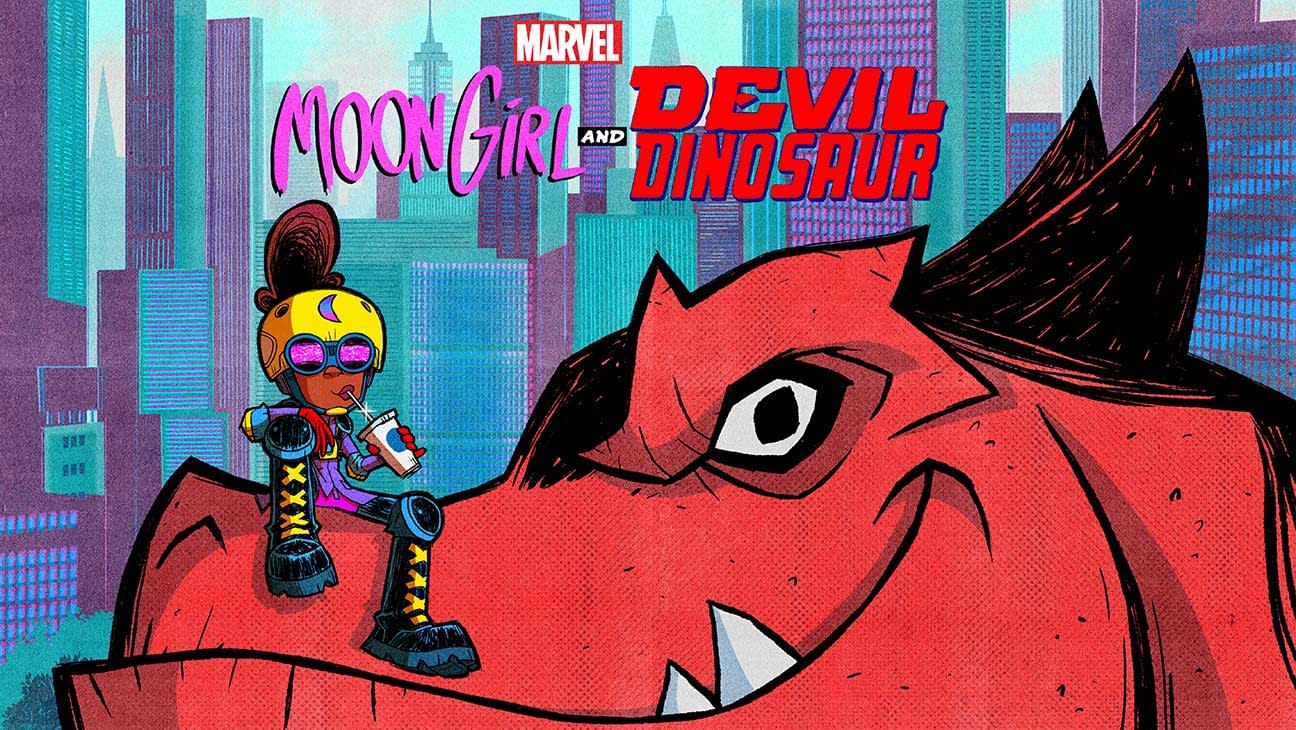 #19 – "Moon Girl and Devil Dinosaur" (Disney Channel)
Developed by Laurence Fishburne's Cinema Gypsy Productions alongside Disney Television Animation and Marvel Animation & Family Entertainment, one of the best things to come out of Marvel Comics in a very long time is set to hit Disney Channel in 2020 – and it couldn't come soon enough.
Being "The Jolly Green Giant" of the pop culture landscape comes with a certain level of responsibility – and for Disney, one of those responsibilities is to reflect the diversity of those who spend their hard-earned monies on their stuff. So putting their resources behind the animated adventures of 13-year-old female African American superhero Lunella Lafayette are her pet dinosaur Devil would be a great place to start.
But we're talking full resources – like any other Disney/Marvel series would receive.
Because Lunella and Devil are more than ready for their spotlight – is Disney ready to give them the one they deserve? Because if they are, then the show's success could be a springboard for new, more diverse programming.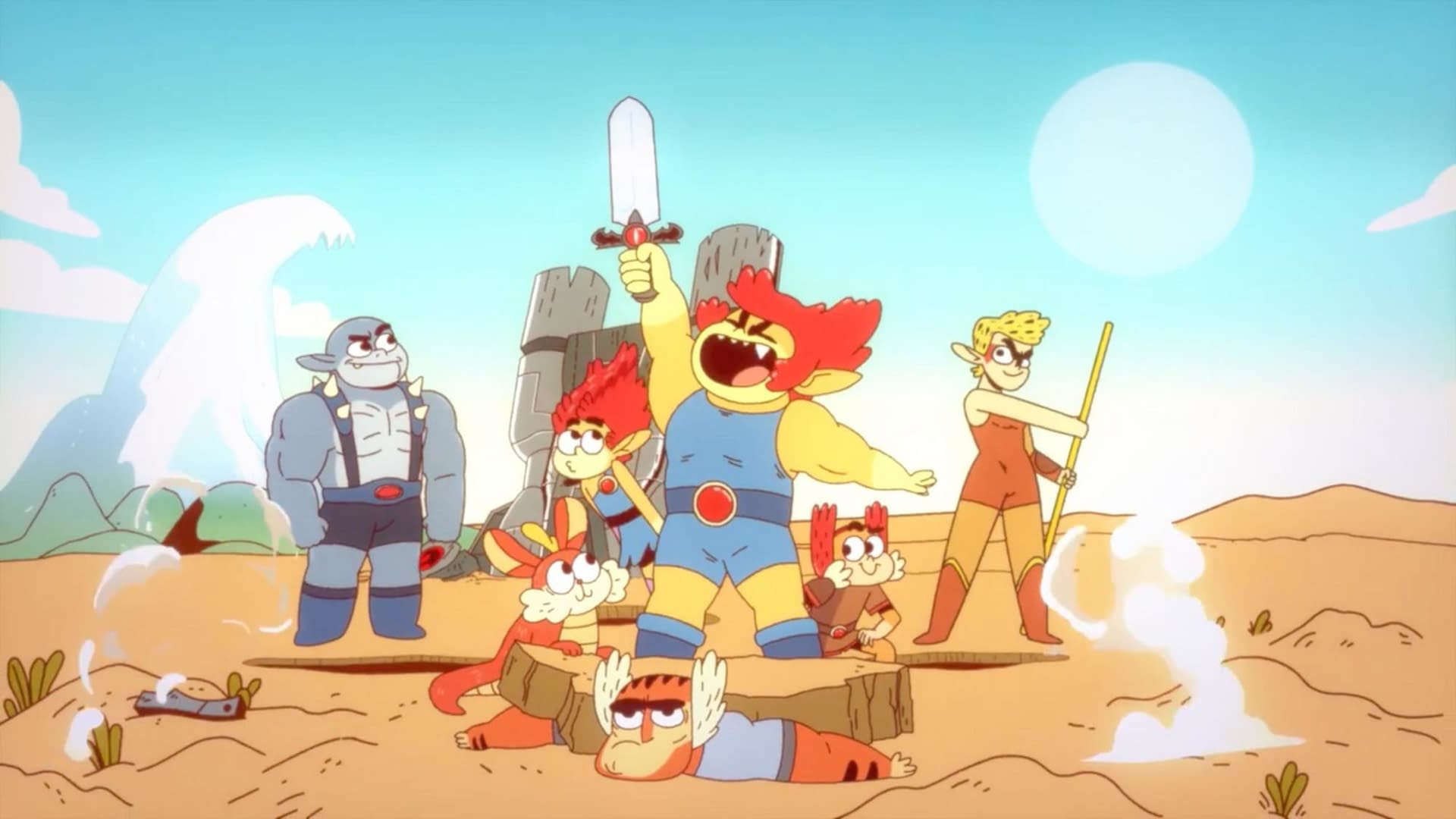 #18 – "ThunderCats Roar" (Cartoon Network)
We're not sure if you ThunderCats Roar fans have heard, but apparently some people don't like Teen Titans GO! – and a decent chunk of them are fans of the original Teen Titans animated series. Doesn't matter that they're two different series. Doesn't matter that they've crossed over the two series.
Their feelings on the show's pizza-and-waffle-loving anti-adventures ranks right up there with going to a dentist who runs his business out of the back of his van and tasting that milk in the fridge they know is spoiled but have to anyway.
But what really doesn't matter? That they didn't like it, because a whole lot of viewers did – and still do.
And no one is rocking a wider Joker smile than Cartoon Network.- which might be a reason why we're getting ThunderCats Roar.
Which is why ThunderCats Roar is so important to the animation channel: it's the opportunity to show that the TTG! model isn't just a one-off. Not only does that put to rest that remaining slight still lobbed at TTG!, it opens the door to this approach being applied to other animated franchises.
But if it's a crash-n-burn – or worse, seen as a cheap copy of TTG! – it could damage both series. Worse for the network, ThunderCats Roar becomes fresh material for the show purists to use.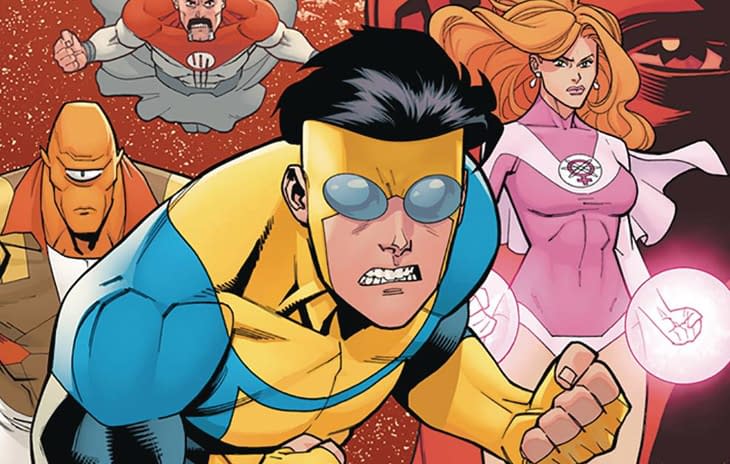 #17 – "Invincible" (Amazon Prime)
Based on the Image comic book series from The Walking Dead mastermind Robert Kirkman and set for Amazon Prime, the eight-episode animated first season features Steven Yeun as the voice of Mark Grayson aka Invincible and J.K. Simmons Nolan Grayson aka Omni-Man.
An animated coming-of-age tale of a boy who learns he comes from lineage of superpowers and begins training under his father's watch (though there are secrets!) wouldn't seem like something worth making our list – but this is another instance of the "bigger picture" coming into play.
For Amazon Prime, it's another bold programming choice from "The House of The Boys": an animated superhero drama aimed directly at adults. Ask yourselves how many of those there are out there – we'll wait. This is an area of the superhero genre that's been sorely lacking when it comes to major-market animation (outside of anime). Invincible being a success could be the spark needed to see Mage: The Hero Discovered and WE3 animated adaptations, ushering in an era of "adult animation" unseen in quite some time.
As for Kirkman, it comes down to two things. First, living up to that Amazon Prime exclusive deal he cut a little while back. Second, continuing to show that he's not just "Mr. TWD" by building upon his non-walker successes. Having more than proven itself on the comic book side, Invincible seems in a strong position to make the transition.
#16 – "Westworld" (HBO)
It will have been 1-1/2 years since Jonathan Nolan and Lisa Joy's Westworld left viewers wondering about the fates of Evan Rachel Wood's Dolores and Jeffrey Wright's Bernard – especially now that the action has moved to the mainland.
While viewers were left with more than two scoops of questions by the time the credits rolled on "The Passenger", we're asking the one question HBO needs the answer to the most.
Will anyone still care?
Don't get me wrong: the show has its more-than-avid fanbase so it will do fine by that regard. But can it still be buzzworthy? Can it find its voice again in a world where Game of Thrones has shuffled off HBO's programming mortal coil and shows like Euphoria and Watchmen have everyone talking. Can it find a way to not just cater to the loyal fanbase, but also bring new viewers in to a series that's not necessarily an easy deep-dive to jump into?
From what we've seen so far, the show doesn't appear to be taking things for granted. Shifting the focus to neo-Los Angeles is a nice start, and let's be clear: adding Aaron Paul (Breaking Bad) into the mix as Caleb and putting him directly into a storyline with Wood's Dolores is a masterstoke. Seeing those two work off each other on-screen will be worth the price of admission alone. Nolan promising less "guessing game" this season and a more direct narrative that offers more clarity is also a promising sign – just as long as the long-term fans don't feel the show's being "dumbed down" for the sake of more eyeballs.
#15 – "Mythic Quest: Raven's Banquet" (Apple TV+)
Co-created by It's Always Sunny in Philadelphia star Rob McElhenney and executive produced by Paddy's partner Charlie Day, Mythic Quest (for laziness purposes, we'll leave off the "Raven's Banquet") is an Apple TV+ comedy set in the world of game development.
So let's break apart the line above to show you why Mythic Quest is bigger than you might think. First, for McElhenney and Day it's another chance to show that The Gang's (including Glenn Howerton and Kaitlin Olson) humor extends beyond South Philly and FX Networks. To be fair, their collective track record has resulted in a mixed bag of quality, "beautiful disasters", and "kinda' shaky" up to this point, so something in the "win" column would be a nice boost.
For Apple TV+, this could be their "HBO's Silicon Valley" – and with a cast that includes F. Murray Abraham, Imani Hakim, David Hornsby, Danny Pudi, Ashly Burch, Charlotte Nicdao, and Jessie Ennis, the streamer is definitely looking to maintain a certain high level of comedic quality. Along with that, a hit series from McElhenney and Day not only helps Apple TV+ in the short term, but also earns them a seat at the Always Sunny team's creative table. Considering the television age we live in, being in business with a crew that's kept a sitcom on the air for 15 (and counting) seasons – and found a way to become even more popular in the process – is never a bad thing.
Finally, there's the video game industry: one of those professional areas that not many people know about – and those that do tend to have pretty hardcore stereotypes on the types of people who work in video game development and how they "have fun all day". A series like Mythic Quest succeeding could do some serious PR work for that area of the pop culture landscape – especially in the area of diversity within the industry. #14 – "The Nevers" (HBO)
Focusing on a gang of Victorian women who find themselves with unusual abilities, relentless enemies, and a mission that might change the world, Joss Whedon's upcoming The Nevers for HBO feels like more of a gamble for the cable network than Whedon.
Let's be clear: we're not saying the man's phoning it in with The Nevers by any means. Whedon will co-write with Jane Espenson and Doug Petrie, direct, executive produce (along with Espenson, Petrie, and Bernie Caulfield), and serve as showrunner on the series. Clearly, a multi-tasker allergic to sleep.
But the subject matter falls well within his wheelhouse when it comes to past successes (Buffy the Vampire Slayer, Angel, and Dollhouse), plus Whedon's returning to television with some serious film side "geek street cred" that included writing and directing The Avengers and The Avengers: Age of Ultron. So for Whedon, The Nevers is more of a personal creative challenge than any kind of need to show or prove anything to anyone – other than himself.
On the other hand, HBO is still looking to redefine itself in a post-Game of Thrones world – and they're making some traction with programming like Euphoria, Watchmen, and His Dark Materials. Whedon's The Nevers (if it does come out in 2020) could be that "next" quality tentpole content – the "holy grail" that every streamer is spending serious money trying to find.
Plus, it stars Preacher's Pip Torrens and American Horror Story's Denis O'Hare – how can it go wrong?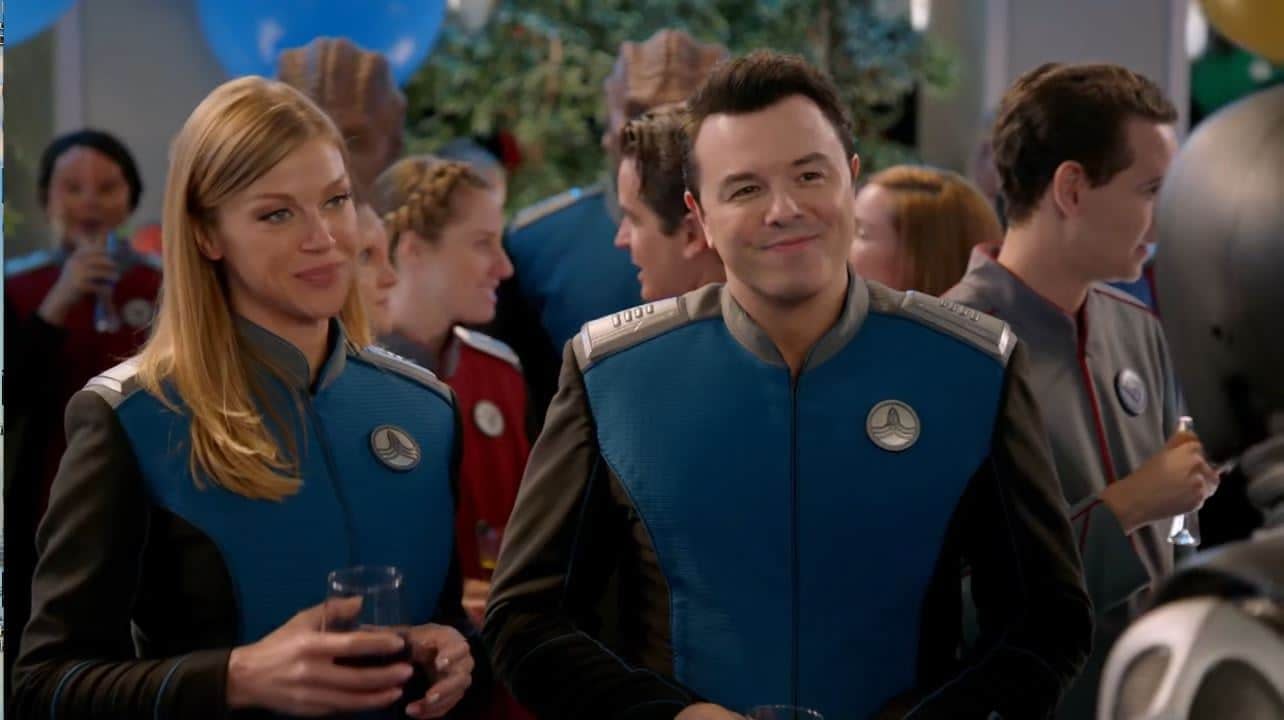 #13 – "The Orville" (Hulu)
So with Seth MacFarlane's sci-fi comedy drama getting ready to venture into the Hulu streaming universe, there are a number of questions that have stowed away for the journey. For MacFarlane, it's all about where the story goes from here. Originally thought of as "just a comedic jab at Star Trek", the series has grown to develop its own universe of "overarching mythology" possibilities with developed characters and unique takes on relevent-to-our-times themes. With that also came a growing fanbase that adores the show – and with that adoration comes increasing expectations.
For Hulu, is this a one-off investment or something that could become bigger? Imagine Disney – through Hulu – developing its "own Star Trek universe"? It was one of the first two comedies picked up by the streaming service post-Disney deal (A.P. Bio being the other), so one would assume that there's a level of commitment on Hulu's part.
Our two biggest concerns?
What impact will being under "The House of Mouse" have on the series – good and bad?
Will the fanbase be patient if "late 2020" becomes "early 2021"?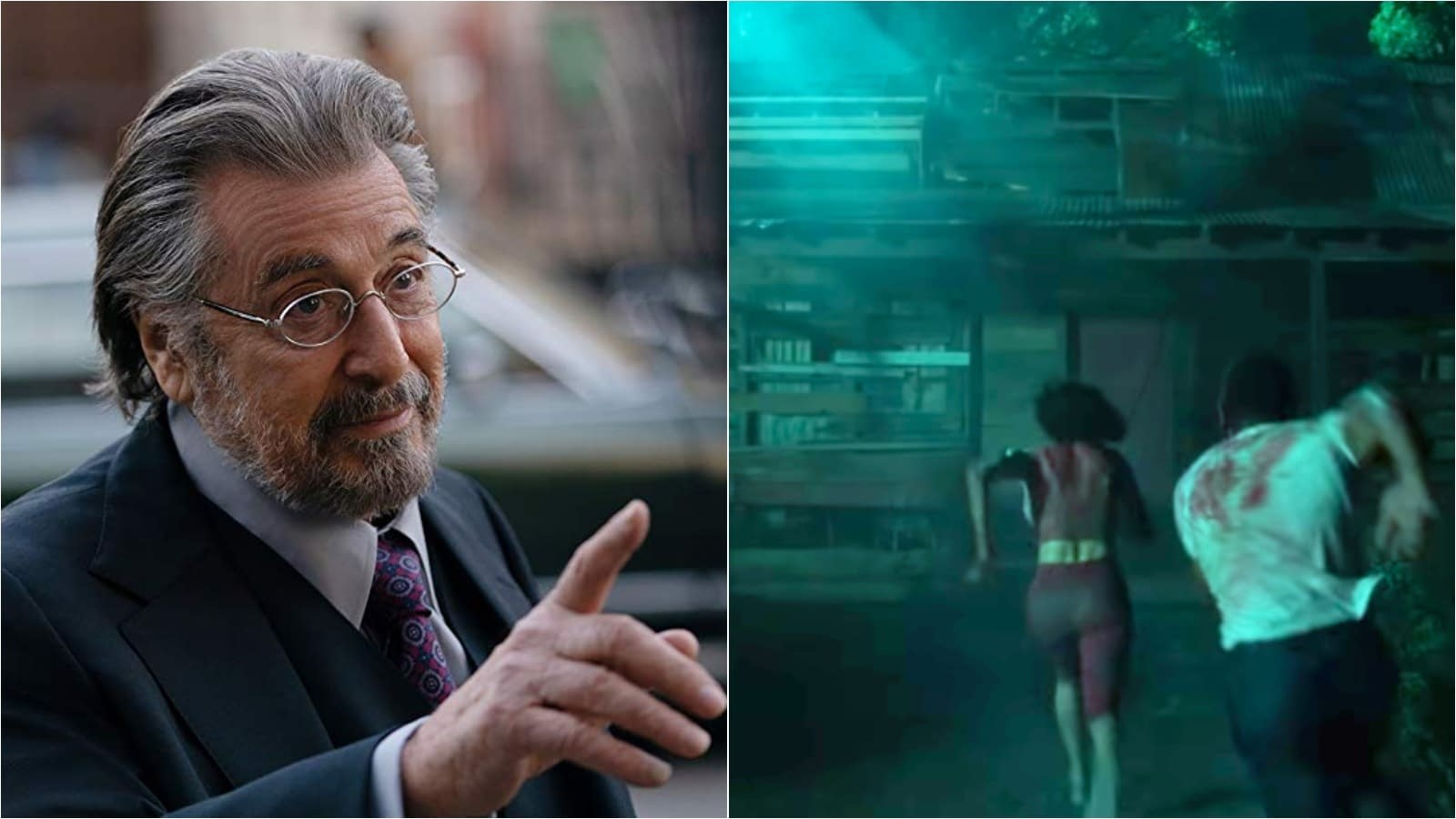 #12 – "Lovecraft Country" (HBO) / "Hunters" (Amazon Prime)
The man who left his mark on television comedy with Comedy Central's Key & Peele and went on to leave his mark on film with Get Out and Us is returning to television in a big way in 2020 – and these zip codes extend well beyond The Twilight Zone.
Academy Award winner Jordan Peele and his Monkeypaw Productions are putting their weight behind two major series ready to hijack our eyeballs: HBO's adaptation of Matt Ruff's novel Lovecraft Country and Amazon Prime Video's nazi-hunting action-drama Hunters.
One's an examination of both otherworldy horrors and the oh-too-real horrors of racism, while another offers an important message wrapped up in a 70's "grindhouse" vibe: hate is something we all have to work at taking down, and sometimes that means working together for a greater good – no matter how different we might be.
As great as all of that is – and to run the risk of being shallow – it's all being done with a look and style that's sexy and dangerous and seductive. Hell, it got Al Pacino to finally sign for a regular series role – his first time.
So I don't see this as a risk for any of the parties involved, but the biggest upswing from success would definitely go Peele's way. Before we know it, we'll be referring to him as "EGOT winner Jordan Peele…"
Feels like Lovecraft Country and Hunters will end up doing their part to help achieve that goal…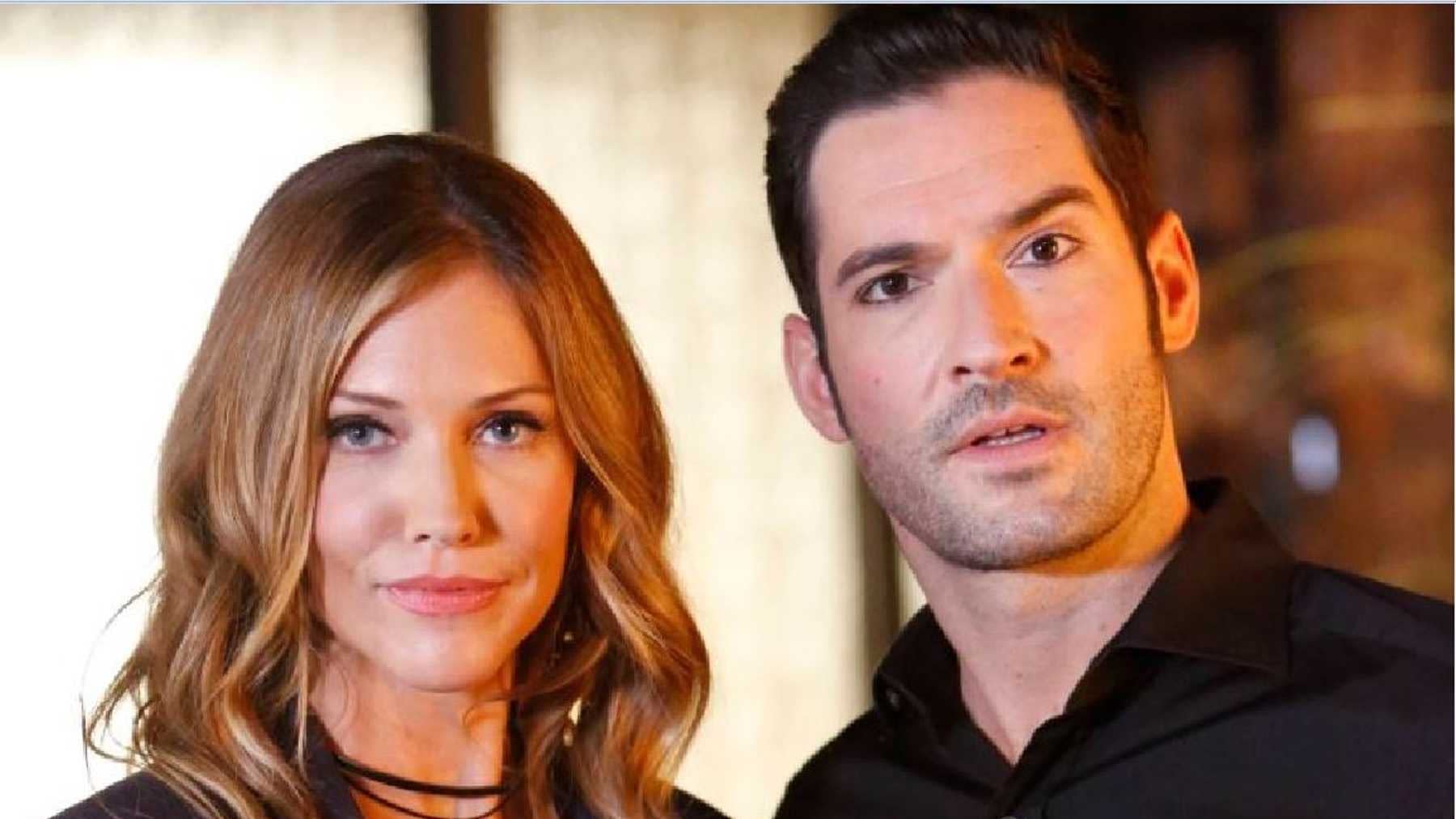 #11 – "Lucifer" (Netflix)
So let's just put it out there: we're not buying into this bulls**t that the fifth season of the Tom Ellis-starrer is going to be the show's last on Netflix. That's not "fanboy hope" creeping into the conversation because I'm just a casual viewer, but more based on "signs". First, just the fact that Netflix upped the ep count from 10 to 16 and then split the season in half shows a willingness to stretch the celebration out as long as possible.
Second, the Kelly Clarkson appeal has a ton more potential to help save the show than people realize – and I'm sure she will mobilize the fans when time comes. Third, did you see the reaction Ellis and show received on social media for just a four minute appearance on The CW's Arrowverse crossover event "Crisis on Infinite Earths"? Raw insanity. From a Bleeding Cool perspective, Lucifer coverage has never been better for business than it has been lately – and it's not built around any "going away" vibe.
Granted, Netflix operates under a serious amount of analytics, algorithms, potions, and spells so there are any number of factors that could result in it being canned. That said, it feels like the fires of Hell are gonna' get a whole lot hotter before all is said and done.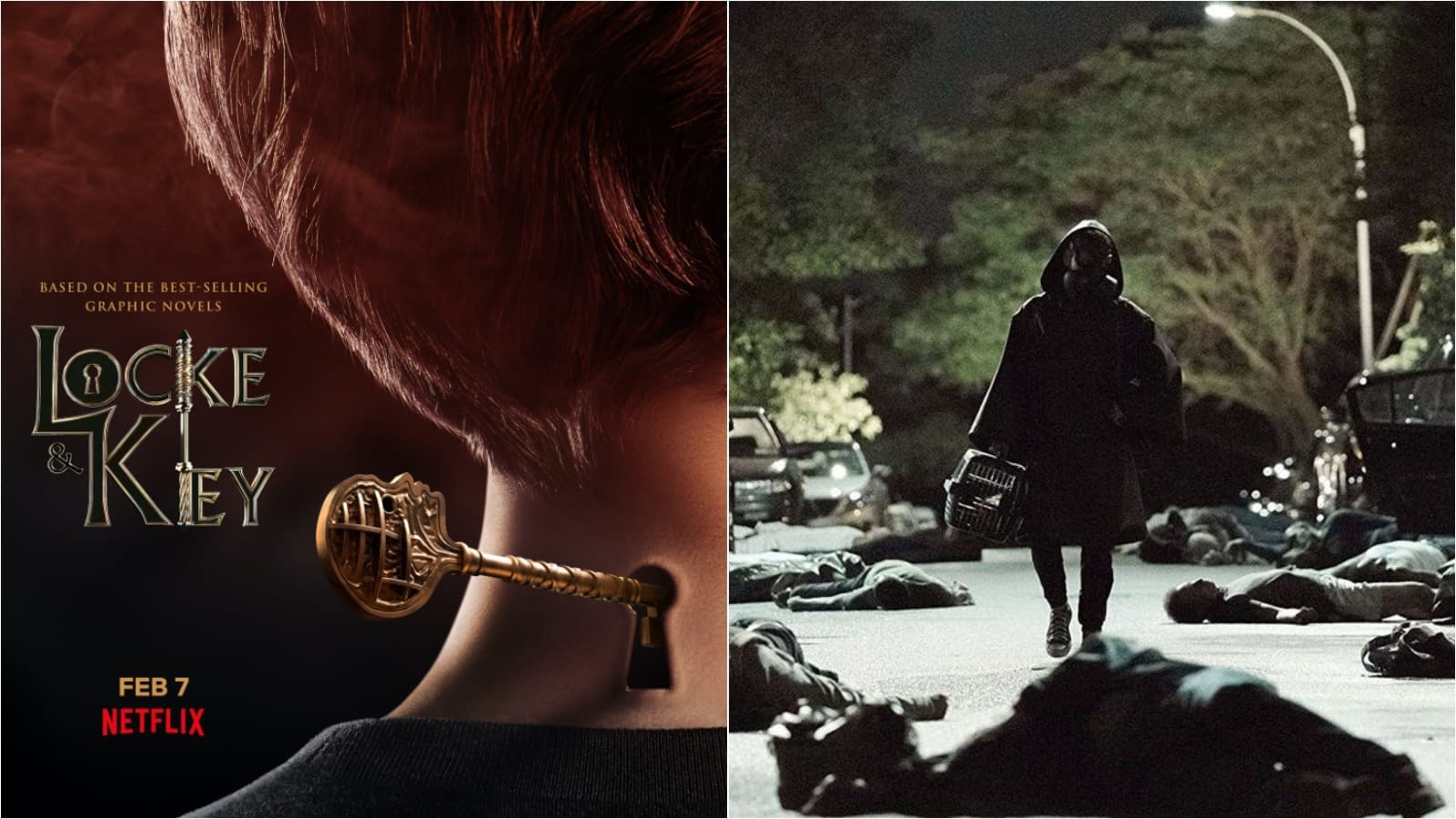 #10 – "Locke & Key" (Netflix) / "Y" (FX)
Consider this the "prequel" to our 7th pick (more on that below), Netflix's Locke & Key and FX's Y are two very distinctly different comic book adaptations storyline-wise – but they share a common bond.
Both have a had a pretty rough "origin story" getting them to where they are now – and we're still not sold on ever seeing one of them.
Between March and May 2018, Joe Hill and Gabriel Rodriguez's comic book jumped streaming services – from Hulu to Netflix, who took a near "scorched earth" approach to redeveloping the series. In April 2019, FX's adaptation of Brian K. Vaughan and Pia Guerra's comic book said goodbye to co-showrunners Michael Green (American Gods) and Aida Mashaka Croal over "creative differences" (Eliza Clark currently serves as showrunner).
Our hopeful side sees both Locke & Key and Y building upon the "quality comic book adaptation" vibe started by The Umbrella Academy, The Boys, Doom Patrol, and Watchmen. As the four latter shows proved, success opens doors for other opportunities – which Locke & Key and Y are benefitting from, so now it's time for them to "pay it forward" to help other adaptations waiting in the wings.
So far, I'm getting a "batting .500 vibe": for Locke & Key – and if what we've seen so far is a sign of things to come – it looks like adversity has resulted in some amazing art. As for Y… our brain jury's still out on this one. Feels like we should be seeing or hearing a bit more about it by now – not sure "silence is golden" in this regard, and I wouldn't be surprised if the series ends up in the Swamp Thing pile.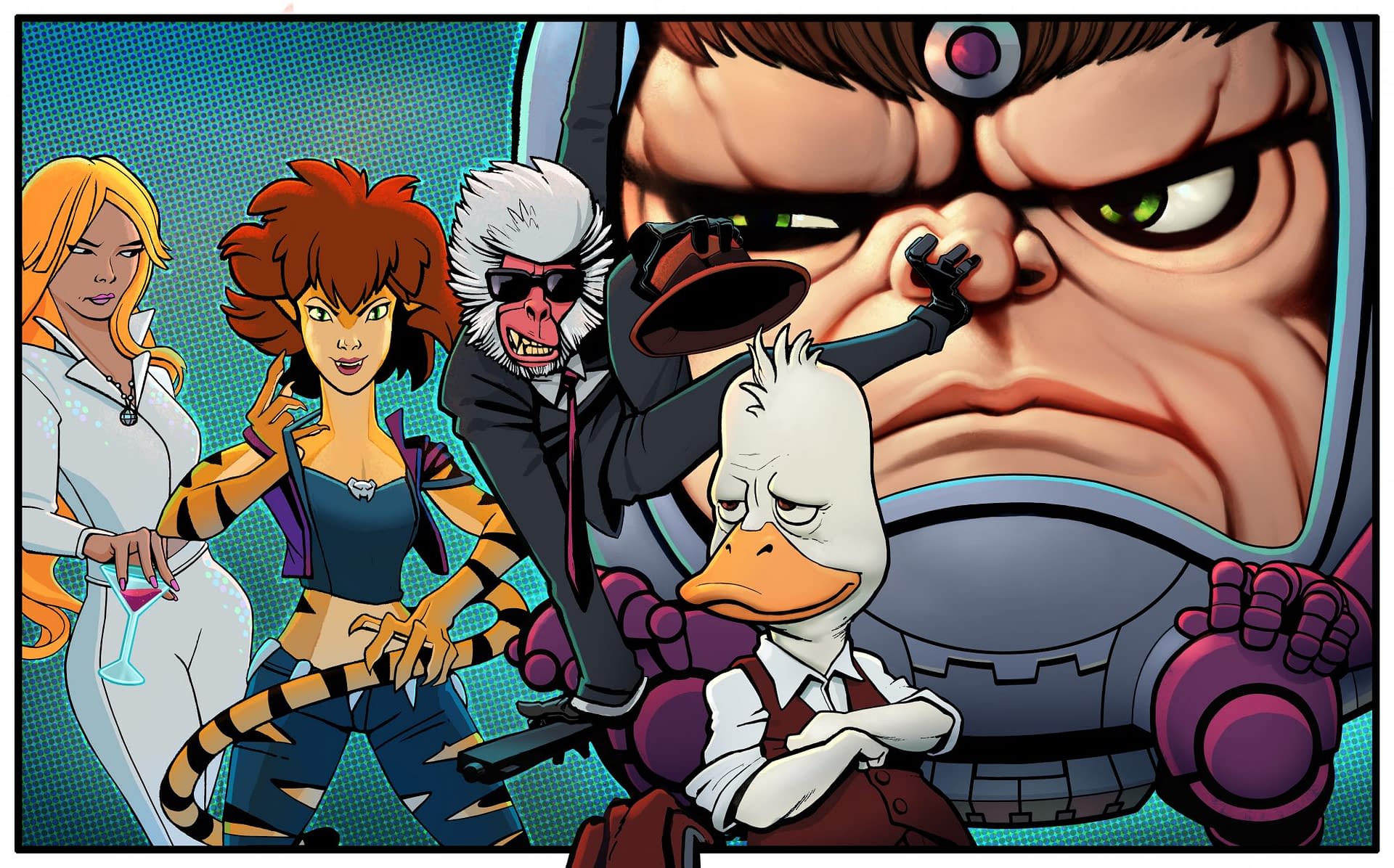 #9 – Upcoming Hulu/Marvel Animation Slate
There were rumblings once Marvel Studios' Kevin Feige took over the role of chief creative officer for all things Marvel Entertainment: film, television, comics – all the stuff that "The House of Mouse" calls its own. That's a problem when you have someone like Jeph Loeb (Marvel Television's resident mastermind: Marvel's Agents of S.H.I.E.L.D., Daredevil, Jessica Jones, etc.) – especially with a new slate of animated series set up at Hulu (Howard the Duck, M.O.D.O.K., Hit-Monkey, Tigra & Dazzler Show, and The Offenders).
Apparently, that problem was solved in October – with reports that Loeb was stepping down from Marvel before the end of the year – and then a very "interesting" thing happened: we started seeing Marvel shows getting collectively "Loeb-otomized".
Though production and casting is moving forward on Marvel's Helstrom (possibly sensing a Lucifer fanbase it could tap into), what follows isn't an impressive scorecard:
Hulu's Marvel's Ghost Rider? Gone.
Hulu's Marvel's Runaways? Done in three.
Freeform's Marvel's Cloak and Dagger? Gone in two.
ABC's Marvel's Agents of S.H.I.E.L.D.? Done after this upcoming season.
Then came word of trouble within Hulu's upcoming animated slate, with news that Tigra & Dazzler Show showrunner Erica Rivinoja (Girls Trip, The Addams Family) and the project's writing team let go over "creative differences." Rivinoja's team had completed a number of scripts and script outlines, and were 15 weeks into the show's 20-week production cycle
In early December, the other shoe dropped with news that Marvel TV will be phased out and absorbed into Marvel Studios. Staffing reductions will be in effect – though some executives will transition to Marvel Studios to oversee remaining Marvel TV projects (which Kevin Smith has heard are all still a "go" – for now).
With Disney+ pretty much cornering the market on what will be more family-friendly, PG-13 Marvel programming, Hulu could be the place for the "darker MCU" – one of the reasons why we wished Marvel's What If…? was there and not on the new streamer. Because if there's one thing the MCU needs, it's a bit more "grim-n-gritty" and less "60's Batman" vibe – these shows should matter and have consequences.
Or will Howard the Duck, M.O.D.O.K., Hit-Monkey, Tigra & Dazzler Show, and crossover limited series The Offenders end up on the programming scrap heap – where good ideas go to die painful corporate deaths?
#8 – "American Horror Story" (FX)
Let's start with two interesting comments from American Horror Story co-creator Ryan Murphy about the tenth season – the last contracted season with FX Networks:
From October 2019:
"The tenth is the last season that's ordered but John [Landgraf] and I said around Season 5, this is something that is so beloved that maybe it could keep on going. And now in its ninth season, in terms of worldwide…it's one of the most popular shows in the world, so I will continue to have an appetite to do it as long as John wants to do it. So, we have been talking about should we end it? Or should we keep moving forward? But I hope we can move forward."
From November 2019:
"We're working on an idea for season 10 that I think people will love because it's about reuniting fan-favorite actors to come back — because it might be our last season. It's the last season we have contracted. So, I've been quietly reaching out to various people. Some people I haven't reached out to yet because I was like 'Do I have a role for them?' So far, everybody I reached out to said 'Yes', so that's been great."
If you think those comments have an air of "inevitable renewal" about them, then you're in the same camp as we are. Look, AHS isn't going anywhere – but that's not the part that makes it interesting.
What will FX offer to keep Murphy happy? Remember, we're not just talking AHS… we're talking a relationship that includes American Crime Story, Pose, and others. We're also talking about one of (if not the) longest-running horror series in television history – and did we mention that it's never a bad thing to be in business with Murphy? Because Murphy brings an impressive and diverse "acting troupe" of faithful actors along with him.
Just ask Netflix…
On Murphy's side, AHS 1984 seems to have reignited some creative fires within the franchise – but Murphy also isn't getting less busy. Will we see him taking on a more "creative supervisor" role on the series? Will there be a continued push to tie the seasons together? What about rumored Coven spinoff? While FX doesn't want to lose Murphy, the AHS co-creator doesn't want to see one of his babies become a ghost of what it used to be.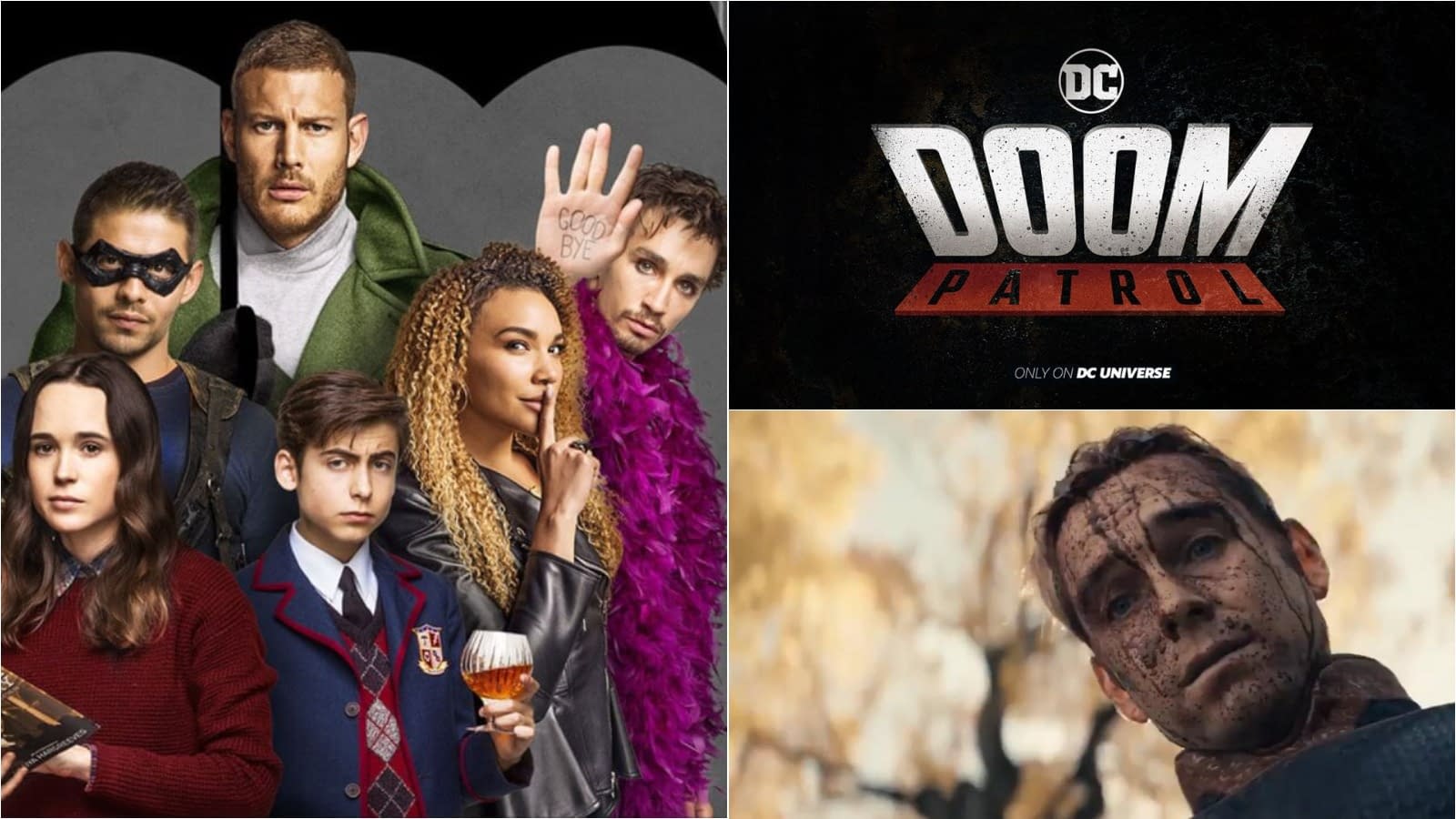 #7 – "The Umbrella Academy" (Netflix) / "The Boys" (Amazon Prime) / "Doom Patrol" (DC Universe)
What do all three shows have in common? They represent a major transition in how comics-to-television adaptations are perceived. That was my "fancy intro" way of saying that they (along with HBO's Watchmen and in many ways The CW's Arrowverse) showed people that comic book adaptations don't have to be beholden to the source material.
And that they don't have to suck.
In fact, I don't think it's a "dumpster fire of shock-n-awe" to say that they improved upon the original comic book series in a number of ways, making them relevant for a new generation – inviting them to discover (or rediscover) the comics (as we've seen by the boost in Watchmen TPB sales during the television series' run.
So what do they need to do? Don't screw up! Don't over-think the "sophomore slump" myth into a self-fulfilling prophecy. For The Umbrella Academy and The Boys, it's about maintaining what works and making the slight adjustments necessary for new seasons – and from what I've seen, things aren't looking "pre-season American Gods"… which is a really good thing. For us, Doom Patrol needs to do more to – as much as the cast (with Matt Bomer seriously deserving of awards attention once again) did an amazing job becoming a part of our pop culture dysfuntional family, the show itself still feels a little too much "motion comic" at times and less its own art in its own right.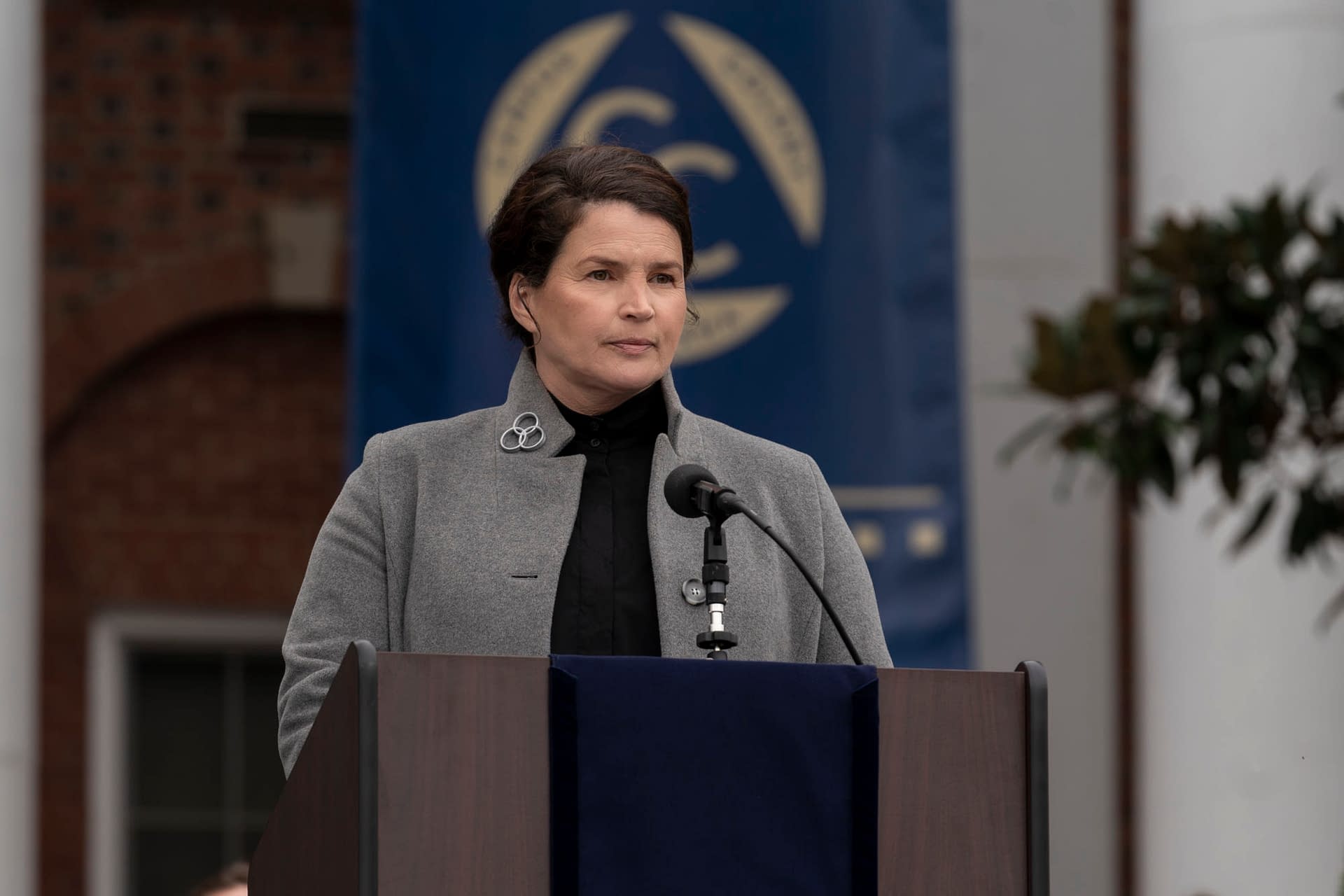 #6 – "The Walking Dead: World Beyond" (AMC)
How important is The Walking Dead: World Beyond to AMC and the Walking Dead universe?
It's "Hire Julia Ormond"-important, that's how much.
AMC's The Walking Dead has been riding a huge creative wave since the 9th season departure of Rick Grimes (Andrew Lincoln), thanks in huge part to the leadership of Angela Kang. Fear the Walking Dead enters its third season with an expanded cast and a new storyline direction that finds it connecting with Rick's CRM-sponsored disappearance more than even we expected. Of course, we didn't forget about Rick: he's got a trilogy of movies coming our way to show what happened after he got scooped up Elizabeth's (Ormond) black helicopter. Then there are the online shorts and features produced – like "The Althea Tapes", that expanded quite a bit on FTWD's season narrative.
Which brings us to Scott Gimple, chief content officer for the Walking Dead universe – and the person spearheading the effort to tie it all together. Of course, there are a hundred easy ways they couldve gone – instead? Develop a new spinoff series with a different tone and atitude than TWD and FTWD – with new faces and storylines.
Not enough pressure? Make sure that it not only ties into CRM-black helicopters, but that the overarching mythology stands at the heart of the series – essentially making TWD: WB the foundation series for the films moving forward.
So when a global franchise is resting its future on your scripts and what ends up on our screens?
You hire Julia Ormond.
#5 – "The Mandalorian" Season 2 (Disney+)
"The Mouse" couldn't have asked for a better way to kick of its new streaming service: with their very first live-action Star Wars series The Mandalorian proving itself a righteously huge hit. For Disney+, that buys them some streaming street cred and a moment to take a breath as they prepare for a Star Wars future that includes an untitled spinoff series focused on Cassian Andor from Rogue One, Star Wars: The Clone Wars season 7, and an untitled series that finds Ewan McGregor returning to his prequel trilogy role as Obi-Wan Kenobi.
For Jon Favreau's series, it's about disproving the "sophomore slump" theory and showing that the series has legit staying power – and that it's not just "The Show That Baby Yoda Built". Favreau has already scored post-season bonus points by announcing a Fall 2020 release for season 2 – where it will find itself not only helping to shepard in the next wave of Star Wars programming, but also "Phase 4" of a certain on-screen comics universe we might be addressing later…
This is a weird one because what Doctor Who needs to do isn't something it should have to do.
So it shouldn't.
Let me explain.
There's this misconception out there that Series 11 was a "disaster" and that 13th Doctor Jodie Whittaker and EP Chris Chiball we're being "canned". Now it would be funny if it wasn't clearly wrapped up in layers of misogynistic bulls**t – you know, the "Not MY Doctor!" crowd because the Doctor is now female – because none of that was true.
A basic internet search would clarify any ratings confusion, and the fact that Whittaker and Chibnall are back really proves they're not going anywhere. So my instinct was to advise that they hit the haters with the facts until there's no room for them to pout – but what's the point? Their argument comes from a shi**y place and not one of legit facts, so no response will ever change their minds.
Nope, what they should do is exactly what they're already doing: embrace the diversity and complexity of Doctor Who, truly making it a "Space. For All." Could they use a few less companions, an overarching season-long mythology storyline, and a few more familiar faces? Sure – but those are minor tweaks that I'm throwing out there because Whittaker's Doctor is one I want to see more ingrained in her past as much as possible – without sacrificing the desire to go bold and new.
No matter what, I'd like to see Whittaker have a "Tom Baker+2" run…
#3 – CBS All Access "Star Trek" Universe
Say what you want to about CBS All Access… they did promising that they would be doing some "interesting" things with the Star Trek franchise. I'd say catapaulting the Discovery 900 years into a future previously unchartered in Trek lore fits that description. Short-form anthology series Short Treks (especially its recent animated outings) could also be added to that list, as would upcoming animated workplace comedy Lower Decks. In fact, the "safest" upcoming Trek project is Picard – and they're not even putting him back in the command chair (…yet?).
But with CBS All Access now under ViacomCBS, will the creative experimenting be able to continue as the need to keep and grow eyeballs becomes more fierce – especially with new streaming services on the horizon? As popular as Discovery has proven to be, will forging new Starfleet history prove to be too much for diehards to bear – or the key to revitalizing a franchise looking to reboot its cinematic side? ViacomCBS sees Star Trek (along with Mission: Impossible) as a franchise they want playing a much bigger part in the streamer's future – so eyeballs within the company will be watching, too.
#2 – The CW's Arrowverse
The CW's "Arrowverse" will be waking from its long winter's nap to the beginning of some major changes – changes beginning on screen with the two-part finale of mega-crossover event "Crisis on Infinite Earths". Unless you've been living on another planet far, far away, you know that Stephen Amell's Arrow is leaving the air after eight seasons – looking to "pass the bow-n-arrow" series-wise to Katherine McNamara's Mia in Green Arrow and the Canaries.
The Flash is about to become the "elder states-show" of the Arrowverse – but how much longer will that series have as it nears its own eighth season. Ruby Rose-starrer Batwoman finds Kate Kane continuing to solidify her role in the changing universe, as well as developing a "World's Finest" relationship with Supergirl and expanding the Batman mythos.
Meanwhile, it appears Black Lightning will be a permanent part of the main action, while DC's Legends of Tomorrow continues doing what the "Legends" do – just without Brandon Routh and Courtney Ford, who are set to leave the series during the upcoming fifth season.
Then there's the upcoming Superman & Lois pilot – and we didn't even touch upon DC Universe's Stargirl, which will also find its way onto The CW after it airs on the streamer.
So where does that leave us? We don't know – and the fact that The CW isn't sure either is the reason this ranks so high on our list. The network's DCU is going through some major changes at a time when competition is growing – and some of that competition will be coming from within. "Crisis" has earned The CW's Arrowverse some of the best mainstream coverage it's gotten in a long time – if ever – so maintaining that is key. Also, the look and cast of Stargirl makes it look like a summer action movie blockbuster compared to the other CW DC programming – that could be a problem if they're moving ahead without a "multiverse" when the dust settles from "Crisis".
Of course, the Anti-Monitor could always win, I guess…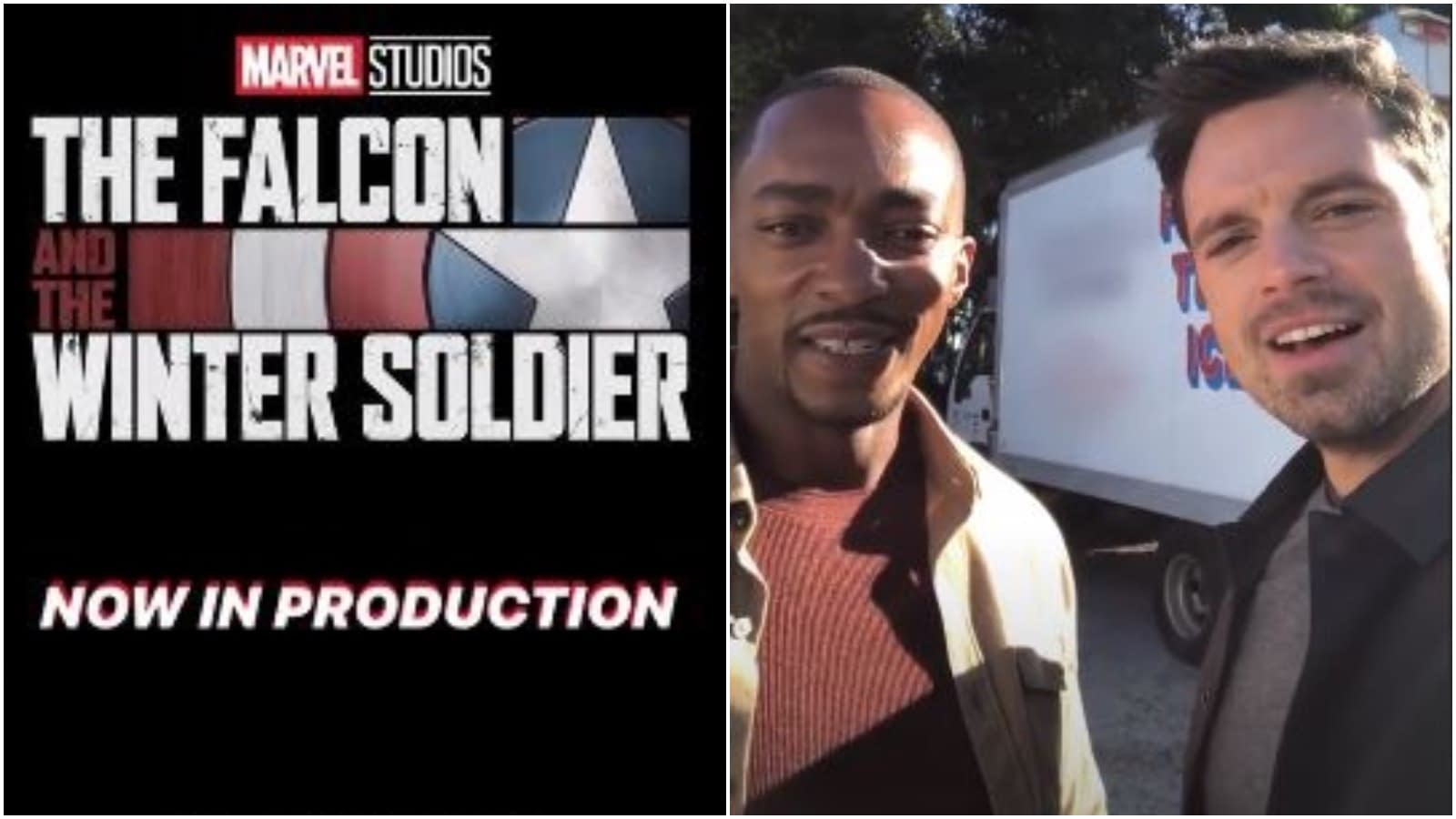 #1 – "The Falcon and the Winter Soldier" (Disney+)
If you're Disney+, you're hoping that Kevin Feige and Marvel (especially with the "Loeb-otomy" going on) are looking at the success of The Mandalorian on the Star Wars side and are having a "hold our beer" moment. Right now, "The Mouse's" streamer has eight MCU series lined up: WandaVision, Loki, animated Marvel's What If…?, Hawkeye, Ms. Marvel, Moon Knight, and She-Hulk – and it all kicks off in 202o with The Falcon and the Winter Soldier.
Which means Disney+ needs Anthony Mackie's Sam Wilson aka Falcon and Sebastian Stan's Bucky Barnes aka Winter Solider to "save the day" the same way Pedro Pascal's Din Djarin did.
Translation? Bring in lots of eyeballs.
At a time when the the MCU is moving into a post-Avengers: Endgame "Phase 4", a lot is riding on the streaming side of things to be a boost for the film side. So aside from having seven series riding your coat tails, you also have the cinematic side to keep in mind. That's a lot of pressure..
Granted, "The Mouse" has turned this entire process into a process they appeared to have mastered – but things aren't quite as "guaranteed" on the streaming side as they are over on film. Even with Disney's backing, more services means more content – and as we've discussed before, audiences have gotten "spoiled" by comic book series such as The Boys and Watchmen. Quality is key. Viewers will not waste time moving their eyeballs onto something else – no matter how "tried-n-true" that franchise might be.