'The Flash' Season 5, Episode 21 "The Girl With the Red Lightning": Cicada II's Metahuman Boogaloo [PREVIEW]
Fans of the CW's The Flash are finding themselves speeding head-long into this week's season 5 penultimate episode "The Girl With the Red Lightning" – and from what we can see in the following promo, we're about to be served up another lesson in "This Is Why We Can't Have Nice Things."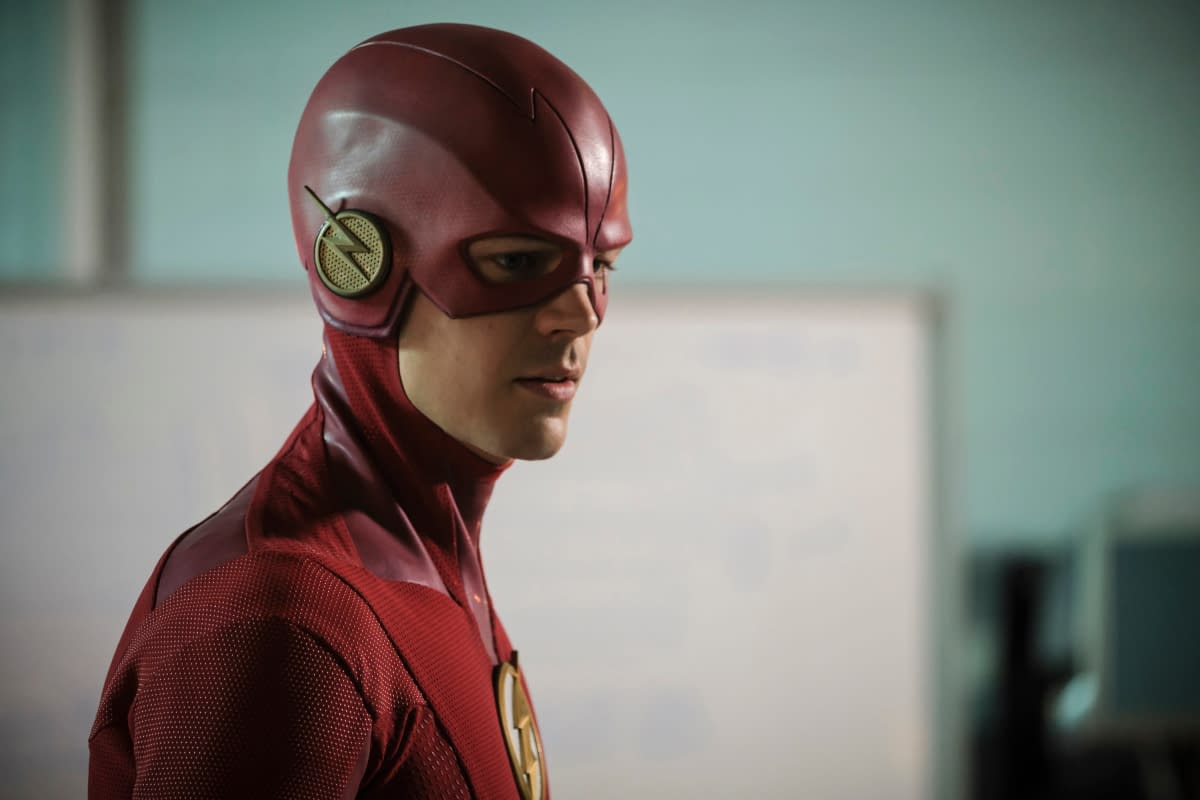 So Cisco's got some prototypes of a metahuman cure that could end up being the answer to so many problems – and absolutely not abused in any way, shape, or form… right? Then Caitlin and Ralph discover that said prototypes have been nabbed and are now in the hands of someone who had a more widespread – and permanent – "cure" for the metahuman "problem": Cicada II (…Electric Boogaloo).
https://www.youtube.com/watch?v=QXHmFWmhlvk
The Flash season 5, episode 21 "The Girl With The Red Lightning": CICADA II MAKES HER MOVE — Team Flash is on high alert after Cicada II (guest star Sarah Carter) threatens to unleash a dangerous virus that would put all meta-humans at risk. Stefan Pleszczynski directed the episode written by Judalina Neira & Thomas Pound
As if that wasn't enough to tap into your Speed Force (yeah, we know: that sounds kinda' wrong) to get you ready for next week's season finale, here's a look at the official preview images for this week's episode "The Girl With the Red Lightning":

https://youtu.be/8oOTUP-Hpx4
The Flash s05: When Barry and Iris meet Nora, their lives are flipped upside down, and her arrival brings to light the legacy every member of Team Flash will leave years from now, causing many to question who they are today. While Nora idolizes Barry and his legacy as The Flash, she carries with her a mysterious grudge towards Iris. Team Flash rallies to find a way to help Nora return to her time, only to discover her presence has changed the timeline and brought the early arrival of the most ruthless, vicious, and relentless villain Team Flash has ever faced: Cicada.
CW's The Flash stars Grant Gustin as Barry Allen/The Flash, Candice Patton as Iris West-Allen, Danielle Panabaker as Caitlin Snow/Killer Frost, Carlos Valdes as Cisco Ramon/Vibe, Hartley Sawyer as Ralph Dibny/Elongated Man, Danielle Nicolet as Cecile Horton, Jessica Parker Kennedy as Nora West-Allen/XS, and Chris Klein as Orlyn Dwyer/Cicada; with Tom Cavanagh as Harrison Wells and Jesse L. Martin as Detective Joe West. Greg Berlanti, Sarah Schechter, and Todd Helbing serve as executive producers. Bonanza Productions Inc. produces in association with Berlanti Productions and Warner Bros. Television.