The Great North Season 3 Episode 14 Review: A Tale of Two Sausages
Give anyone who worked on this episode of FOX's The Great North a lifetime supply of canned sausage for lots of laughs & a job well done.
---
FOX's The Great North started the sausage event of the century in episode 14 of season three, "Boy Meats World Adventure." In the episode, people in Lone Moose get wrapped up in the Little Ms. Ketchikan Canned Sausage Gentleman Pageant, a competition for boys with an unusual history. Some minor spoilers may be ahead, so consider this your fair warning before reading any further…
Beef Tobin is a Sausage Costume Pageant Dad
Helmer loving the concept of their being a Purge beginning in Lone Moose is the type of chaotic energy I admire in this series. Developing these unique contests and events in the town is very important to the identity present in every scene. A sausage-related competition felt like a great topic for this episode to center itself around. That expensive sausage felt important as someone who can't get enough of the taste of pricey Omaha Steaks. The Little Mr. Ketchikan Canned Sausage Gentleman Pageant and Beef (Nick Offerman) appear to have a complicated past as he was a "Link Lad" himself. Continuing to have Beef deal with these random bits of history with the town or establishments in Lone Moose is hilarious every time it comes up.
Sabotage via laxatives is always a traumatic time; if anything, poop is related to the sausage experience in many ways. Wolf (Will Forte) wanting to enter the competition himself, even if he was too old for it, was endearing. But what ended up making me almost spit out my coffee was hearing Wolf say, "nothing's sexier than a senior sausage." That was hilarious, and his lines, I believe, are vastly underrated on The Great North. Beef's intense dedication to the honor of the sausage competition is reminiscent of Abby Lee's Dance Company, and I loved it. The ease and flow of Wolf, alongside his father's tense nature during all of this, helped the episode a ton.
Moon (Aparna Nancherla) concentrating on not letting any information on his costume get through to his friends felt very on-brand. He's definitely one of the kids that would take Beef's advice seriously. Ham's (Paul Rust) voice alongside Moon's when attempting to sing just proves how much the musical elements of The Great North make the series whole. Honeybee (Dulcé Sloan) is like me, I'll love a good dramatic moment any day of the week. Getting an inside scoop on someone being framed in a sausage costume competition would bring me an odd amount of joy.
The Great North Episode Boat Name & Wolf's Shirt:
"Can't Hardly Bait"
"I am TOOT"
The Great North Season 3 Episode 14
---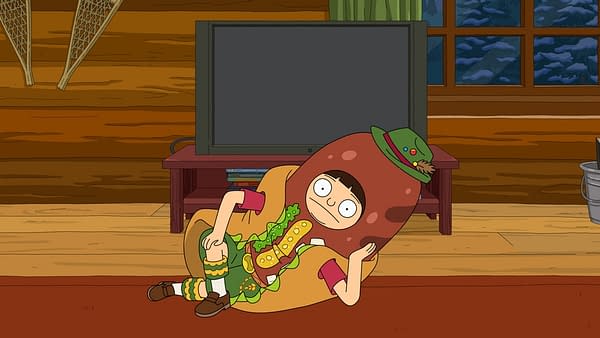 ---
FOX's The Great North S03E14 "Boy Meats World Adventure" was an episode full of first-rate writing, comedic timing, and impressive use of characters to heighten the storytelling involved. A lifetime supply of canned sausages for everyone involved!
Credits
---