Now that we've firmly established that the Library is the Big Bad on this season of SYFY's The Magicians, I predict we're about to see a lot of momentum and menace aimed at the Brakebills crew.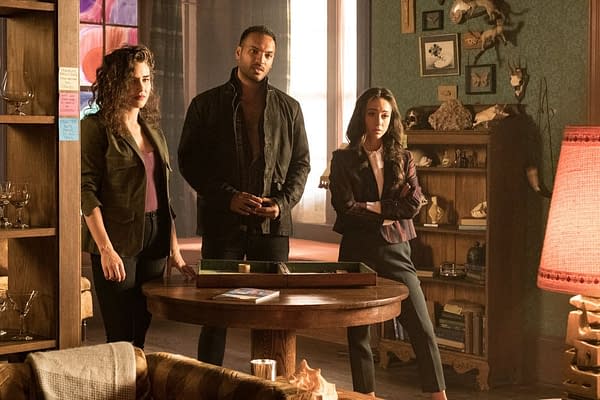 Alice (Olivia Taylor Dudley) is right in the middle of the danger, since she's the reason the hedge witches were able to tap into a leak in a magical pipeline and blow up a satellite Library branch in Modesto. Alice is pretty desperate to help her new friend Sheila (Camryn Manheim), who went missing after some Librarians visited her house.
Speaking of Librarians, Zelda (Mageina Tovah) has come to Alice for help, since she may be the only person that can find Zelda's daughter, who is trapped in the Mirror Dimension. And the Mirror Dimension looks like a pretty hellish place to be lost, frankly!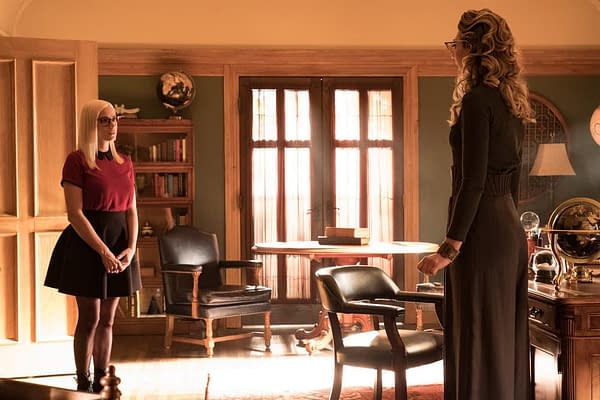 Quintin (Jason Ralph) and Julia (Stella Maeve) may be over their heads with the Monster that has taken over Eliot's (Hale Appleman) body, since they inadvertently may be helping it re-build its original "indestructible god-body". The problem being, of course, that the Monster may not leave Eliot's body in one piece while they work.
Fen (Brittany Curran) is also hunting for clues surrounding her newly acquired precognitive powers, and is going on a quest to get to the bottom of those powers. Margo (Summer Bishil) may not be the best friend in the world sometimes, but when it comes to having someone's back, she's aces, so Fen should be in good shape!
(Margo continues to find new ways to "Jesus Christ", and it's just delicious writing. Thank you, SYFY!)
Oh, and Poppy's (Felicia Day) back! That's bound to be terrible news for Quintin, but entertaining for us!
SYFY brings "Home Improvement" to our happy Televisual Devices on Wednesday, March 13th, and we've managed to pull this preview out of a rather nifty hat:

SYFY's The Magicians stars Jason Ralph, Stella Maeve, Olivia Taylor Dudley, Hale Appleman, Arjun Gupta, Summer Bishil, Rick Worthy, Jade Tailor, Brittany Curran, and Trevor Einhorn. The series' fourth season is executive produced by John McNamara, Sera Gamble, Chris Fisher, Henry Alonso Myers; and Groundswell Productions' Michael London and Janice Williams.
Enjoyed this article? Share it!