The Purge TV Show Will Explore the Concept Deeper Than the Film Series
The Purge fans flocked to room 6bcf this evening to commence learning a bit about the upcoming USA Network TV series. Hot on the heels of the latest film The First Purge, the show continues to take a look at what happens when all law is suspended for one night only once a year. Lex Scott Davis, Brad Fuller, Jason Blum, James DeMonaco, Gabriel Chavarria, Amanda Warren, Thomas Kelly, and Anthony Hemingway were our Purgers for this panel.
We started talking about The First Purge. They saw going back to the beginning as a fresh sart for the franchise. Election Year brought the story to a close, when they ended The Purge. The question was: how could any country start this, and they decided to go back to show how it began. Lex talked a bit about her character and how the sense of community play's a big role in the film. It was her film debut as well, so a role like this with stunts and such made it a great time and a crash course.
"Vigilandia" was the original title (good thing they changed that). Nobody at Blumhouse thought the series would get this far. Blum talks about how this may be the first time a successful film has gone to tv at its peak. More blurring of the lines between TV and film. The Purge holds a special place in Blums heart, as it set the studio on the map. Gives full credit to DeMonaco, who has sheparded every installment of the series, directing three of the films and writing the forth. The concept allows for it to branch off in so many different ways, each film inspires the other.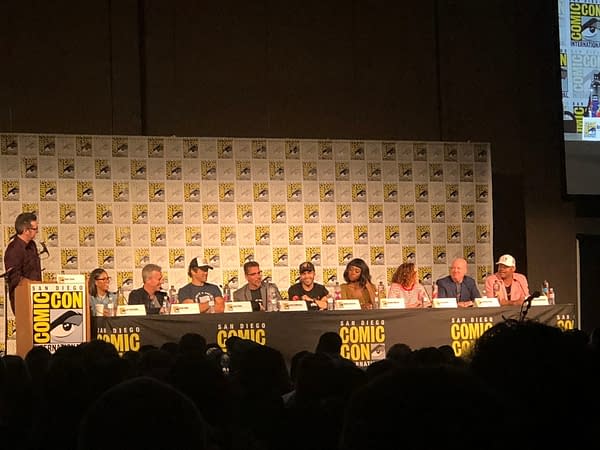 The show debuts September 4. The show will allow them to really get into the psychological aspect of the Purge and find out what makes people choose to participate or not. Takes place between the second and third films. People plot, disagree with, and even sacrifice themselves to The Purge. Or, those allowing themselves to "be Purged upon". Having more time to explore the characters in-depth and flashback and see how this society exists in a Purge world. Using the show to answer a ton of the questions they usually get about the rules of the universe and such will be answered on the show as well.
Here is the Comic-Con trailer for those of you who have not yet seen it. The 10-episode season debuts on the USA Network on September 4.