Since AMC's The Walking Dead returned for the second-half of its tenth season, we've been focusing on the back-n-forth slings-n-arrow between Daryl (Norman Reedus) and our survivors, and Alpha (Samantha Morton) and her Whisperers. Understandable, considering we've been fed non-stop action between the two sides over the past three episodes.
But we haven't forgotten about either Danai Gurira or Michonne – though there's a very good chance we're repressing the thoughts since we're still processing that Gurira is leaving the series this season. When we last left Michonne, she had set sail with Virgil (Kevin Carroll) to get him back to his community (???) – and in return, she'll head back with enough firepower to change to tides of war in their favor.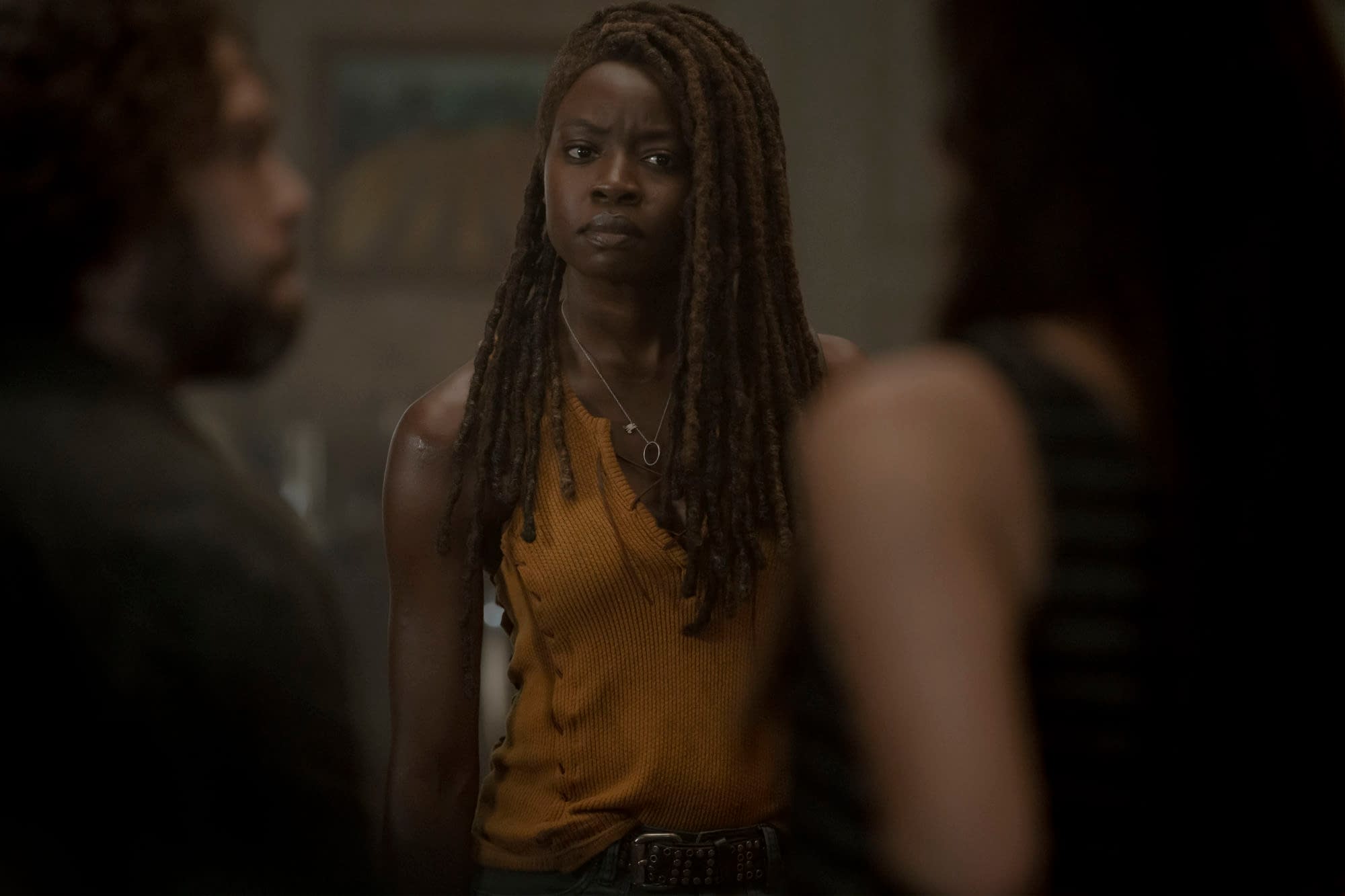 Putting aside that strong feeling we have that Virgil's community isn't quite the way he left it, Gurira and The Walking Dead showrunner/executive producer Angela Kang are giving viewers a look behind the scenes as to what went into mapping out Michonne's series departure.
For Kang, it was important to have Gurira's thoughts in play while also looking at how it will reverberate across the series' landscape:
"It was a lot of conversations over many months with Danai about what can be a fun and satisfying way to try to send off this character and pay her tribute, as well as put her in a story that has impact to the season at large."
Kang's willingness to have her voice heard in how her character is moved off the playing field was important to Gurira:
"You're carrying your character's soul at this point of the show, and Angela embraces that about those of us who have been on the show a long time — the knowledge and the nuance and understanding of everything the character has gone through. And that just made it even more special that I got to be a part of it that way."
In the following promo and preview images for "Walk With Us", our heroes look to be in even worse danger. Alpha (Samantha Morton) has Negan (Jeffrey Dean Morgan) and a legion of Whisperers on the hunt for our scattered survivors – and what looks like a Negan-Aaron (Ross Marquand) face-off – or is something else at play?
"The Walking Dead" season 10, episode 12 "Walk with Us": With Negan's help, Alpha and the Whisperers attack Hilltop.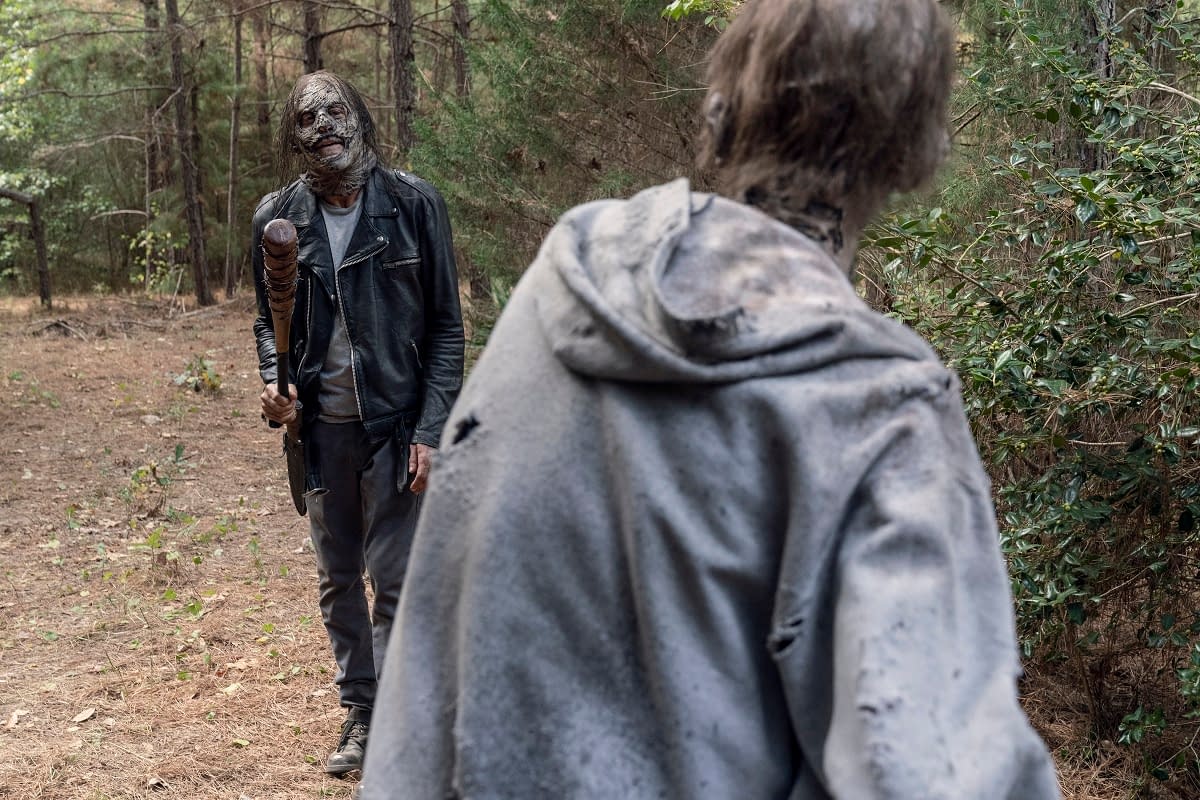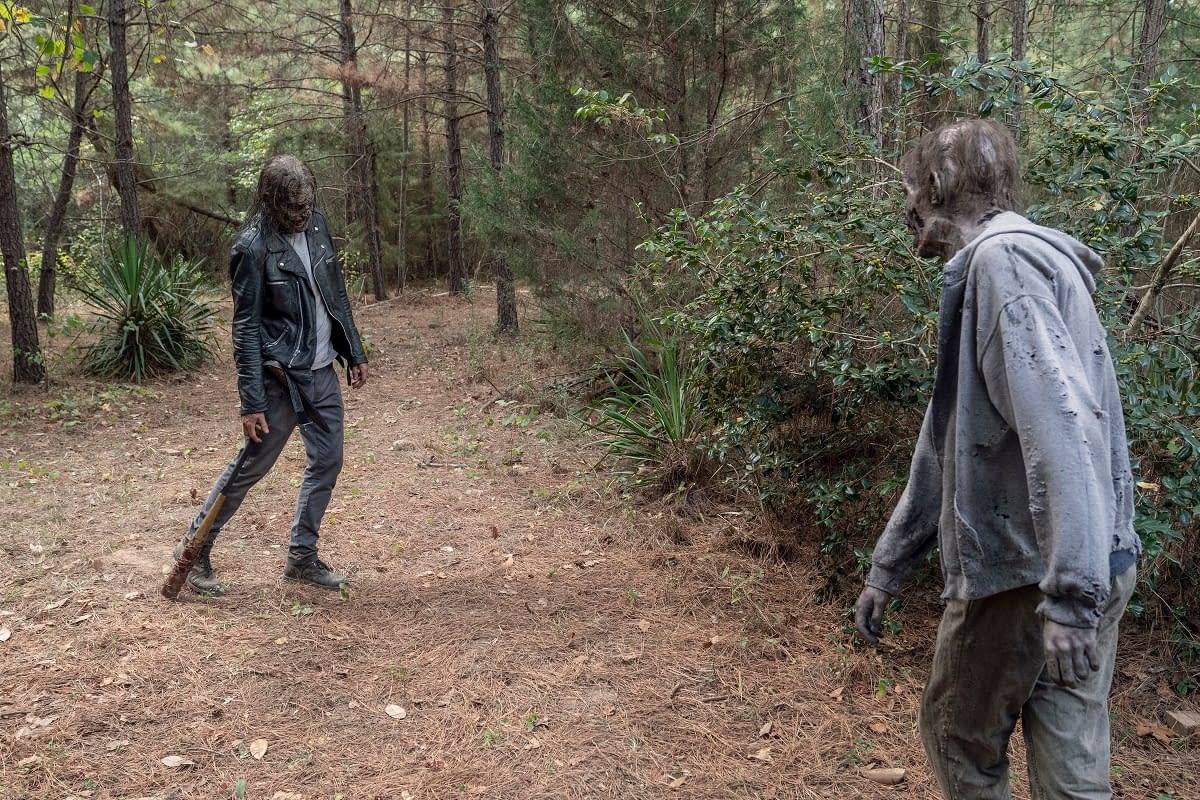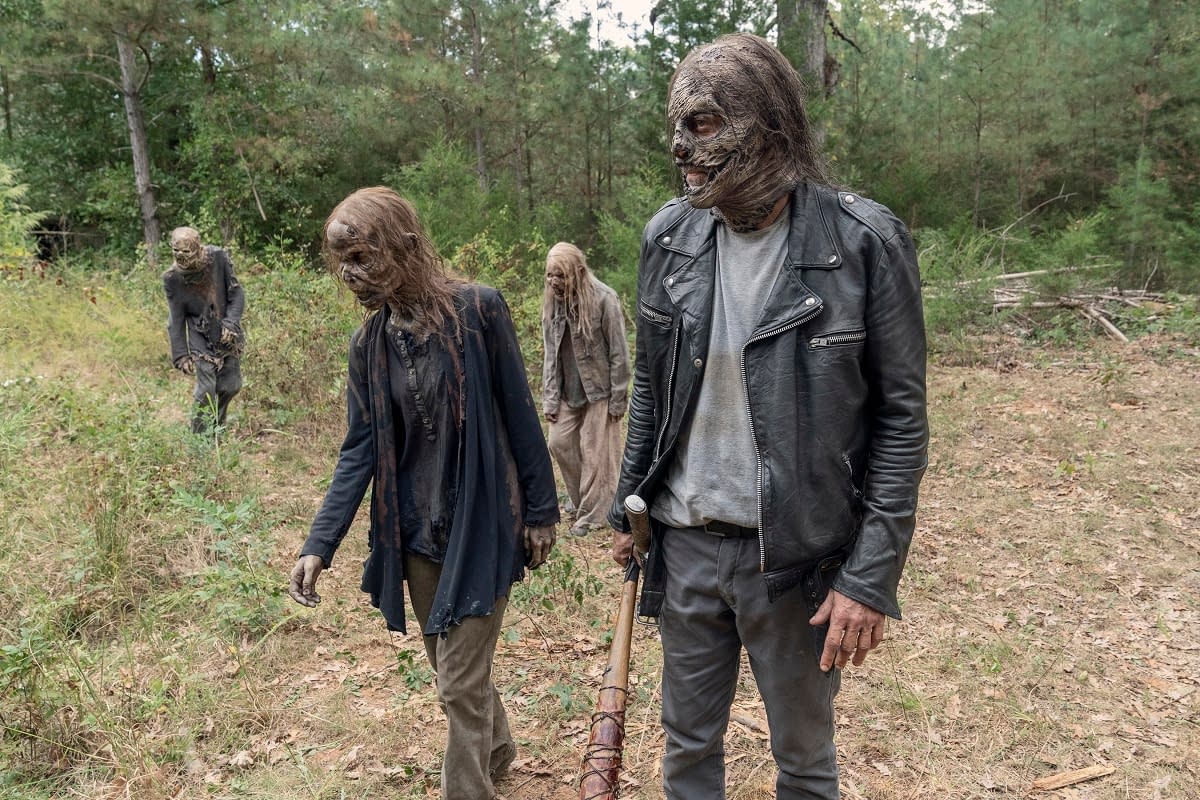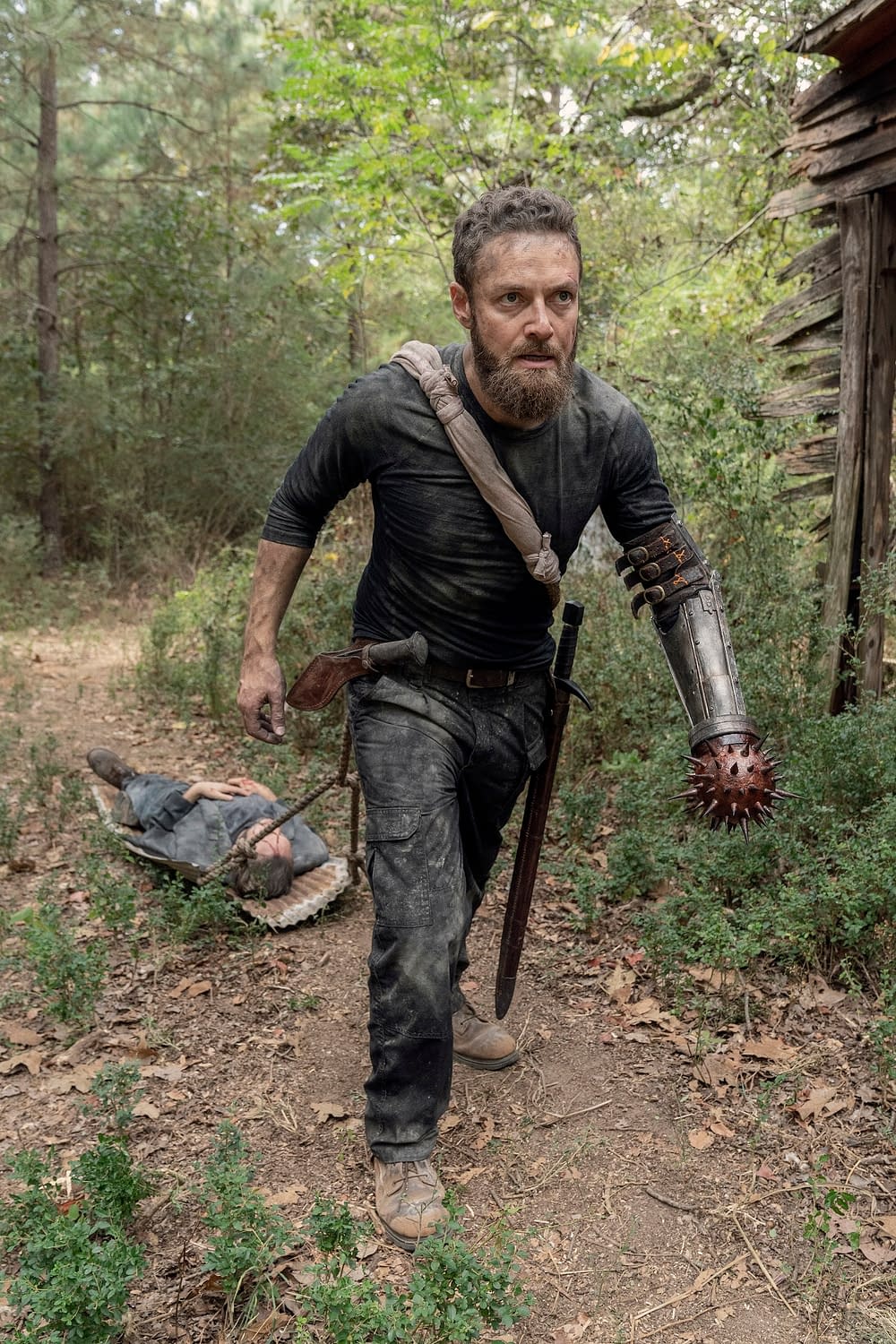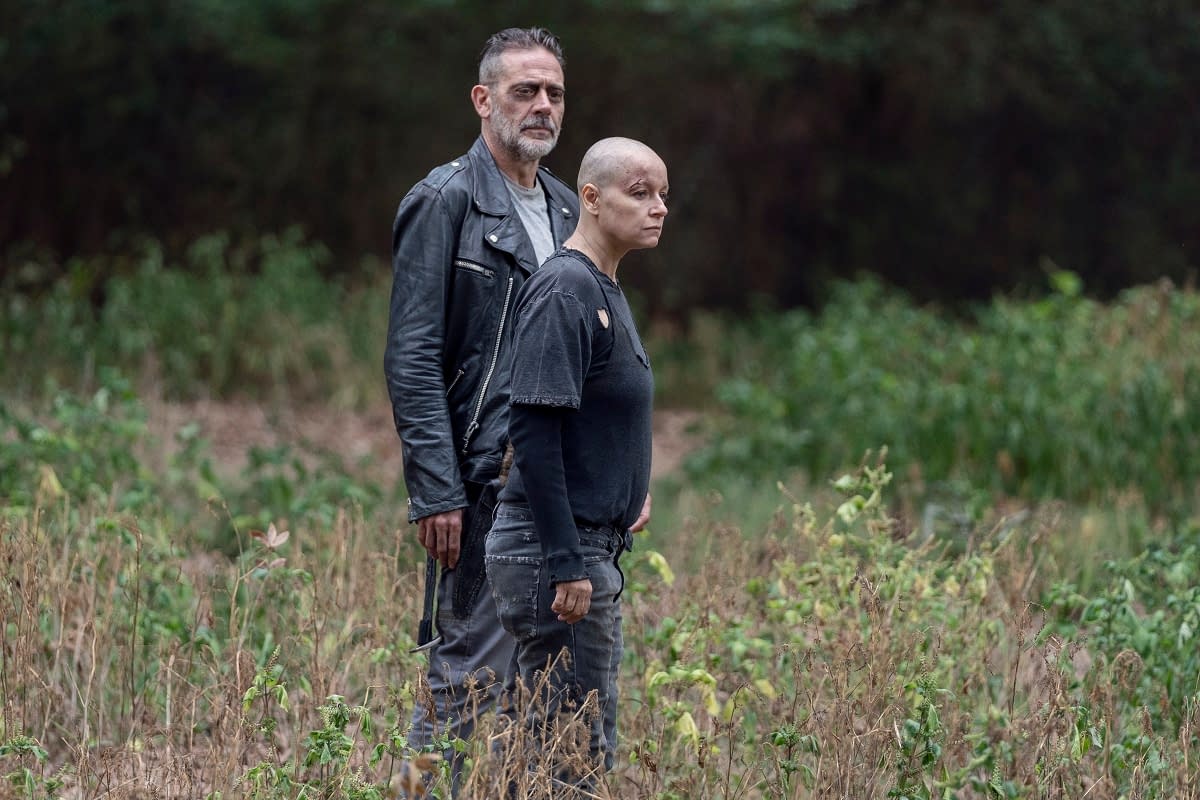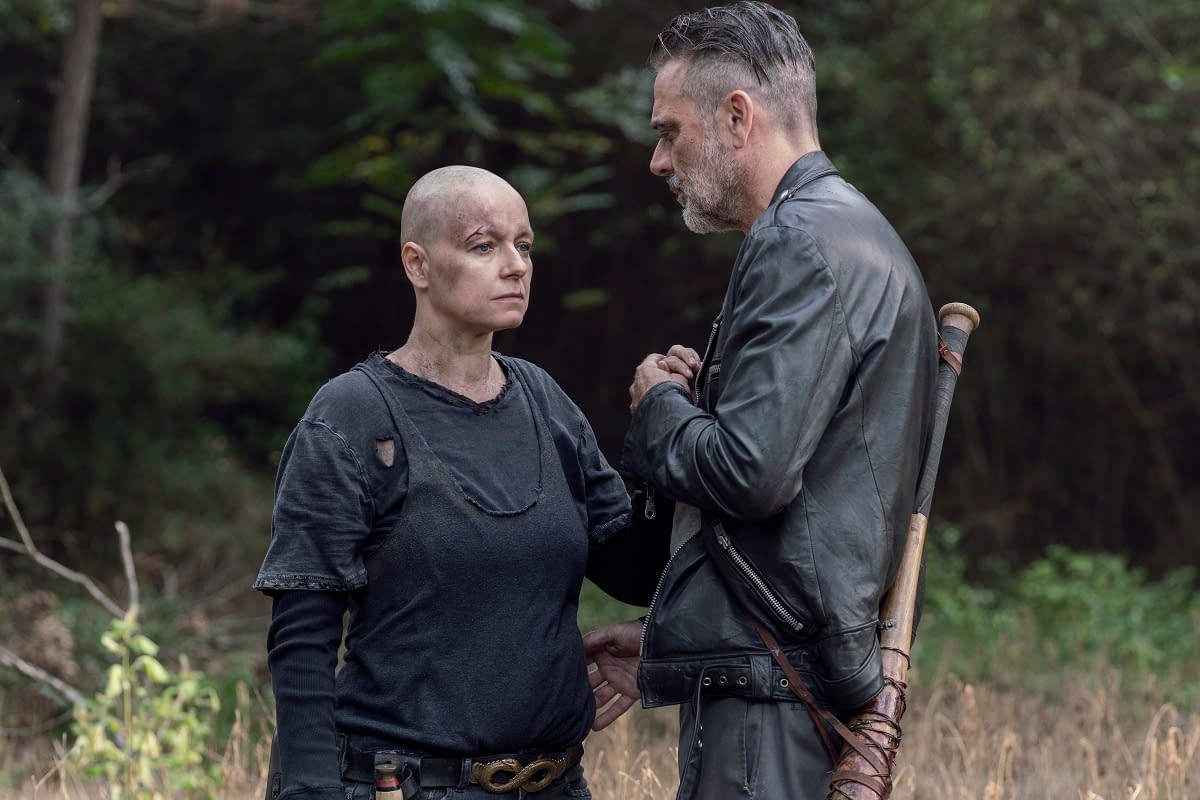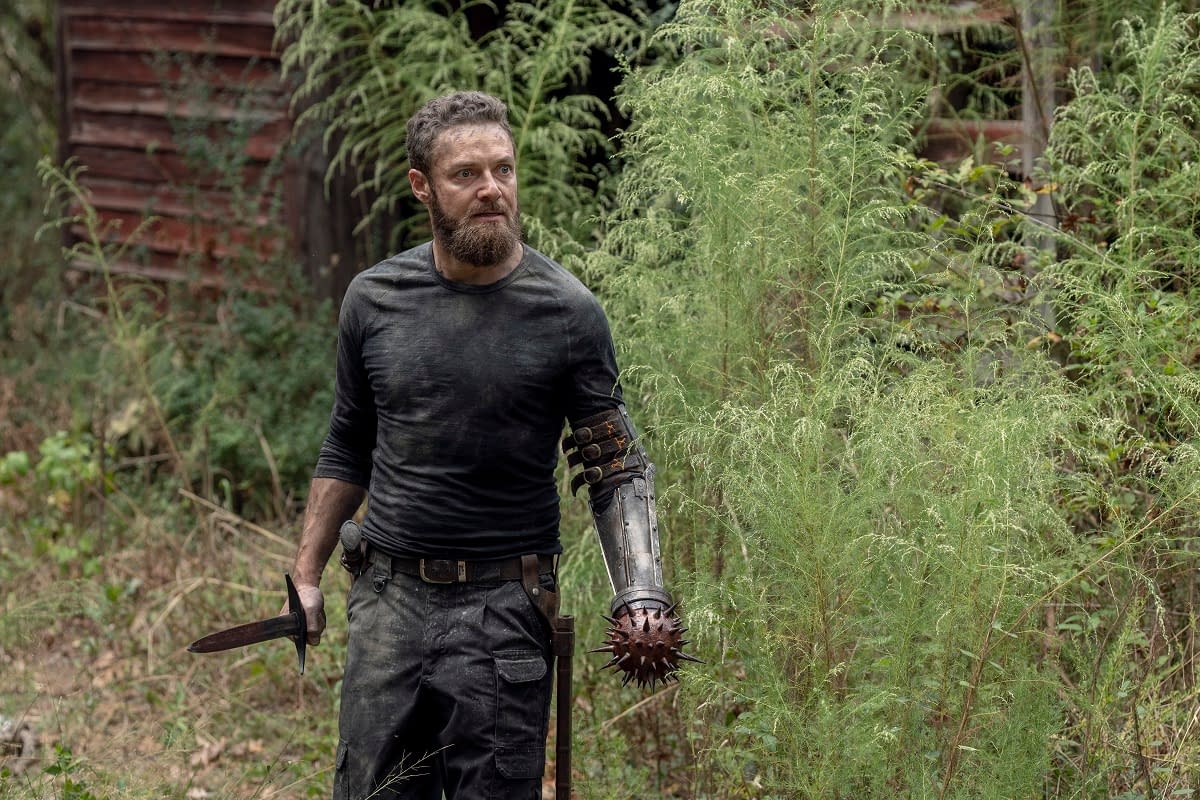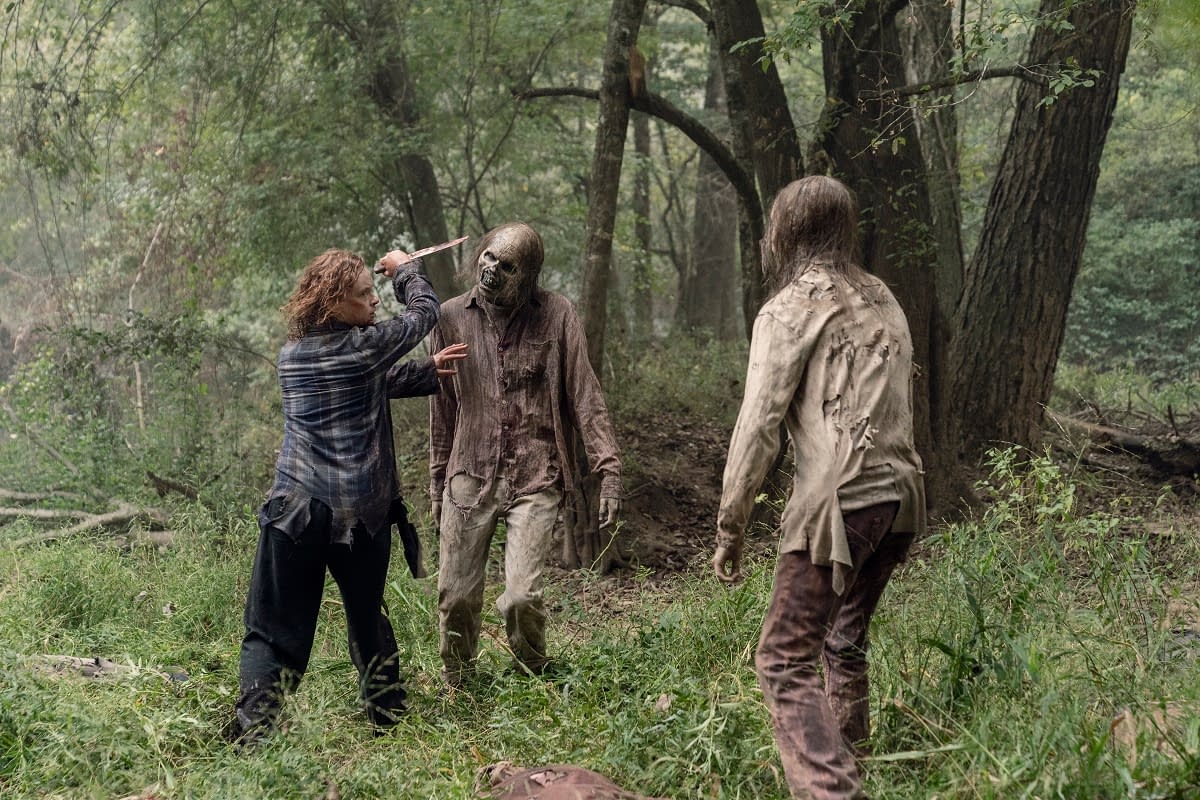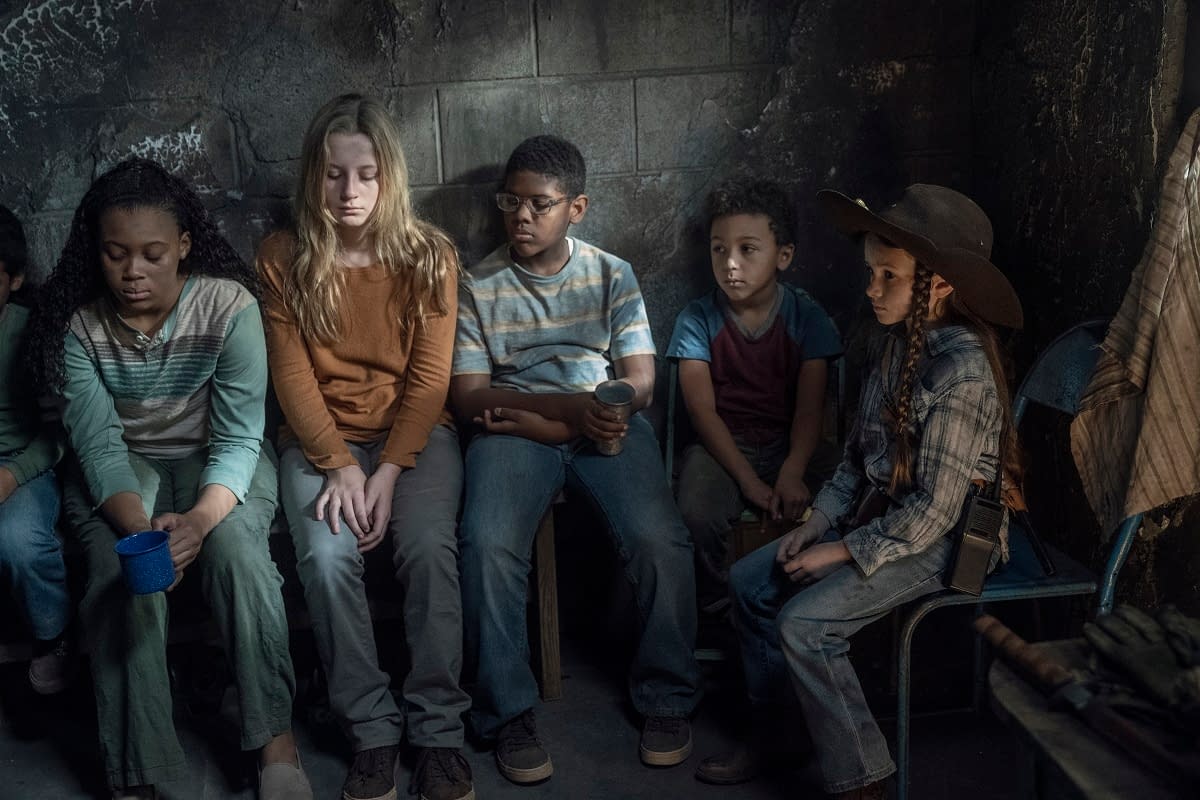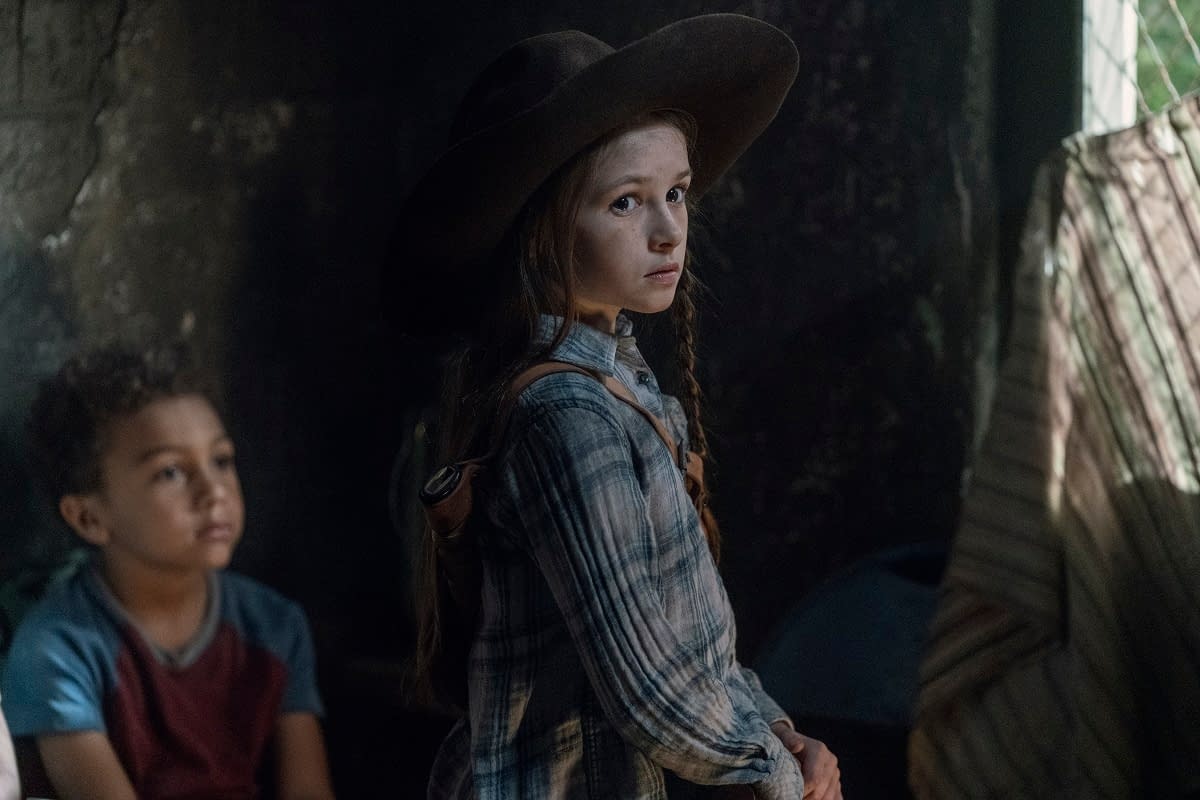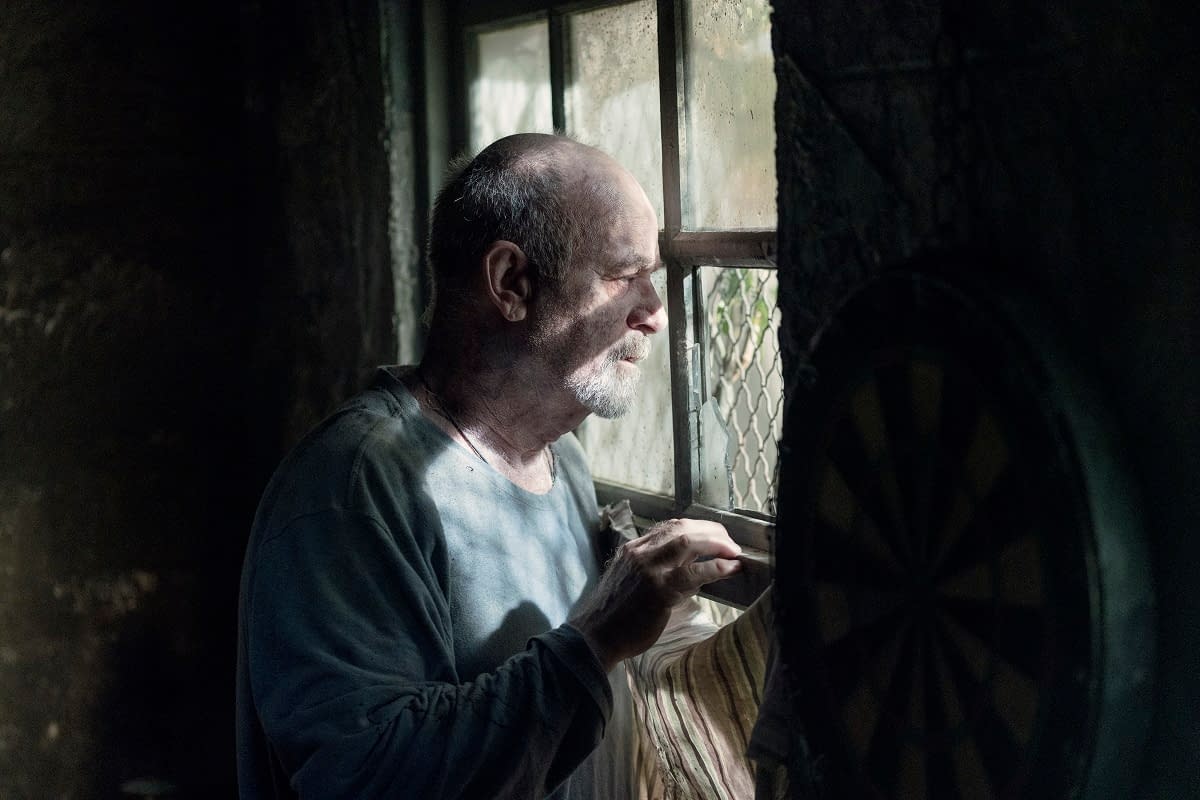 When AMC's The Walking Dead returns for its second-half of season 10, our group of survivors are trapped… some in the confines of a cave filled with walkers… others, in a spiral of suspicion and grief — all orchestrated at the hand of Alpha, who continues to prove the Whisperers are always watching and one step ahead of the communities. Through this conflict and all they've lost, a few still hold onto hope, especially Eugene, who believes the mysterious voice he spoke with on the radio may lead to their world getting bigger once again.

But with the Whisperer War upon them, the collective communities must come together and possibly sacrifice all they have to find a way to silence the Whispers once and for all. Otherwise, Alpha will ensure they face a certain doom.

"The Walking Dead" Season 1 Reviews
We didn't mince words over how impressed we were with season opener "Lines We Crossed" (check out our review here). Then we had Morton, Ryan Hurst, and Thora Birch raising the bar even higher with "We Are the End of the World" (check out our review here), – offering up some Whisperers backstory.
"Ghosts" elevated the paranoia as Melissa McBride continues delivering an award-winning performance (that review's here) – while "Silence the Whisperers" proved once again why it's "In Cudlitz, We Trust" (review here).
"What It Always Is" had a now-free Negan beginning his redemption arc (???) while Alpha raised the stakes against our survivors (review here).
"Bonds" had Negan being tested, Carol and Daryl possibly making matters worse for the community by "picking up" a Whisperer, and Eugene reaching out… and getting a response.
"Open Your Eyes" (review here) saw our theory about Siddiq (Avi Nash) completely, totally, and tragically put to rest. That brought us to midseason finale "The World Before" (reviewed here), as the drumbeats of war grew louder.
After a mideason break, we learned that those drumbeats had turned into thunder, as "Squeeze" (review here) and "Stalker" (review here) turned up the heat on what was once a stealth "cold war" back-n-forth between Alpha and our heroes. Then with "Morning Star" (review here), that heat caught fire… literally.
Enjoyed this article? Share it!