'This Is Us' Season 3, Episode 16 "Don't Take My Sunshine Away" Toby Steps Up; Randall, Beth Grow Apart [SPOILER REVIEW]
This week's episode of NBC's This Is Us left viewers reeling with an intense cliffhanger. The writers have given us too much to worry about. Baby Jack, Kate (Chrissy Metz) and Toby (Chris Sullivan) are going through one of life's most difficult trials. Meanwhile, Beth (Susan Kelechi Watson) and Randall's (Sterling K. Brown) relationship is crumbling. Kevin (Justin Hartley) just made a major life decision, which he might regret someday. Honestly, can we just live in the past with Jack (Milo Ventimiglia)? He seems to make everything feel like it will be alright and we could really use one of his inspiring talks right now.
Baby Love
Toby sees the ease with which Kate has bonded with Baby Jack and feels like he's already failing their son. Motherhood comes naturally to her. She looks beyond the scary tubes and recognizes parts of themselves in this tiny person they created together. Despite the troubling circumstances of his birth, Baby Jack can already feel the love.
Kate comforts him with songs while the doctor (yes, that is Psych's Kristen Nelson!) takes invasive samples for necessary tests. She exudes strength and positivity, while Toby begrudgingly feels helpless and a little detached. Sullivan and Metz are mesmerizing in their hospital scenes. This overwhelmingly scary obstacle brings them closer together as a couple and as parents.
Toby is honest about his feelings and is in awe of his wife's fearlessness. He wears his heart on his sleeve – its one of the many characteristics we love. His vulnerability melts our hearts during a conversation with another new dad who has been living in limbo for weeks. Toby realizes they have a long road to recovery ahead. He can't spend that time living in fear while Kate steps up for their baby.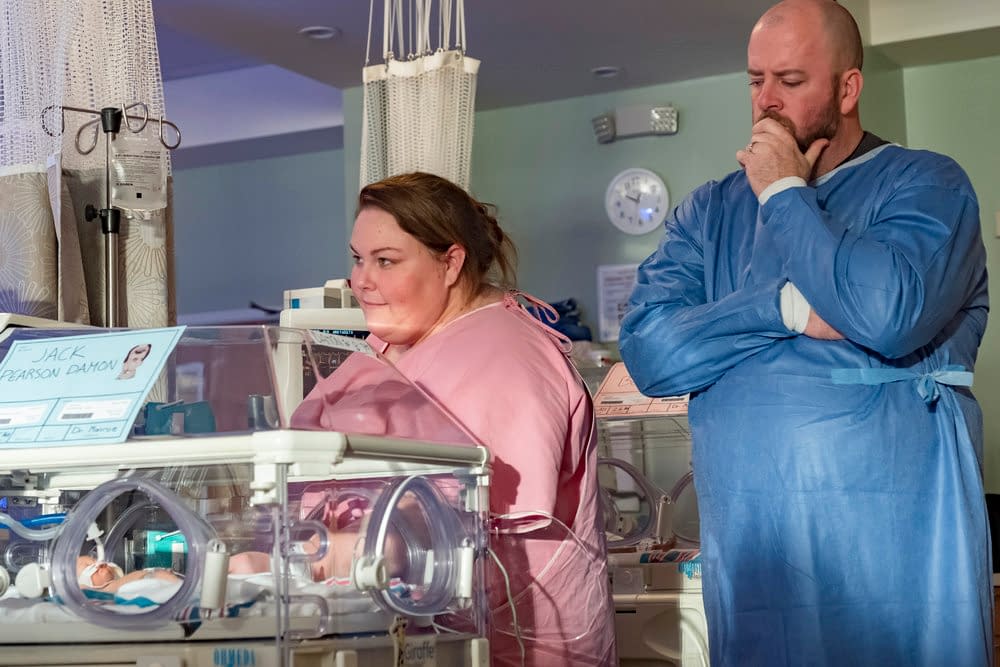 With a loving nudge from his wife, Toby tentatively takes Baby Jack into his arms. Sigh…We can see Jack and Rebecca's (Mandy Moore) influence on them already. I know Toby hasn't met Jack, but they've had talks – so it still counts.
Sweet sentiments and optimism aside, I'm still nervy because of Toby's flash-forward scene. Why is he alone? Are there foreshadowing hints we're supposed to pick up on during these troubling episodes? I'm happy and excited for them, but I'm also really scared.
While Kate and Toby embrace parenthood, Kevin thinks about starting his own family with Zoe (Melanie Liburd). He brings the subject up and she very honestly shares her stance. She does not want to have children. She has thought this through and nothing will change her mind. She assumed Kevin felt the same way.
Exes and Ohs
Zoe maturely gives Kevin an ultimatum, for both of their sakes. If he wants kids, they should break up now instead of wasting their time. Well, this is a curveball we didn't see coming.
Kevin interestingly reaches out to his first love and ex-wife Sophie (Alexandra Breckenridge) when making this life-changing decision. The flashback shows us how adorably their courtship started as kids, so we can understand why he impulsively seeks her opinion on this subject. They've known each other forever. What's cool is that they're both in a good place now. She's happily engaged and he's in love with Zoe.
After their heart-to-heart, Kevin ponders what would pain him more: a life without Zoe or a life without children. In the end, he can't imagine living without Zoe. They are now officially all in. But, I'm afraid that Kevin might have a change of heart somewhere down the line. We've seen how this storyline plays out and subconscious resentment usually builds over time. Kevin enjoys being an uncle, but will that always be enough for him?
Love Is A Battlefield
Oh no he didn't. Dammit, Randall!
It feels like their marriage has been hanging on by a thread this season and that voicemail may have snipped it. Beth and Randall struggle to balance work and family life. Their calendar is overloaded and they are running on fumes. Still, neither one wants to give up on their dreams. We can understand where they are both coming from, which makes this extra difficult.
Beth starts to gel with her colleagues and is ecstatic to be invited out for drinks. This is her big break to really bond with them and become an important part of the dance studio. She's already bummed Randall ran late and missed the compliments they showered her with before her students performed. Resentment slips through the cracks and we are all reading between the lines of their subtextual dialogue.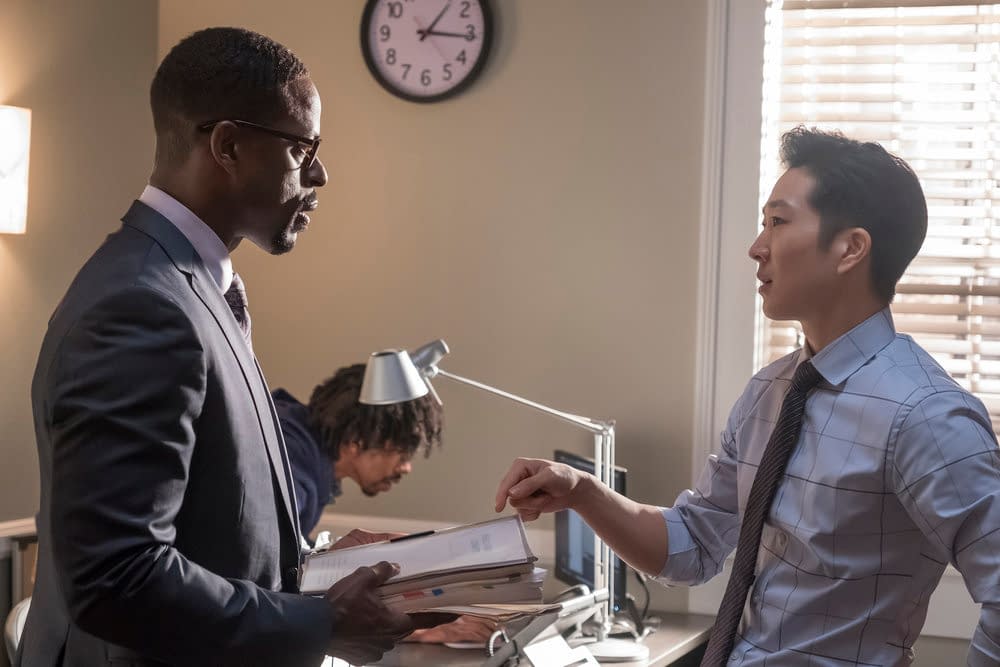 Randall needs Beth by his side for a boring dinner party because he has to make a good impression. Translation – his event is more important than her drinks with colleagues. She is not happy about it but says she'll be there. When they promise to show up for one another, they always follow through. Which is why his voicemail is extra brutal.
Like I said before, both sides are understandable. Each has a right to pursue his/her career with love, encouragement, and support. Randall and Beth have always been a team. They've got each other's back – no matter what. They also have great faith in each other. I think that's what makes this outburst so painful. He has a right to freak out and express his frustration with Beth, just as she has a right to do so with him. But when he leaves that message, he acts like she's decided to put her career above their marriage.
We know all bets are off when one of them calls "marriage." They press pause and reassess their relationship. It is part of what makes them work as a couple. Randall assuming that Beth is blowing him off instead of considering the alternative – and the truth – is a really low blow. They've been steaming for weeks, so their impending eruption is overdue.
https://youtu.be/EcMDXjurO9c
The next episode will be bittersweet. We'll watch Randall and Beth's love blossom over the years. Hopefully, the good times will balance out this crippling fight. "R & B" seemed destined to be from the start…just like Jack and Rebecca.
This Is Us airs Tuesdays at 9 p.m. ET on NBC.