'True Detective' Enters the Pink Room with "Hunters in the Dark" [SPOILER REVIEW]
We're closing in on the final chapters of HBO's True Detective, and it's starting to feel like there's very little room left for a satisfying conclusion to the slow, yet frustratingly compelling investigative procedural.
"Hunters in the Dark" was the sixth episode of this third season of TD, and we're mired down in corruption and incompetence in the 1990 segment. The state politicians want to implicate Tom Purcell (Scoot McNairy) for the disappearance of his children in 1980, and the subsequent investigation leads to some ugly truths about intolerance in the United States that appear to be little better in our time.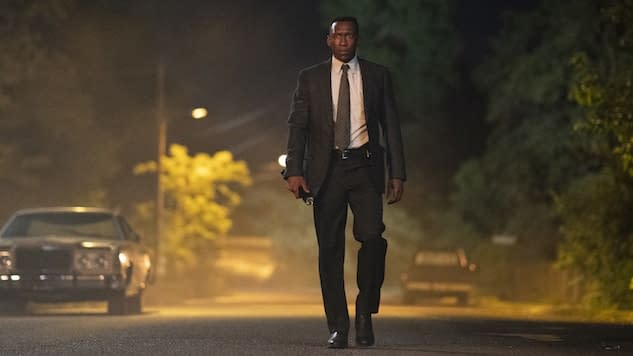 McNairy is electric in this episode, moving from startled disbelief to a primal, anguished roar in a heartbeat. This is a man who's darkest secrets are in danger of exposure, and there is little left for him to hang on to. Tom Purcell may be one of the only good people on this season of True Detective – and McNairy wears that tattered decency on his character like a rusted suit of armor.
True Detective's third season arc has a lot to say about "traditional" masculinity, and tackles the way men of that era dealt with each other, emotions, and relationships without pulling any punches. Mahershela Ali's Wayne Hays is not – in any way – a likable man, but he is fascinating to watch: a wounded hunter, pacing warily at every crime scene, more intent on seeing the job done than being a husband or father.
It's only in 2015, when Hays is beset with dementia, that he's realized what the Purcell case has cost him. He's a broken shell of a man, with hardly any family support, no friends, and a slippery grasp on reality. Ali is putting in amazing work with all three time frames, and 2015 Hays is a heart-shattering performance.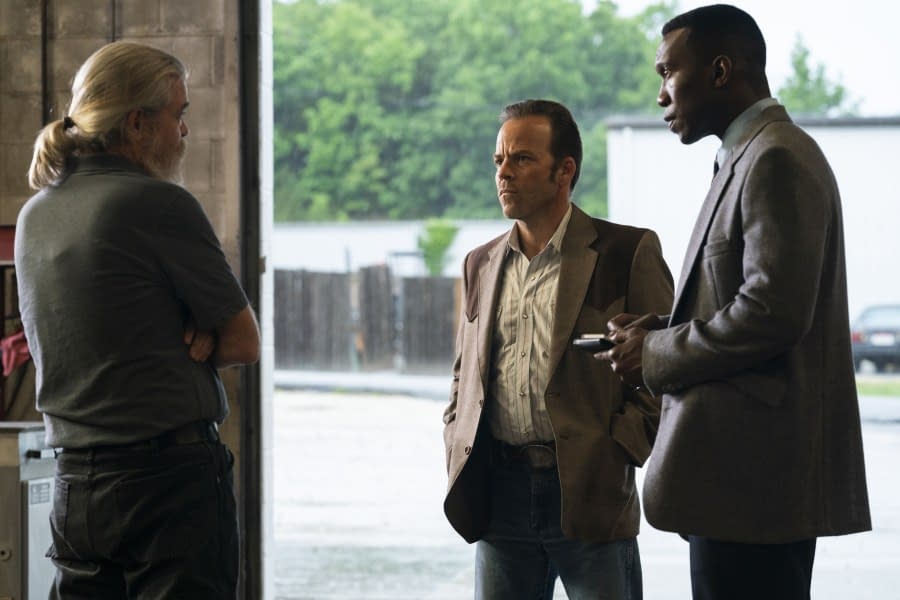 Stephen Dorff has the unenviable task of playing a character we're not traditionally conditioned to like, but his Roland West is all heart and empathy; he wants to save Tom Purcell from the specters of his past, and appears to accept things that his "back country" upbringing would traditionally reject. We still don't know if West is a good person, but he's one of the few characters on True Detective with more than an ounce of empathy.
There's been grumbling on the interwebs about the pacing of this season, with a few grumblers thinking they have it all figured out, or that perhaps show-runner Nic Pizzolatto peaked creatively with season one. That's utter garbage, frankly. True Detective certainly has its problems, but six episodes in we're still completely engrossed in the story and have no idea where we're headed. This is a show that isn't afraid to take its time to tell a story, and the performances have been phenomenal from the first episode. We noticed something new tonight, and it was a trip: Tom Purcell suddenly has scenes without the three primary investigators in the case (Hays, Amelia (Carmen Ejogo), and West). Then it dawned on us- he's investigating the case now, therefore he gets his own piece of the story to cover. It's a daring jolt to the narrative, since Purcell is so thoroughly unraveled that he might undo any progress made in the investigation.
Unfortunately, we get to our only real gripe about True Detective this season: Tom stumbled into a major clue as to the whereabouts of his daughter, and while the circumstances around that revelation have been parading past us all season, it makes the culmination of this story much harder to pull off with only two episodes remaining. This is a show that relishes in a slow burn, so we're having a hard time imagining how the pieces are going to fall into place.
Regardless, the mystery has been a fun one to follow along with so far, and we can't wait to see how it all ends up.
Make sure to join us again next week, as we review the season's penultimate episode "The Final Country," airing Sunday, February 17, on HBO.
True Detective stars Ali as Wayne Hays, Ejogo as Amelia Reardon, Dorff as Roland West, McNairy as Tom Purcell, Ray Fisher as Henry Hays (2015), Mamie Gummer as Lucy Purcell, Josh Hopkins as Jim Dobkins, Jodi Balfour as Lori, Deborah Ayorinde as Becca Hayes, Lonnie Chavis as Henry Hays (1990), Rhys Wakefield as Freddy Burns, Greyeyes as Brett Woodard, Jon Tenney as Alan Jones, Sarah Gadon as Elisa Montgomery, Emily Nelson as Margaret, Brandon Flynn as Ryan Peters, and Michael Graziadei as Dan O'Brien.