TV Scorecard: Bleeding Cool's Guide to January 2019 Premieres/Returns
With 2018 ready to shuffle off this mortal coil in a little over a month, it's never too early to take a look ahead at what's coming up for the new year – and 2019 looks like it's going to make this year feel like Fischer-Price "My First TV Schedule." So while Bleeding Cool rewires its brains to deal with the inevitable onslaught of holiday specials and say goodbye to some of our series friends – at least for now (American Horror Story, Kidding, etc.) – here's a sign of hope that more pleasant programming days are on the way.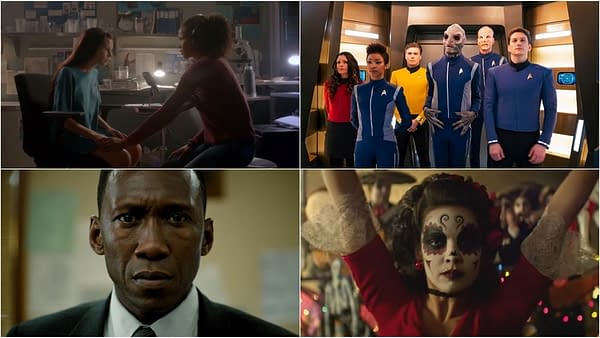 Note: The networks and services can play a little fast-and-loose with premiere dates, so this is subject to change. If we missed anything you'd like added or have any updates, hit us up in the comments below.
Tuesday, January 1
A Series of Unfortunate Events: Season 3 (Netflix)
https://www.youtube.com/watch?v=H-bDsx04jdE
Wednesday, January 2
Gordon Ramsay's 24 Hours to Hell and Back: Season 2 (Fox)
The Masked Singer (Fox)
https://www.youtube.com/watch?v=Bk0BpQfbGns
Thursday, January 3
The Titan Games (NBC)
Gotham: Season 5 (Fox)
Gordon Ramsay's 24 Hours to Hell and Back: Season 2 (Fox – time period premiere)
Star Trek: Short Treks – The Escape Artist (CBS All Access)
The Orville (Fox)
The Blacklist (NBC)
Saturday, January 4
Young Justice: Outsiders (DC Universe)
The Blacklist (NBC – new time)
Sunday, January 6
76th Annual Golden Globe Awards (NBC)
https://www.youtube.com/watch?v=oIFwG_qjKTw
Monday, January 7
America's Got Talent: The Champions (NBC)
Tuesday, January 8
Ellen's Game of Games: Season 2 (NBC)
Good Trouble (Freeform)
Project Blue Book (History)
https://www.youtube.com/watch?v=yunwnR0cK30
Wednesday, January 9
You're the Worst: Season 5 (FXX)
I'm Sorry: Season 2 (truTV)
Jon Glaser Loves Gear: Season 2 (truTV)
https://www.youtube.com/watch?v=RXGPUuwV7W0
Friday, January 11
Future Man: Season 2 (Hulu)
Crazy Ex-Girlfriend: Season 4 (CW)
https://www.youtube.com/watch?v=btoZfxs0pE0&t=4s
Sunday, January 13
24th Annual Critics' Choice Awards (CW)
True Detective: Season 3 (HBO)
Valley of the Boom: Season 1 (Nat Geo)
Victoria: Season 3 (PBS)
Monday, January 14
The Resident: Season 2 (Fox – returning)
The Passage (Fox)
Those Who Can't: Season 3 (truTV)
Tuesday, January 15
The Flash: Season 5 (CW)
Roswell, New Mexico (CW)
Drunk History: Season 6 (Comedy Central)
Corporate: Season 2 (Comedy Central)
Wednesday, January 16
Wayne (YouTube Premium)
Riverdale: Season 3 (CW)
All American: Season 1 (CW)
Deadly Class (Syfy)
Schitt's Creek: Season (Pop)
Thursday, January 17
A Discovery of Witches: Season 1 (Sundance Now)
Star Trek: Discovery: Season 2 (CBS All Access)
Supernatural: Season 14 (CW)
https://youtu.be/YvuYABIFZHA
Friday, January 18
Dynasty: Season 2 (CW)
https://www.youtube.com/watch?v=aM7UWB4dfYY
Sunday, January 20
Supergirl: Season 4 (CW)
Charmed: Season 1 (CW)
Shameless: Season 9 (Showtime)
Crashing: Season 3 (HBO)
Black Monday (Showtime)
High Maintenance: Season 3 (HBO)
SMILF: Season 2 (Showtime)
https://www.youtube.com/watch?v=RTCg_n5Uz1s
Monday, January 21
Black Lightning: Season 2 (CW)
Wednesday, January 23
The Magicians: Season 4 (Syfy)
Pure (WGN America)
Suits: Season 8.5 (USA)
https://www.youtube.com/watch?v=J3BOp8n73uM&t=1s
Thursday, January 24
Siren: Season 2 (Freeform)
The Good Place: Season 3 (NBC)
Broad City: Season 5 (Comedy Central)
The Other Two (Comedy Central)
https://www.youtube.com/watch?v=YMdo_0H1thU
Friday, January 25
Unbreakable Kimmy Schmidt: Season 4 (Netflix)
https://www.youtube.com/watch?v=KrhGkf-ymYU
Sunday, January 27
25th Annual Screen Actors Guild Awards (TBS/TNT)
Rent Live! (Fox)
Thursday, January 31
Will & Grace: Season 10 (NBC)