The final episode of Food Network's Ultimate Thanksgiving Challenge had the remaining three contestants expressing touching moments of inspiration and creating intricately beautiful meals to represent their family Thanksgiving. Host Giada De Laurentiis tasked them to use squash as their muse and all three created meals that made my mouth water. Judges Alex Guarnaschelli, Carla Hall, and Christian Petroni indulged in delicate salmon, oyster squash Rockefeller, and earthy salads; and had their fill of exquisite turkey dishes and pies.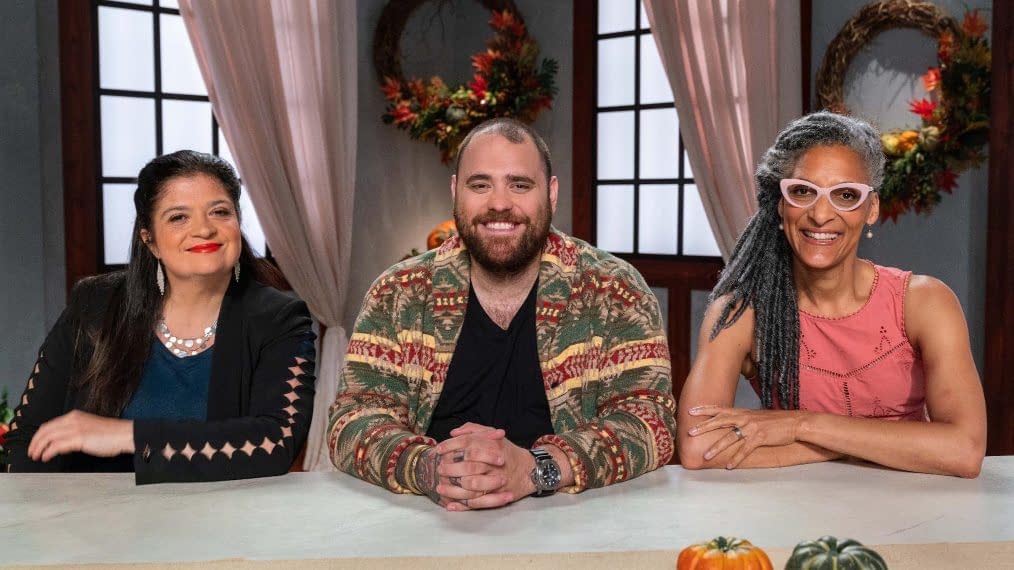 Ultimate Thanksgiving Challenge consists of two rounds:
● Round #1 Contestants are given a short window to create a small meal and transform an ingredient. No eliminations this round, but the winner gets an advantage going in to round two.
● Round #2 – Dinner Round: Competitors are asked to create a thanksgiving inspired meal with some curve balls thrown into the mix.
Each episode after the dinner round a contestant is eliminated. The last man standing receives a prize of $25,000.
You've probably used an egg wash on your pie, but did you know you could also use apricot jam? @GDeLaurentiis learned this trick at culinary school in Paris! Get even more Thanksgiving tips and recipes on the #FoodNetworkKitchen app: https://t.co/CaEX2QX6zj! ✨ pic.twitter.com/M3pcRy2hr9

— Food Network (@FoodNetwork) November 25, 2019
Here are some of highlights from episode 4 "$25,000 Thanksgiving":
● Round 1: contestants were asked to get inspired by various types of squash, and they really took to the challenge. The plates were memorizing and delicious.
● The mother-inspired salmon while perfectly cooked, failed to highlight the featured ingredient, while the oyster squash went a little too heavy on the oyster
● The win went to a butternut squash and arugula salad successfully featuring the squash and the judges couldn't seem to get enough of it. On the other hand, I never thought to put squash in a salad – might give it a try this thanksgiving.

● Round 2: contestants were given three hours to cook and entire turkey and make it their own – what would they serve on Thanksgiving Dinner? This really allowed them to pour their heart and soul into their food and get creative. The dinner had to include two sides, and a pie curve ball was thrown into the mix later in the round.
● The pesto turkey with spaghetti squash salad seemed to be beautifully infused with flavor and his blackberry and blueberry pie was delicious. The firefighters he cooks for should be very proud to have this man in the kitchen
● Turkey done two ways was good, but did not succeed well in side execution, the judges were disappointed with the mac and cheese and the apple pie
● The win deservingly went to the south creole dinner. Blackened Turkey with etouffee and corn, and a side of honey vinegar pie. Martha Stewart would have been proud with the spread, a truly cohesive plate of food.
The FINALE of #UltimateThanksgivingChallenge starts @ 9|8c tonight! Before then, hear from @GDeLaurentiis + judges @Guarnaschelli, @CarlaHall + @CPTheCook about what their Thanksgiving feasts are REALLY like! Download the #FoodNetworkKitchen app today: https://t.co/CaEX2QX6zj! pic.twitter.com/Z3nFA6Dxw0

— Food Network (@FoodNetwork) November 24, 2019
Food Network's Ultimate Thanksgiving Challenge is a wonderful series to indulge in before the holidays, it's pleasant to watch the judges and the competitors show kindness and comradery. The best part is getting inspired by use of every day products, and really learning a lot about what can be served at your own Thanksgiving family dinner.
Enjoyed this article? Share it!