Posted in: AMC, Fear The Walking Dead, Trailer, TV, Walking Dead | Tagged: aaron, Alexandria, alpha, amc, andrew lincoln, Angel Theory, beta, bleeding cool, Bounty, cable, Cailey Fleming, carol, Cassady McClincy, chokepoint, Christian Serratos, Connie, dan fogler, danai gurira, Daryl, Eleanor Matsura, Eugene, ezekiel, guardians, Hilltop, horror, jeffrey dean morgan, jesus, Josh McDermitt, Judith, Judith Grimes, kelly, Khary Payton, Lauren Ridloff, luke, Magna, Melissa McBride, michonne, midseason, Nadia Hilker, negan, norman reedus, omega, Review, Rick Grimes, robert kirkman, Rosita, Ross Marquand, ryan hurst, Samantha Morton, scars, season 9, season 9b, streaming, television, terror, The Walking Dead, Tom Payne, tv, TWD, walkers, whisperers, Yumiko, zombies
---
'The Walking Dead' Season 9: Did [SPOILER] Spoil These Characters' Fates?
Last week's episode of AMC's The Walking Dead pretty much lived up to its name: "Chokepoint." Situations went from bad to a slow-growing worse with Daryl (Norman Reedus) and Beta (Ryan Hurst) facing off in the first of what now looks like to be the first in several more rounds to come. After a trip down an elevator shaft for Beta, Daryl brought Connie (Lauren Ridloff), Henry (Matt Lintz), and Lydia (Cassady McClincy) to Alexandria for a breather before heading off… somewhere.
Meanwhile, Ezekiel (Khary Payton) and Carol (Melissa McBride) made The Highwaymen an offer they couldn't refuse – an offer we definitely didn't see coming. Meanwhile, the Trade Fair inches closer… so why can't we shake this "Red Wedding" feeling?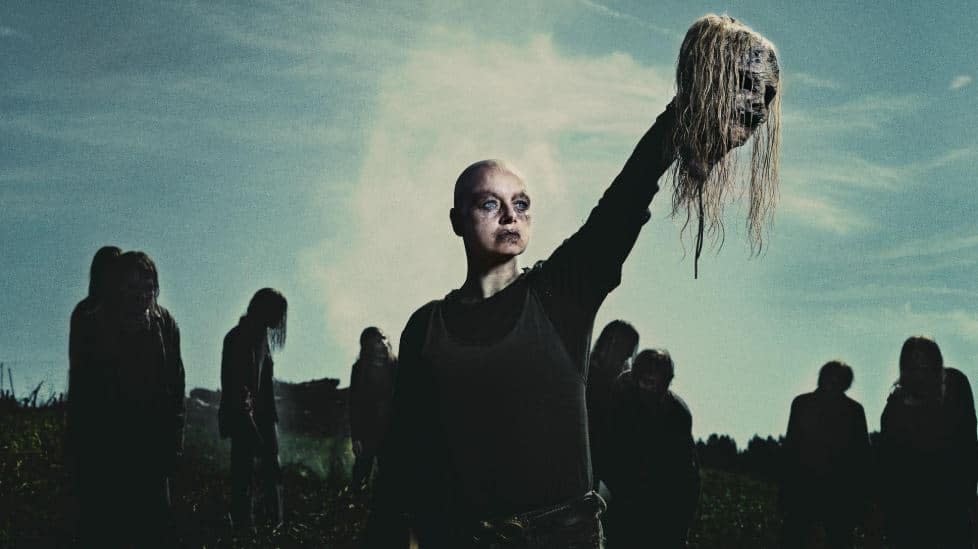 One reason might be posts like these…
In what could also turn out to be one major swerve (Hmmm… maybe not?) when all is said and done, it appears actress/comedian Brett Butler (Tammy Rose Sutton) may have spoiled the fates of her character as well as that of John Finn's Earl Sutton. Five days ago, Butler posted the following on social media (since removed):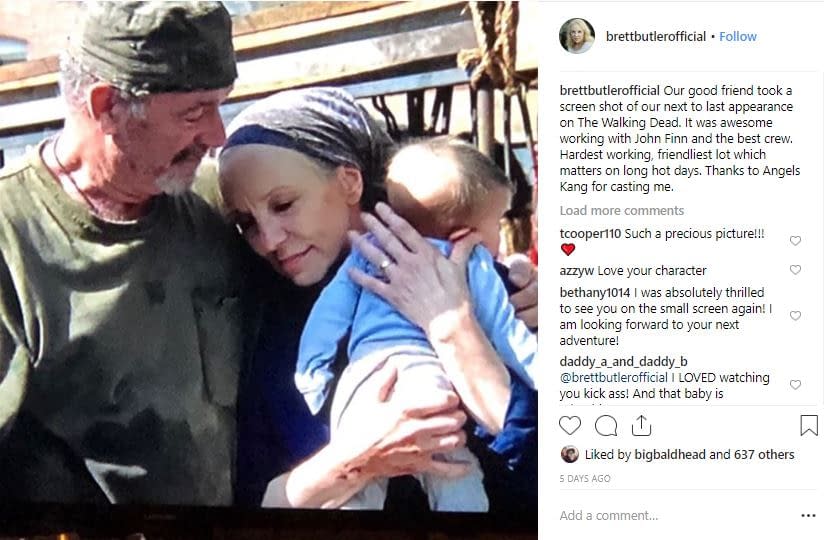 "Our good friend took a screen shot of our next to last appearance on The Walking Dead. It was awesome working with John Finn and the best crew. Hardest working, friendliest lot which matters on long hot days. Thanks to Angels Kang for casting me."
Did that touching sentiment also signal the tragic fates of new foster parents Tammy Rose and Earl Sutton? With the Trade Fair looming, we know that some heads are going to roll… so to speak. From a timing standpoint, does "our next to last appearance" combined with an image from "Chokepoint" mean this week's episode "Scars" could be their last?
Looks like we'll know soon enough…
The Walking Dead s09e14 "Scars": An outsider's arrival forces Alexandria to rehash devastating old wounds; eye-opening secrets from the past are revealed.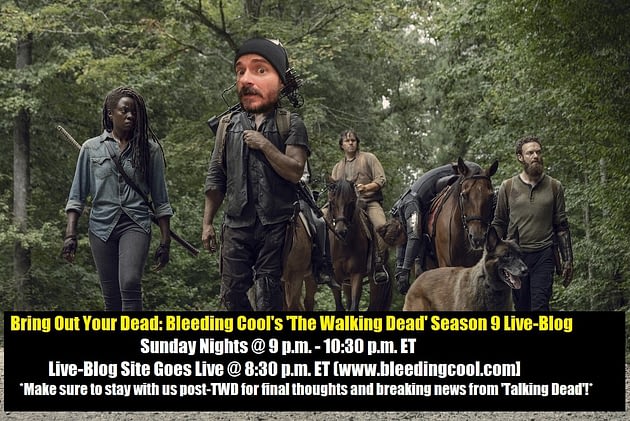 That's right! Bring Out Your Dead: Bleeding Cool's The Walking Dead Live-Blog is back each and every Walking Dead Sunday night – starting with a little "pre-game" at 8:30 p.m ET (live-blog goes live on our website) before charging head-long into our live-blog coverage beginning at 9 p.m. ET. After the show, hang out with us a little longer as we share our thoughts on the night's developments and offer up some predictions on what's still to come – and to see if Chris Hardwick has any news to break on Talking Dead.
AMC's The Walking Dead airs Sunday nights at 9 p.m. ET.
---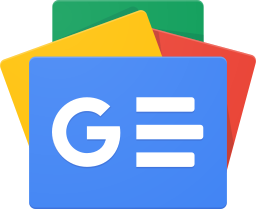 Stay up-to-date and support the site by following Bleeding Cool on Google News today!