'What We Do In the Shadows' Slays in the Best of Ways [Review]
It was back in 2014 that Jemaine Clement and Taika Waititi brought their small-budget indie film, What We Do In The Shadows, to Sundance. Their unique spin on a spoof of MTV's venerable Real World format of a documentary crew following around a set of housemates and chronicling their mundane dramas was novel by its hook being that the housemates just happened to be centuries-old vampires. It immediately became a cult favorite, with it finding ever larger ranks of followers.
Now, FX Networks has brought it back out of its coffin as a new series and while the budget might be (slightly) higher, the humble charm of that original film has come through the transformation alive and well.
[rwp-review-recap id="0"]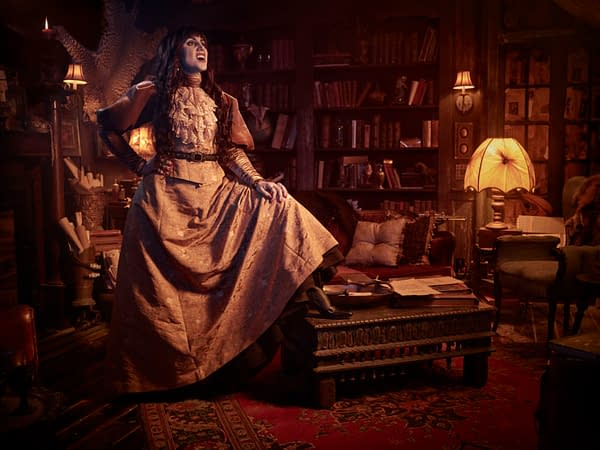 The setting has moved from Wellington, New Zealand to Staten Island and the characters are new, but the dynamic is largely the same. Nandor (Kayvan Novak), Nadja (Natasia Demetrious), and Lazlo (Matt Berry) are three vampires who live together and have to get along while learn how to navigate the modern world. Their human assistant Guillermo (Harvey Guillén) does his best to guide them along, all the while eagerly awaiting for his time to be turned.
In an attempt to bring in some virgin blood, Guillermo befriends some LARPers to bring back to his masters. The LARPers of course immediately decide the house is the domain of some wickedly cool vampire gamers and ask about the weapons decorating the walls.
Clement and Waititi return as executive producers, writers, and directors but unfortunately haven't reprised their earlier cast roles. There isn't quite the same improv feel as with the original film, but the same lighthearted charm pervades the whole effort. It's a bit ironic to take in blood-sucking vampires as charming, but that's what they are. They see themselves as higher beings than the humans around them, but somehow the humans don't seem to either notice or care.
One new angle is Colin (played by The Office's Mark Proksch), an energy vampire. You know the type, not a blood sucker, but rather one of those co-workers who will talk to you in a drone and suck all the enthusiasm and energy out out of you. He's a vampire of a more modern age (working in a regular office where he can keep on leeching off of his victims), and a daywalker, but somehow even more alone and isolated than his nocturnal roomies.
The jokes are simple and funny, like when Guillermy takes Nandor shopping for house decorations to greet a special guest, and Nandor wants to cover himself in glitter so he can sparkle, "Like Twilight". It's a groan and a chuckle, but when he shows up glittering like diamonds, it's even better. The werewolves make an appearance, though now more apt to mark their territory by continually peeing on things than their earlier version of trying to remind each other to not be swearwolves.
The first several episodes manage to keep the joke from becoming repetitive as they start lining up a few different storylines to weave together and keep the ball rolling. For all the popularity that the various Real Housewives series have, Shadows manages to seem far more relatable and funny than those ever have.
What We Do In The Shadows airs Wednesdays on FX Network.
https://www.youtube.com/watch?v=SyZi3rJPENs
[rwp-review-ratings id="0"]
[rwp-review-form id="0"]