When ROH Star Joe Hendry Challenged The Bouncers to a Drinking Contest
Ring of Honor's (ROH) Joe Hendry is a whiz as entertaining us without wrestling. We've been a fan of his parody songs here at Bleeding Cool, and we simply can't get enough of him. This week Hendry released a new video unlike his past ones. This time he's in a beer-drinking contest with ROH's designated beer men: The Bouncers. As someone who has been lucky enough to drink with Brian Milonas and The Beer City Bruiser, I can confirm that they like their beer and they can drink a very large number of us under the table. The Bouncers are fans of great beer, and celebrate the popular drink wherever they go. But since right now no one's going anywhere, Hendry and The Bouncers got creative and bestowed on the world this drinking challenge gem.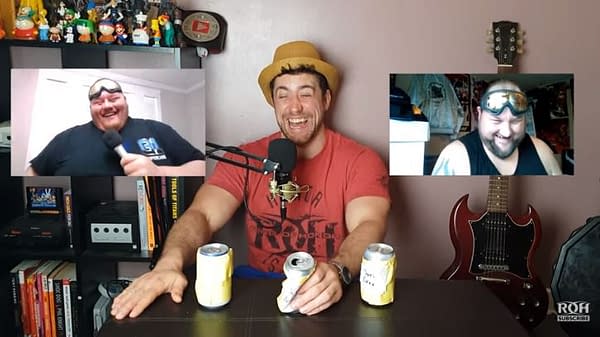 Hendry is arguably one of the funniest wrestlers in wrestling, but The Bouncers are also just as entertaining and charming. If you haven't been lucky enough to see The Bouncers live, let me clue you in. They make their way to the ring from the bar holding cups or cans of beer. At times they've also carried out kegs with them, and have stopped to have a drink while a match is going on. They've even shared a beer with fans at various ROH events. This video also gives fans insight into what it's like to be one of the best tag teams in wrestling, and what started them on their wrestling career.
Will Hendry be able to beat The Bouncers in a drinking contest? Does Hendry honestly have a chance? There's only one way to find out: check out the video, crack open a cold one and enjoy this week's drinking challenge with Hendry and The Bouncers.