Wolf/Sanders, Attack on Titan Season 3, DC Universe, and More! [The Weekly Static s01e38] She'll break your heart… tear it apart… just to watch you scream. She longs for the fight — the blood in the night — the killer you fear in your dreams. She's… The Weekly Static!
With all sorts of respect being thrown at professional wrestler Madison Rayne and singer Serg Salinas, here's a little reminder of the kinder, simpler (and painful to watch 25 years later) times of early '90s broadcast television in this week's edition of: https://youtu.be/UPkLMeTpvBU
The Weekly Static is Bleeding Cool's look at the past week in the land of the networks, cable, streaming, smoke signals, cloud formations, and shadow puppets from an interesting and entertaining perspective. So The Weekly Static's "The Five Musketeers" (myself, Rocky, Trejo, Bat-Murr and Margo Staten) makes you these three promises:
● Offer blunt, honest perspectives on five TV topics from the past week covered by Bleeding Cool's team of news-thirsty writers. Just to be clear? My views are my views and don't reflect on the writers. We own what we say 110%.
● Spotlight a news item that we missed when it first hit, but we're pretty sure you'll want to know about.
● Feed my insatiable-yet-fragile ego with buckets of praise, adulation, social media shares, pizza, Superman Funkos, Eisner Awards, at least one write-in vote for the 2020 U.S. Presidential Election… and a cool glass of sweet, sweet satisfaction.
Despite Controversies, WWE to Return to Saudi Arabia in November
Michelle Wolf Compared Sarah Huckabee Sanders to a 'Handmaid's Tale' Character
Attack on Titan Season 3 Gets July 2018 Premiere Date, Official Trailer and 24 Episode Order
Conan O'Brien's TBS Show Shifting to Half-Hour Format Beginning 2019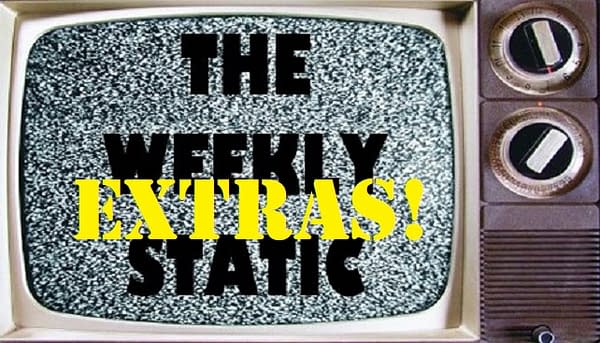 The Office: Jenna Fischer Reveals What Pam Said to Michael During Their Goodbye
"After seven years, The Office fans finally know what she said.

Okay, not in that way. On Tuesday, Pam's (Jenna Fischer) final words to Michael (Steve Carell) in his last scene were revealed by Fischer herself.

In the scene, which you can rewatch below, the self- and mug-proclaimed World's Best Boss departs Scranton's Dunder-Mifflin branch, only to miss his former co-worker while heading to the airport. But at the terminal, Pam catches up to him, after Michael has removed his microphone and Pam has removed her shoes in order to reach him in time. They hug and have a conversation that the cameras can't pick up, and that leaves Pam teary-eyed."

And in case you missed it, here's a look back at last week's edition of The Weekly Static: