"Worst Cooks in America" S18E02 "Indulge Me": "Indiana Alton" and the Kitchen of Cursed Pineapples [SPOILER REVIEW]
In this week exciting episode of Food Network's Worst Cooks in America recruits got a chance to flex their muscles in salad trivia and throw food at a team mate, not a bad way to start. It seems that some of the recruits either went home and brushed up on their cooking skills or got a lot of guidance between the scenes, since a lot of the food was, maybe not fantastic, but edible.
They all collectively need a crash course on how to turn on a stove top, be enlightened that water doesn't boil on its own, and hard boiled eggs means keeping them in for more than 5 minutes, oooops. Hosts Anne Burrell and Alton Brown challenge the recruits to demonstrate their skills at making mozzarella and salad, seems easy right? Then why was an oven set on fire?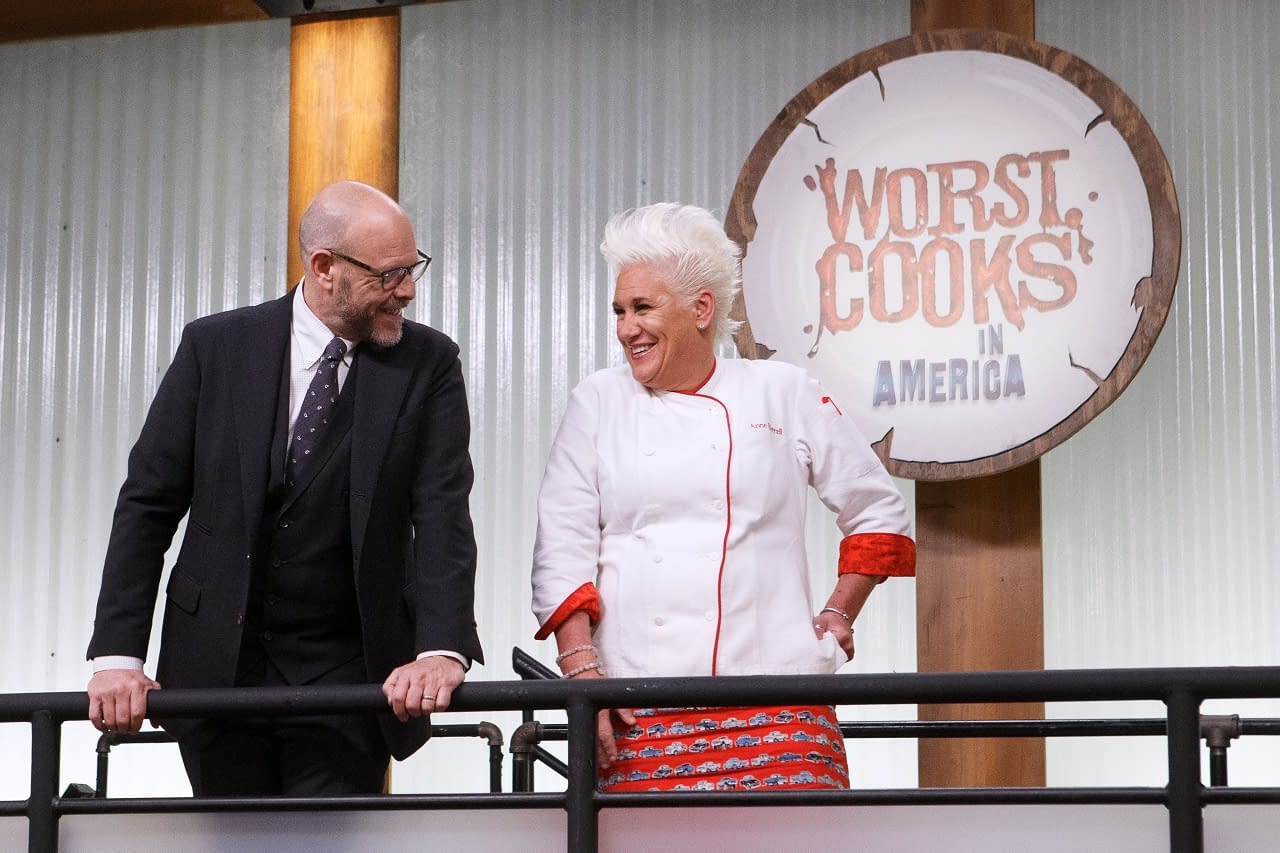 "Worst Cooks in America" season 18, episode 2 "Indulge Me": The recruits enter boot camp and find out that the theme is indulgence. Their first lesson is that salads can be indulgent, too, and the recruits play a game where salad elements are tossed into a bowl on their teammate's head. Alton Brown and Anne Burrell teach the recruits how to make fresh mozzarella for a salad, and for the main dish challenge, the recruits re-create their chef's craveable dish. The recruits who indulge their worst tendencies in the kitchen will be sent home.
Brown was feeling defeated this week when his team completely blew it in the trivia round, and Kevin was found to be weighing his sandwich for accuracy? With smirky comments in tow, and making his team visibly petrified at his mere prescience the blue team was actually able to produce things that were palatable. The red team too was more put together under Burrell's guidance and created some tasty meatball dishes.
Skill Drill Challenge: 45 minutes to create their own mozzarella inspired salad
Main Dish Challenge: Recreate a favorite diner classic
Each episode a losing contestant is eliminated from each team. The winner receives $25,000.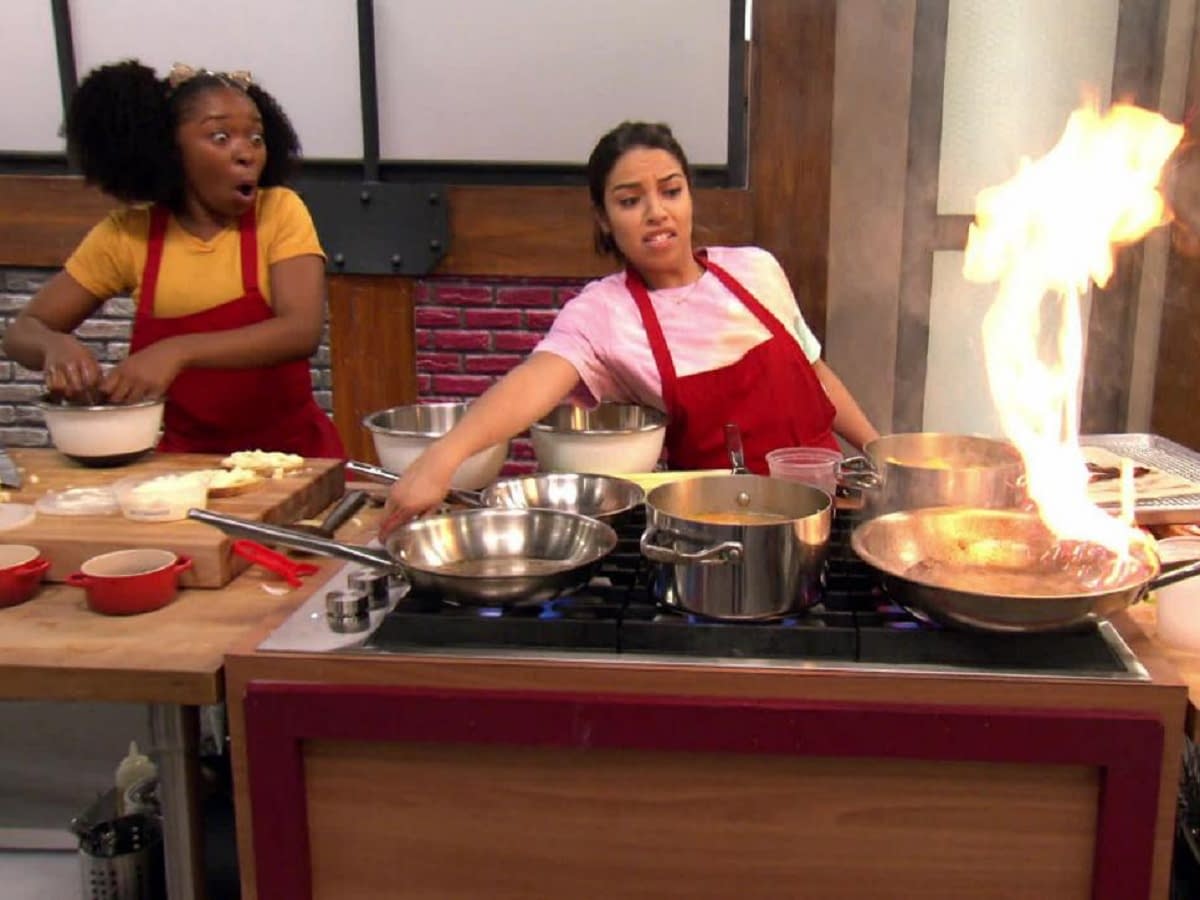 Here are some of highlights from episode 2:
Skill Drill Challenge: recruits received a demonstration on how to make mozzarella cheese, and then with inspiration from our hosts had to create their own salad, what in the world is a "Spa Salad"?
Recruits needed to be taught to use a blender, turn on stoves, and struggled with basic knife skills.
Brown made a prediction that using a pineapple in the kitchen for any purpose is a curse and that person is usually sent home – he was right, or was that a self-fulfilling prophecy?
The red team had some delightful salads, good purees, balanced acidity, just needed a reminder to go easy on the spices
Team Blue hesitated presenting their meals to Brown and delivered on bland and under seasoned.
Main Dish Challenge: Burrell showcased meatballs with marinara sauce and ricotta cheese, while Brown taught the eager recruits to make Croque Madame (ham and cheese sandwich with a runny egg on top)
Recruits appeared lost and preferred that their meatballs came in a bag, accused pancetta of being rigged, presented abysmal knife skills, and short of using a blow torch to put their diner classic together, worked hard to channel their inner chi into completing their dishes.
Team Red had giant balls (no pun intended), the meals were seasoned well, overall had good texture, and even though some of the ingredients were left out, did ok.
Team Blue struggled with cooking their eggs and soggy texture.

In the end…
Brown grants Kelly the win while sending Kevin home
Burrell gives the win to Shannon, and says goodbye to Alex.
Get an extended look at @AltonBrown's main dish demo! #WorstCooks Get Alton's recipe for croque monsieur & croque madame on the @FoodNetworkKitchen app: https://t.co/aV7N1HAFX7! pic.twitter.com/azJcnx8kh3

— Food Network (@FoodNetwork) January 13, 2020
The recruits are clearly improving, and while Burrell, sternly supports her team, Brown frightens them in to submission, so which strategy will prevail? I believe a stern hand goes farther than lashes. Enjoyable to watch is the developing dynamic among the team members, with some supporting their team mates and others straight sabotaging, how Cutthroat Kitchen. With next week's Worst Cooks in America, the recruits will be celebrating the Chinese New Year that will probably involve cooking rice, there is no way that can go well.