Worst Cooks in America Season 20 Review: Way Too Much of a Good Thing
This week on Food Network's Worst Cooks in America, judges Alex Guarnaschelli and Anne Burrell were stunned by sushi and bento boxes and not in a good way. With Sushi being my all-time favorite food, I was both pleased with learning how to roll and horrified at what a shrimp tempura roll should not look like. Let's just say the bar was set exceptionally low when recruits truly demonstrated their abysmal cooking skills. Maybe we should blame the judges aka trainers for forcing these poor unfortunate souls to create something that many strive to achieve yet fail on a daily basis. Recruits suffered from tweezer phobia, poor time management skills, and Yogi Bear would not be pleased as many parts of the kitchen were set on fire.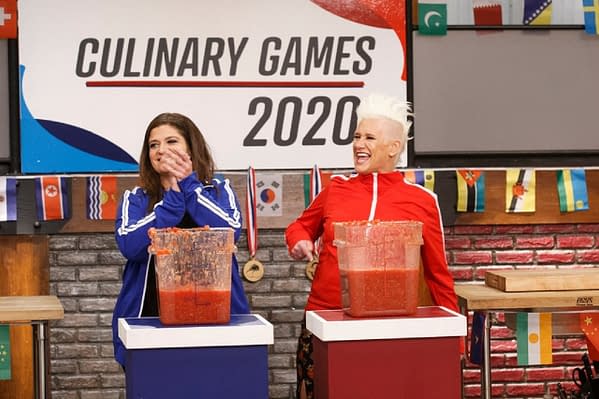 Bring on the team building activities with this week's Culinary Games. They were hilarious to watch as both teams competed in six rounds of ridiculous games. From stiff peaks to synchronized stomping and a baguette toss while camaraderie is built, the judges are royally entertained. The Blue Team clearly had the advantage this week in both knowledge, skill, and… well… height. Separating the perfect egg was a horror show unless by" separate" the judges meant make scrambled eggs with shells in tow. Recruits had to get their feet dirty by making wine (I mean tomato juice), and the Red Team demonstrated that they are not good on a basketball court. Don't even get me started on the food-related trivia.
Skill Drill Challenge: Sushi
Burrell demoed the "Spicy Tuna Roll with Soy Ginger Dipping Sauce
Guarnaschelli created a delectable "Shrimp Tempura Roll with Spicy Mayo
One recruit spent more time flirting than cooking
Another clearly wanted to "run away"
The Red Team although as a trend missed a ton of ingredients produced very neat incomplete sushi rolls
The Blue Team had taste, but seriously lacked in presentation and had their rolls falling apart
I'm pretty sure that Guarnschelli developed a recruit favorite in Yo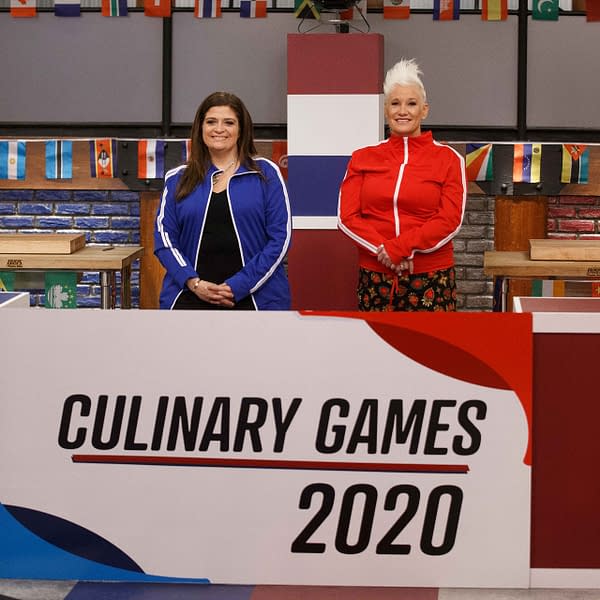 Main Dish Challenge: Bento Box
Burrell taught team red how to make "Seared Tuna Steak with Soba Noodles
Guarnaschelli wow'd with the "Steak Teriyaki with Street Corn and Spinach with Bonito Flakes"
I love when Burrell teaches the "Blanch and Shock" routine: it is adorable especially when she hums a tune. She was extra critical and feisty this week
There was a lot of nervous dancing and fear of kitchen utensils
The Blue Team while Guarnaschelli demonstrated she is a great teacher struggled, with their ingredients
Meat was burned, corn was burned, hair was burned
There was no organization, things were flying everywhere and everyone kissed time management goodbye
The Red Team's motto was "not perfect, but not terrible". Boxes had some well-cooked meat and cucumber salad, but some looked like vomit and lacked searing
The Blue crybabies tried to poison Guarnaschelli with an abundance of spices.
They neglected to complete their dishes, didn't follow directions, and didn't cut their meat all the way through. Clearly there is a lot of work that needs to be done.
In the end…Burrell grants the win to Arie and said goodbye to Erin. Guarnaschelli was impressed by Domain but thought Brianna just wasn't meant to be anywhere near a kitchen- and she agreed.
The Burrell/Guarnaschelli team still continues to impress me. I think both women are naturally great teachers. While it is clearly Burrell's home turf, the two play off each other thus far seamlessly. My one annoyance (something I've been noticing more and more as each season goes by) is the overwhelming addition of outtakes and add-ons. The recruits are hysterical on their own and say some really bizarre things, such as referencing the cost of hair extensions. There's no need for these inserted comedic clips. To be honest, it becomes annoying after a while and takes away from the actual cooking competition: it's just overkill. Next week, the recruits take a trip to "Italy Hell," which makes me think there might be some fresh pasta-making in their futures.