WWE Raw: 4 Signs Vince McMahon Hasn't Taken Over Creative… Yet
Triple H claims he still has the final decision on creative in WWE, but just in case, we watched WWE Raw closely for signs of outside influence.
---
With Vince McMahon shockingly returning to power in WWE earlier this year, many people have been wondering when he'll wrest control of the company's creative direction from Chief Content Officer Triple H. However, as Triple H keeps saying at talent meetings, he still has the final say. And if he keeps telling himself that, maybe it will continue to be true. For now, after watching last night's episode of WWE Raw, we can at least be confident that if McMahon does plan to take over creative again, at least he seems to have not done so yet, based on four clear signs we noticed on last night's show.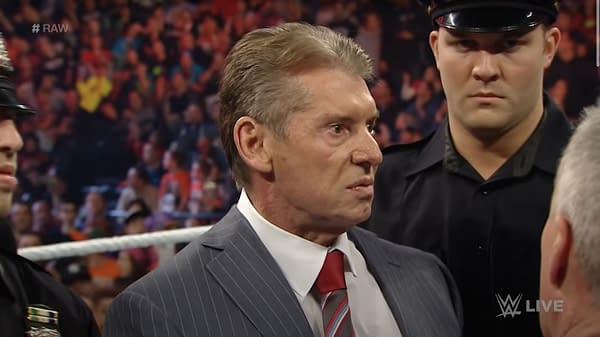 1.Bobby Lashley was in a match with five other men and didn't sleep with any of their wives.
The main event of WWE Raw featured Bobby Lashley in a six-way elimination match for a shot at the United States Championship, which Bobby Lashley won by outlasting Seth Rollins, Baron Corbin, Finn Balor, Dolph Ziggler, and The Miz. Not only was it an impressive display by Lashley, but in focusing on wrestling instead of Lashley sleeping with another man's wife, you can be sure that this storyline did not have Vince McMahon's fingerprints all over it. At least, not yet. Does Austin Theory have a girlfriend?
2. Montez Ford got a pin his hometown.
For years, whenever a wrestler would compete in their hometown under the Vince McMahon regime, you could count on them to lose. Why? To spite the paying fans rooting for their hometown hero, of course. Why wouldn't you want to do that as the owner of a pro wrestling company? But once Vince was out, that paradigm changed. So with Montez Ford competing in front of his hometown crowd in Cincinnati last night, on WWE Raw and Vince McMahon back in WWE again, all eyes were on this match to see if Ford would take the pin in an embarrassing matter, sort of the wrestling version of cucking an entire city. But in fact, Ford got the pin, ensuring us another six days of Vince McMahon not booking WWE Raw, like a pro wrestling version of Groundhog's Day.
3. Becky Lynch and Bayley set up a steel cage match for next week while referencing longterm continuity.
Though Vince McMahon did preside over the much-vaunted Women's Evolution (which was, of course, WWE solving a problem that WWE itself had created), you have to admit that toward the end of his last tenure, he seemed to be doing his best to bring things back to the Divas era, with short, meaningless women's matches and booking the women's tag titles so poorly the champions left the company, never to return. But last night on WWE Raw, not only did Becky Lynch and Bayley set up a steel cage match for next week, but they also did so while referencing their history going as far back as 2015. Everyone knows that Vince McMahon's booking strategy is to assume the fans have the memories of goldfish and not reference anything that happened more than a month ago, while repeatedly showing replaces of what happened earlier in the night on Raw nonstop throughout the program. Therefore, this is one more sign that Vince McMahon has not (yet) taken creative control in WWE.
4. Overall, the booking on WWE Raw last night made sense and the storylines remain sensical.
The most obvious evidence that Vince McMahon isn't back in charge of WWE creative was that the show was still watchable last night. Storylines more-or-less made sense and built on past episodes, wrestling matches carried most of the narrative weight, and none of the humor seemed designed to entertain a very specific audience that would consider it to be some "good @#$%."
But there were also some thing that would have fit in well in the Vince McMahon era. Such as Omos squashing Elias in a short match.
And Cody Rhodes finally announcing his return at the Royal Rumble.
For whatever reason, despite not liking him much during his original run in WWE, Vince McMahon was all in on Cody Rhodes as the first major star to leave AEW. Cody seemed locked into a main event push and dethroning Roman Reigns to win the championship his father never did, so when Rhodes got injured and Vince retired, you had to wonder whether Cody's trajectory had been derailed. But after weeks of teases, Cody Rhodes officially announced his intent to return at the Royal Rumble last night on WWE Raw. And we all know that winning the Royal Rumble is an express ticket to WrestleMania, so things are looking good for Cody.
And… whatever this was.
Maybe this is an example of Triple H taking some of those suggestions he said he has the final say on? Maybe they're just things Haitch feels his father-in-law got right? We may never know, but here's hoping Vince waits until at least after WrestleMania so we can truly get a taste of what might have been before he pulls the rug out from under all of us again.
Next week, however, WWE will be celebrating 30 years of WWE Raw with a nostalgia-fueled celebration and multiple legends appearing to overshadow the PPV taking place later that week. So if ever there was a time that would be perfect for McMahon to return to creative… oh, god dammit!